Catholic Leah Remini, a former devotee of Scientology, made quite a fuss with season one of "Leah Remini: Scientology and the Aftermath," her A&E documentary series about her and others' experiences in science-fiction writer L. Ron Hubbard's movement.
Season two begins on Tuesday, Aug. 15, at 9 p.m. ET/PT, with the first of 10 new hour-long episodes.
From Deadline.com:
The new season will continue to follow Remini, along with former high ranking Scientology employees and Church members, as they delve into stories of abuse and heartbreak. This season stories will include losing loved ones to suicide, growing up in the Church's paramilitary organization (The Sea Organization) and Oscar-winning filmmaker Paul Haggis' own harrowing personal journey.
Remini's return to her family's Catholic belief wasn't discussed a great deal in season one, but she was seen seeking solace in a Catholic church before an emotionally trying segment.
Remini gained TV fame playing the wife of fellow Catholic Kevin James in the CBS comedy "The King of Queens," which centered on a Catholic family in New York City.
James currently stars in CBS' "Kevin Can Wait," again playing the patriarch of a Catholic clan, this time as a retired cop. In an unexpected move, Erinn Hayes, who played the wife of James' character, was let go from the show after season one, with producers citing the desire to take the show in a new direction.
We don't know how this marital disruption will be handled — whether by recasting, divorce, a tragedy or something else — but we're hoping that James has a say in making sure that Catholic views on marriage are respected.
Part of this new direction involves Remini joining the cast as a regular. She will be reprising the role she played in the two-part season-one finale, as Vanessa Celucci, a wisecracking, tough undercover cop who used to be the partner of James' character.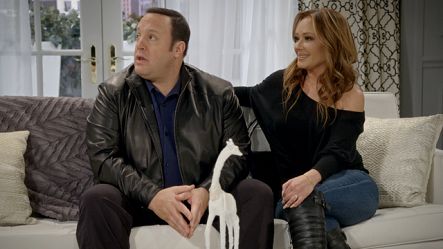 "Kevin Can Wait" returns to 9 p.m. on Monday nights on CBS on Sept. 25.
 Image: Courtesy A&E/CBS