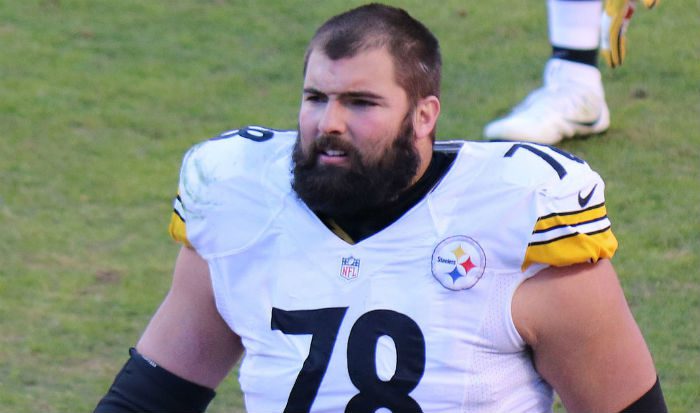 As previously reported here:
Today, Sunday, Sept. 24, many NFL players chose to protest by kneeling or raising fists during the playing of the national anthem. Some coaches opted to keep their teams — or the teams chose, hard to say –in the locker room or in the tunnel during the anthem to avoid players having to publicly pick sides.

One of the teams in the tunnel was the Pittsburgh Steelers. But one player decided to step out and take a stand — for his anthem, his flag and his nation.

Offensive tackle Alejandro Villaneuva came and stood, hand over heart, while the anthem was played.

The son of a Spanish naval officer who worked for NATO, Villanueva joined the NFL in 2014. Prior to that, he graduated from the U.S. Military Academy at West Point in 2010, followed by three tours in Afghanistan as an Army captain and Army Ranger. His service earned him a Bronze Star.

Villanueva is also a serious Catholic.
Turns out that Villanueva is also a humble guy and a good teammate. According to an interview Villanueva gave on Monday — the full transcript can be found here — there was not a team consensus about what to do during the athem. So Coach Mike Tomlin made the decision to remove the team from the controversy and keep them off the field. So they were all clustered in the tunnel. But Villanueva had to see the flag.
He said:
After the meeting … based on my unique circumstances and based on the fact that I've served in the Army and pretty much that my life is lived through the military, I asked (quarterback) Ben [Roethlisberger] if there was a way to define the inside or where it is we were going to stay, and if I could watch the national anthem from the tunnel, and he agreed. He said the captains will be out there right behind me, so this plan morphed to accommodate this tough, moral dilemma that I had in my hands to where the players can be behind me in the tunnel.
But, when the time came for Villanueva to step far enough outside the tunnel to see the flag …
Ben Roethlisberger said at :56 make sure you're out there because the national anthem is going to start at :57. I walked out at 12:56. I asked one of the security guards when the national anthem was going to start, he said 20 seconds. So I just walked out and I stopped as soon as I saw the flag, as soon as I had a vantage point. That, to me, was enough. There was a flag that was coming in from one of the previous celebrations. When I turned around to sort of signal everyone to come so they wouldn't leave me alone that's when they were essentially unable to exit. At that moment it was the decision of do you walk out of the national anthem and join your teammates? I know that would have looked extremely bad. Or as a team, do you start moving halfway through the national anthem?

So essentially what we can get out of this is we butchered our plan to sort of have a response for the national anthem and respect everyone's opinions.
As a result, Villanueva was standing alone, and he feels terrible about that.
So because of that, I've made Coach Tomlin look bad, and that is my fault, and that is my fault only. I made my teammates look bad, and that is my fault, and my fault only. And I made the Steelers also look bad, and that is my fault, and my fault only. So unwillingly, I made a mistake.
So, all this says to me is that Villanueva — as befits an Army Ranger — has great humility, is loyal to his teammates and grateful for the opportunities he's been given.
If all that came out of this situation is that I learned of a man like Alejandro Villanueva, maybe in a sense, it's worth it.
Image: Wikimedia Commons
Don't miss a thing: head over to my other home, as Social Media Manager at Family Theater Productions; and check out FTP's Faith & Family Media Blog.