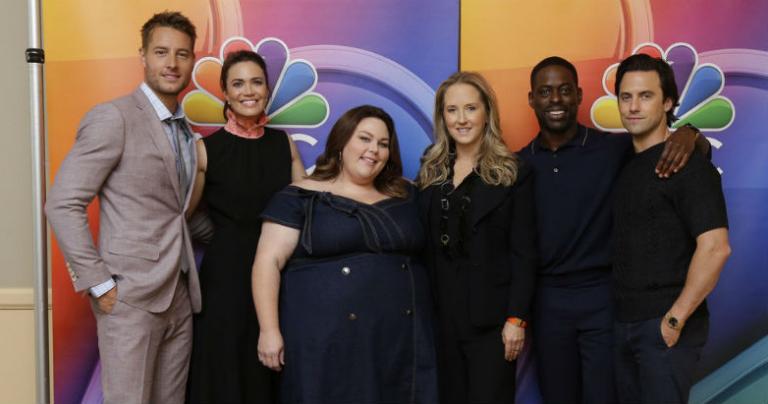 Even without an Emmy win for outstanding drama series (which is a dang shame, IMHO), NBC's family drama "This Is Us" is a megahit — both critically and commercially, as the 2016-17 season's highest-rated new series — and represented a real shot in the arm for broadcast television. "This Is Us" returns for a hotly anticipated second season Tuesday, Sept. 25, at 9 p.m. ET/PT.
From a recent story in The Hollywood Reporter:
A huge family drama on a broadcast network? Not possible, until NBC's top-rated series arrived to break records, mint stars, score 10 Emmy noms and set high expectations (try $750K for a Sept. 26 premiere ad): "It's like suddenly we're on 'Lost.'"
UPDATE: And it was a ratings smash.
Of course, the big question is, how did Jack Pearson (Milo Ventimiglia), the father of the three siblings at the heart of the show, die? The show operates in two time frames: in the past, when Jack and wife Rebecca (Mandy Moore) were raising their children — two of a set of triplets (the third was stillborn), and an adopted son, all nicknamed The Big Three; and in the present, when the siblings (Chrissy Metz, Justin Hartley, Sterling K. Brown) are in their mid-thirties.
Somewhere in there, Jack died, and Rebecca wound up marrying his best friend Miguel (Jon Huertas) — but no one knows exactly what happened to Jack.
UPDATE: Here's what we learned about that.
The season-two opener, which, like the pilot, takes place on The Big Three's birthday, may reveal that … or not. Apparently the last scene of the episode was omitted from the scripts that were sent around, to ensure there wouldn't be leaks. And, per a story in Entertainment Weekly, the scene was shot well after the rest of the episode.
Here's a tease:
So, you'd expect that something this hot, this beloved, this much of a hit, would have been madly cloned at ABC, CBS, Fox or even NBC itself. Since "This Is Us" burst big out of the starting gate, it's not like the success snuck up on anybody at the end of the season. Normally, one would have thought that development execs at the broadcast networks and screenwriters would have spent the last few months frantically creating the next "This Is Us."
But, it hasn't happened. At this past summer's Television Critics Association Press Tour, Mark Pedowitz, president of The CW, assured me that his midseason show, "Life Sentence" — about a young woman whose whole life is oriented to the idea she's dying of cancer, until she's cured, that is — is the proper "This Is Up" follow-up. Right now, that remains to be seen.
I took advantage of being at TCA to try to find out why the show hasn't yet been cloned, asking network execs, a PR exec from 20th Century Fox, which produces "This Is Us," and some TV producers.
Here are the working theories (in no particular order, and to one degree or another, probably all of them are applicable):
Theory A –It's Just Too Early in the Development Cycle:
Basically, we're working on it. Check back next year. On the other hand, this hasn't been an issue for other sorts of shows, so why this one?

We move on to …
Theory B — You Just Can't Reverse-Engineer a Show Like This:
Unlike a procedural — legal, cop or medical — or a superhero show, workplace sitcom, space adventure, or crusty-but-brilliant cop/doctor/lawyer/detective who clashes with authority but always comes through in the end, there really isn't an easy template for a family drama. This is especially true of one that doesn't have a medical element (as "Everwood" did), a sports element (like "Friday Night Lights") or a crime element (as "Blue Bloods" does). You just can't take "This Is Us" — a delicate blend of personalities, interlocking stories and a time element — and reproduce it with a slight twist.

Fair enough, and there's also …
Theory C — Not Many Writers Could Pull This Off:
"This Is Us" must be heartwarming but not cause heartburn; it must be sweet but not syrupy; done with sentiment but not too sentimental; and earn each of its emotional twists and turns, leaving the audience in tears but not feeling overly manipulated. That creator Dan Fogelman pulled off this high-wire act for a full season is impressive; if he can keep it up for two more, it'll be a minor miracle. It's undoubtedly true that not a lot of writers can do it — at least not over a sustained period of time.

And to add to the complication, there's …
Theory D — What's the Story Engine?
In episodic TV, the "story engine" is the element that feeds fresh material into the plot. For example, in "Blue Bloods," the family members are lawyers and cops, so there's always going to be another crime or case to mix in with the family dynamics. Certain professions, like lawyers, cops and doctors, ensure that a new human problem is going to walk through the door every week.

With a family drama that doesn't have this, it's trickier, especially in today's highly competitive environment. The economics of network TV require a certain level of viewership, which means a show has to keep drawing people back episode after episode, year after year.

The pressure to put out something easily understood, highly marketable and attention grabbing has become intense.

When a show is pitched, the executives need to have a sense of where the show is going and what will sustain it, before they'll commit. It's a credit to NBC Entertainment President Jennifer Salke that she had the vision and trust in Fogelman to give "This Is Us" a chance. And it didn't hurt that its pilot had a huge, promotable twist — that the three adult siblings were in fact the three babies (if you recall, the fact that the two plotlines took place in different decades was hidden for most of the first episode).
So, can we expect a "This Is Us"-type show in 2018? An Emmy win would have assured that, but I think they'll still try. And I suspect that the love for this show in the creative community may inspire a few writers who've been hankering to do a family drama to feel confident to make that pitch.
In the meantime, keep your eye out for "Life Sentence" early next year, and we'll see if Pedowitz is right.
Image: Courtesy NBC
Don't miss a thing: head over to my other home, as Social Media Manager at Family Theater Productions; and check out FTP's Faith & Family Media Blog.