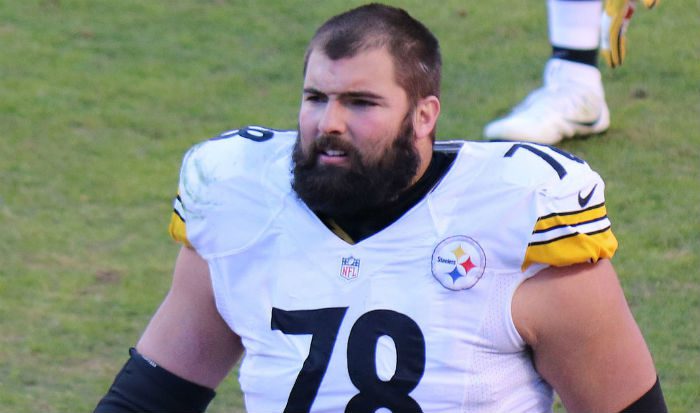 Today, Sunday, Sept. 24, many NFL players chose to protest by kneeling or raising fists during the playing of the national anthem. Some coaches opted to keep their teams — or the teams chose, hard to say –in the locker room or in the tunnel during the anthem to avoid players having to publicly pick sides.
One of the teams in the tunnel was the Pittsburgh Steelers. But one player decided to step out and take a stand — for his anthem, his flag and his nation.
Offensive tackle Alejandro Villaneuva came and stood, hand over heart, while the anthem was played.
From SteelersWire: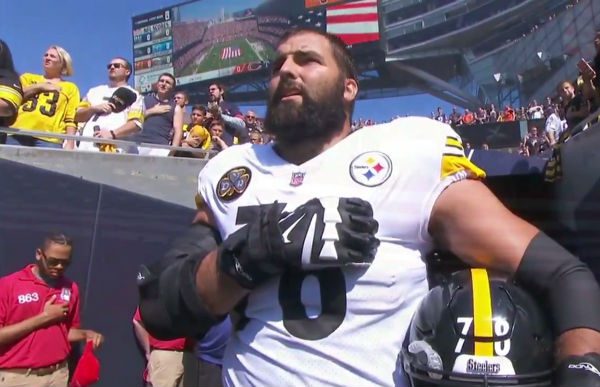 During the TV broadcast you see the camera pan across to shot Tomlin, defensive coordinator Keith Butler, offensive coordinator Todd Haley and offensive line coach Mike Munchak on the sidelines and Villanueva standing at attention, hand over his heart just outside the tunnel.
The son of a Spanish naval officer who worked for NATO, Villanueva joined the NFL in 2014. Prior to that, he graduated from the U.S. Military Academy at West Point in 2010, followed by three tours in Afghanistan as an Army captain and Army Ranger. His service earned him a Bronze Star.
Villanueva is also a serious Catholic. From a 2015 profile of him at the National Catholic Register:
How has Catholicism helped you to overcome the horrors of war?

Even though I was born in Mississippi, I spent most of my childhood in Spain, a mostly Catholic country. Religious beliefs permeate the culture there in many ways, even to the point that you don't really appreciate them; you simply take them for granted. That's what I did as a child, and that mindset continued when my family came back to the U.S. in 2001.

However, when you're shipped off to war (as I first was in 2011), you have to find a way to deal with the inevitable fear that comes into your heart. There are so many uncertainties about what lies ahead that you have to get support from somewhere, and the best place to find that support is in the Catholic Church.

What do you find most comforting about the Church?

Religion is a deeply personal relationship with God, so that's what I find the most comfort in. Despite all the other things that may be going on outside of you, what goes to the very core of your being is what you do in terms of religion. If you're right with God, everything else is fine; if you're not right with God, everything else is out of place. Being connected with God is the most important thing there is.
Back when former San Francisco 49ers QB Colin Kaepernick started the whole kneeling protest in August, 2016, Villanueva sympathized with his intent while criticizing his method:
"I don't know if the most effective way is to sit down during the national anthem with a country that's providing you freedom, providing you $16 million a year … when there are black minorities that are dying in Iraq and Afghanistan for less than $20,000 a year."

…

"I will be the first one to hold hands with Colin Kaepernick and do something about the way minorities are being treated in the United States, the injustice that is happening with police brutality, the justice system, inequalities in pay. You can't do it by looking away from the people that are trying to protect our freedom and our country."
Amen, Capt. Villanueva, and thanks for your steadfastness in faith and your service.
(And it seems he's selling a lot of jerseys — if you want one, click here.)
UPDATE: Steelers head coach Mike Tomlin did not want Villanueva to stand on the field for the anthem. Apparently the Ranger listened to a higher authority.
THERE'S MORE TO THE STORY! Click here to read why it makes me love Villanueva even more.
Images: Courtesy Wikimedia Commons; CBS Sports
Don't miss a thing: head over to my other home, as Social Media Manager at Family Theater Productions; and check out FTP's Faith & Family Media Blog.