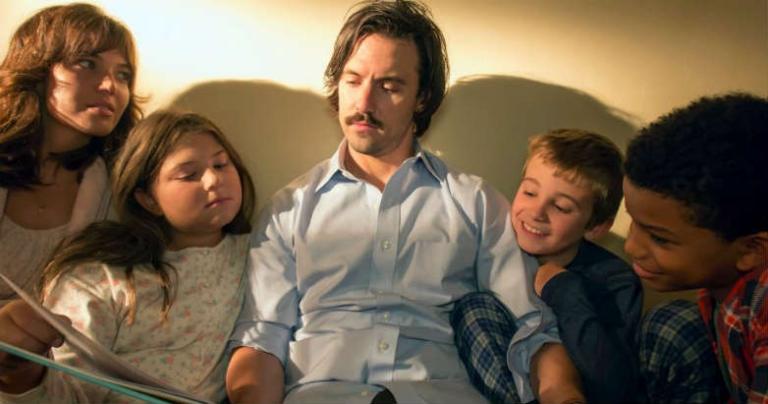 The Primetime Emmy Awards are on Sunday, Sept. 17, and NBC's family drama "This Is Us" is nominated for Outstanding Drama Series, marking the first time since 2011 that a broadcast-network series has gotten a nod in that category.
The show got 11 nominations in total, including several ones for the cast (Gerald McRaney has already nabbed an award — his first — for outstanding guest performance in a drama, handed out at the Creative Arts Emmy ceremony last weekend) — but the drama one is the big prize.
It's up against AMC's "Breaking Bad" spin-off "Better Call Saul," Netflix's "The Crown," Hulu's "The Handmaid's Tale," Netflix's "House of Cards," HBO's "Westworld" and Netflix's "Stranger Things" — so you can see that "This Is Us" sticks out like the weepy, joyous, deeply heartfelt sore thumb that it is.
By current received TV wisdom, it shouldn't be on network television. But it was a deeply personal show for creator Dan Fogelman, who was thinking about the loss of his mother. And it was a deeply emotional show for NBC Entertainment president Jennifer Salke — a mom of three herself.
Says Salke's official bio:
Her strong relationships with creators and writers have fostered some of the biggest scripted successes on NBC in years, including last season's breakout phenomenon "This Is Us," which was the #1 new show of the season and earned a prestigious Emmy Award nomination for Outstanding Drama Series – the first broadcast show to earn a nomination in that category since 2011.
I spoke to Salke about "This Is Us" at the biannual Television Critics Association Press Tour last month, and she said that when she read the pilot script, she could tell it was a passion project for Fogelman. It resonated with her and made her think about her own father.
"So I said," she recalled, "let's pick it up and make it."
Earlier this year, "This Is Us" was shut out of the Golden Globes awards, where it was also nominated for best TV drama. Asked at the TCA press conference about heading to the Emmys, Fogelman said:
The only other time I've ever been to a big, fancy award show was this year when we all went to the Golden Globes, and it was one of the most nauseating nights of my life, just the possibility that at some point there was a 1-in-whatever chance that I was going to have to go up there.

I'm genuinely hoping just to survive the night, honestly. It's exciting for us to be in the company of the big, prestigious, fancy shows that my wife and I binge and we all binge-watch.

It was an exciting day for us. We're making something that treads in humanity and just kind of regular people, and there's some comedy in it, and there's a lot of sentiment, and those aren't often shows that get in the critical conversation, so to be in the conversation is very exciting for us. It's all kind of gravy from here, I think.
Interestingly, there aren't any clones of "This Is Us" on the fall schedule — and I'll get into the reasons for that, based on my research at TCA, in another post — but if the show wins the drama Emmy, it could change the landscape of broadcast TV.
As I discussed in this earlier post, much of TV has become allergic to heart-tugging family drama (aside from Hallmark Channel, as I point out), but they used to be a staple of network primetime. In their quest to compete with cable and now streaming services, broadcast TV has pushed further and further toward the edge — with the result that they've largely been shut out of a lot of awards and are steadily losing audience.
ABC, NBC, CBS and even Fox just can't compete with the looser standards (or lack of standards) for violence, sex and nudity on cable and streaming services — and that's what usually entices Emmy voters. It's what's cool.
But, as Salke told me, "Cool isn't everything."
So, to have a deeply emotional, only mildly edgy family drama be the show that finally breaks the network drama-Emmy drought flies in the face of the notion that heart and sentiment are only for saps.
"This Is Us" has cracked the stoniest of TV-critic hearts and touched Americans from every walk of life. So, maybe, just maybe, cool isn't everything.
Or, if it walks away with that Emmy (and, to be honest, nobody's predicting that right now), the definition of cool could change.
That could mean, as I've been preaching for years, that broadcast networks should return to BROADcasting, to programming to the vast swaths of America that don't necessarily inhabit sophisticated urban centers and college towns (although "This Is Us" has reduced a lot of sophisticated urbanites to blubbering heaps.)
Maybe, just maybe, there's a place for drama that talks about ordinary people and real lives and honest emotion, that doesn't need dragons or swordfighting or superpowers or orgies or endless sexual innuendo.
Even if "This Is Us" doesn't win an Emmy, it's won the critical and ratings war. But the Emmy imprimatur could be a game-changer for seeing more everyday American lives back on American broadcast TV.
UPDATE 9/13: A brutally honest Emmy voter reveals why he voted for "This Is Us" (and not for the other nominees) …
But I voted for This Is Us because it was the most surprising of all of these. Every episode was great, everyone can relate to at least one of those characters, and it was the one show this year that we would rush home to watch and talk about; I mean, they just posted a teaser clip from season two and I showed it to my wife and I was in tears. Also, it's a network show — which means having to make more episodes than any of the others and having many more opportunities to belly flop — and I like TV networks. There's something about them that hearkens back to the days of Ed Sullivan or Friends or M*A*S*H, when everyone across America watched the same thing. It made me feel good to see that happening again.
Here's a peek some fans who can't wait until the season-two premiere, which airs Tuesday, Sept. 26, at 9 p.m. Eastern.
And here's a peek at the season-two premiere:
Image: Courtesy NBC
Don't miss a thing: head over to my other home, as Social Media Manager at Family Theater Productions; and check out FTP's Faith & Family Media Blog.