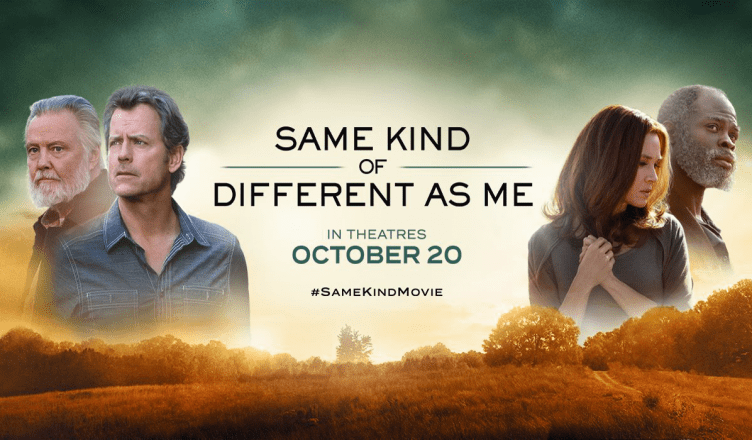 This weekend comes a story about how a fall from grace, cushioned by forgiveness, can lead to a change of heart and a transformative encounter.
On Friday, Oct. 20 (the night of Oct. 19 in some markets), PureFlix Entertainment releases "Same Kind of Different as Me," based on the book of the same name by Dallas art dealer Ron Hall. It tells the story of Hall (Greg Kinnear), who tells his wife, Debbie (Renee Zellweger) about having an affair. Instead of giving him the boot, she chooses to forgive him, and insists that he help her in serving the homeless at a Christian mission.
There, she sees Denver Moore (Djimon Honsou), a baseball-bat-wielding homeless man with a difficult and checkered past, and insists the's the "wise but poor" man she saw in a dream who will transform the city. She insists that Ron befriend Denver. After a rocky start, the unlikely duo forms a bond that lasts until Denver's death in 2012 — at which time the former convict and vagabond was a celebrated speaker and philanthropist. Debbie had died about 12 years before, and Hall has since remarried.
Jon Voight co-stars as Hall's father, an opinionated, un-PC combat-veteran father, Earl.
At a recent junket in Beverly Hills, I got to sit down with Hall, and here are some excerpts of what he had to say:
On his marriage to Debbie:
After Debbie died, I realized we had one of the most beautiful marriages ever, for the last ten years of our lives, of her life. My children saw that; they thought we were the happiest most perfectly married couple in the world. They had no idea what I had done to their mom. She showed me perfect forgiveness. Christ-like forgiveness, where she threw my sin as far as the east is from the west. Christ doesn't beat us over the head with our sins.

That's why we have forgiveness, and she showed me that perfect forgiveness, never to bring it up again. For that kind of love that she showed me, I vowed that I would love her like she had never been loved before. We built a very, very beautiful marriage. I just wasn't fair. She hadn't told anybody. She really didn't share that. I'm sure it would have all came out had I not made the decision to stay.

But I made the decision to stay so she honored me. She didn't want me, because I was still active in our church. She didn't want people looking at me like an adulterer … a leper or something in the church.
On how Debbie's forgiveness changed his life:
Our story made no sense really apart from the forgiveness. There was no reason for me to be in that homeless shelter and be Denver's friend — not the way that I was living or had lived my life or with my success in life as an art dealer or my passion for the ranch. I had no passion for anything else other than my wife and our ranch and my business. I didn't include other people.

I was very self-centered. I was a forgiven person, but I was very self centered. I had to tell it all. People needed to know really what a wonderful person she was. Not just to be a dreamer and a God-chaser and being friends and showing an act of kindness to someone that was so unlovable — Mother Teresa kind of kindness.

I just felt like I didn't need to live a lie and I needed to tell the truth, so I told my children right after she died. I said your mother was actually wonderful, but you don't know the whole story.

Let me just tell you the story of what I did to your mom and how she forgave me. And how we put our lives and our marriage back together. I want to write a book to tell this because I think it would be honoring and helping a lot of people. I think people need to know about your mom and what a great and wonderful person she was, how she served God, how she made a difference in our city with her dream about Denver and her friendship and our friendship with Denver.
On how, despite his faith, Hall still committed adultery:
Debbie was a God-chaser, and I was a money chaser. Our lives took different paths and we drew apart. She was angry at me for not being the husband that I should be, or the godly man that she wanted me to be. I was angry at her for not being a lover and sexual partner like I needed. We just grew apart and I thought hey, if I'm not going to get loved at home, I will find love somewhere else.

Why didn't my faith (keep me from straying)? Because I wasn't practicing it.

You have to wake up everyday, you make a conscious decision of what you're going to do that day. It's like an alcoholic that wants to be sober and they start going to AA. Everyday you have to wake up and say please help me not to do that again. I choose to be sober today.
I was a believing Christian, but I wasn't living my belief necessarily. I had accepted Christ as my Savior in a very public thing. I was baptized; I was all these things that you do as Christians to acknowledge Christ as your Savior, but you know you just sometimes drift away from the things you love and believe.
On how Denver taught Hall to reconcile with his father, Earl:
[Denver told me he] blames a lot of his problems in not having a father.

When he saw me, that I had a father that I was not honoring, he could not stand that. He told me,"Mr. Ron, sometimes you just got to bless the hell out of people, and your daddy, he's got a lot of hell in him doesn't he? There's a good man inside of there and you just have to bless the hell out of him."

And I did, and Denver did, and my father was a racist who fell in love with Denver in the end and we all became best friends. Denver and my father and I spent the last year of his life together just celebrating life and friendship together.
Click here for the official site for the movie; and here for the book.
And here's a brief clip of Denver Moore singing a spiritual from his childhood:
Image: Courtesy PureFlix Entertainment
Don't miss a thing: head over to my other home, as Social Media Manager at Family Theater Productions; and check out FTP's Faith & Family Media Blog.