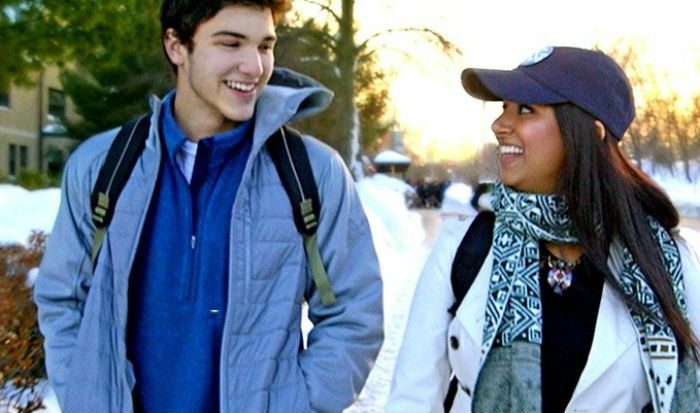 What's a date? Does anyone go on dates anymore? If you're single and available, when's the last time you went on a date? Is dating dead?
It may be, but "The Dating Project" — hitting theaters as a one-night Fathom Event on Tuesday, April 17 (click here for information and to purchase tickets) — seeks to restore, one coffee or lunch at a time, the nearly lost art of asking people out, getting to know them and maybe forming a real, lasting relationship (as opposed to a hookup, however you define that).
UPDATE: Today, April 11, Father Mike Schmitz of Ascension Presents released a video after viewing "The Dating Project," talking about how we have "lost the script" of not only dating, but other intimate relationships.
Take a look (the original story continues after the video):
Up front, let me say that my day job is Social Media Manager for Family Theater Productions, one of the production entities (with Paulist Productions and MPower Pictures) involved with "The Dating Project" — and I'm totally biased.
That's not because I work for this company; it's because working for this company enabled me to see this film — and I was blown away.
I'm single, so I know how hard it is out there for the huge percentage of American adults who are single and would rather not be — and the film does deal with men and women in their 20s, 30s and 40s. But I had no idea just how apocalyptically bad it's become for college students, where it's considered more risky and stressful to ask someone out for coffee than to have a hookup (which could be anything from making out to sex) with a near-total stranger you may never see again.
Now, a lot of these young folks don't think they have an issue, that this is how things are supposed to be. Living in a culture that offers little or no support for any conventional notions of courtship — other than the "Biblical courtship" kind espoused by conservative Christian sects — they drift from hookup to hookup, eventually becoming the sort of unattached, unhappy adults the film also profiles.
Unlike a lot of documentaries that just lay out problems, "The Dating Project" also offers actionable solutions. We may be at the bottom of a relationship pit, but there is a light above and a ladder up and out, if we have the courage.
This is a movie with a lot to say to the faith audience, but it has just as much to say to the mainstream audience. There are Christians in it, but you don't have to be Christian to get a lot out of it.
At the core of the movie is Boston College Professor Kerry Cronin. Here's how Loyola Marymount described her for a 2017 lecture on "Falling in Love":
Kerry Cronin, PhD, is the Associate Director of the Lonergan Institute at Boston College and the Faculty Fellow in BC's Center for Student Formation. For the past 20 years, she has taught in the Boston College interdisciplinary Perspectives Program, a Philosophy and Theology program in the "great-books" tradition. Additionally, she works extensively with undergraduates in retreat programs at BC and is a regular speaker on college campuses, addressing topics of student culture and formation.
In the course featured in the film, she assigns students to ask others out on traditional dates. And what are those? Cronin explains in these short videos:
"The Dating Project" is for anyone who either wants to find real love, or knows someone who does. And that's pretty much all of us. Here's what author Suzanne Venker had to say in an essay for FoxNews.com:
The film is short, engaging and very well done—you will love the music, the cinematography and the dialogue. But to be honest, it struck me as immensely sad. The social environment young people inhabit feels akin to a brothel. What they seem to know how to do best is have sex, or some version thereof. What they don't know is Courtship 101, or how to develop an actual romantic relationship. They just skip to the end and wonder why they're dissatisfied.

Indeed, it's not an exaggeration to say the entire process of dating—getting excited about someone you meet and letting him or her know via flirtation, waiting for the man to make the first move and then the woman accepts and the two go out somewhere for the evening—is gone. Gone. Instead, young people text each other to come over and "hang out." Then they get naked.
Here's young filmmaker Rob Smat:
And pastor, filmmaker and podcaster Lucas Miles, and Matthew Faraci, host of Dove Channel's "Frankly Faraci" — in which Miles says, "If you're not shocked, you don't know":
Click here for many short videos, both interviews and clips from the film. Here's a trailer:
"The Dating Project" is in theaters around the country for ONE NIGHT ONLY on April 17. Advance ticket sales will ensure that all the theaters remain open and available. Take yourself, your friends, kids, nieces and nephews, youth group, scouting troop, fraternity, sorority, youth sports team, weekend softball league and anyone else you know who wants better lives and loves than we have right now.
Just click here to …
Save love.
Save hope.
Save the date.
Image: Courtesy Paulist Productions/MPower Pictures/Family Theater Productions
Don't miss a thing: head over to my other home, as Social Media Manager at Family Theater Productions; and check out FTP's Faith & Family Media Blog, and our YouTube Channel