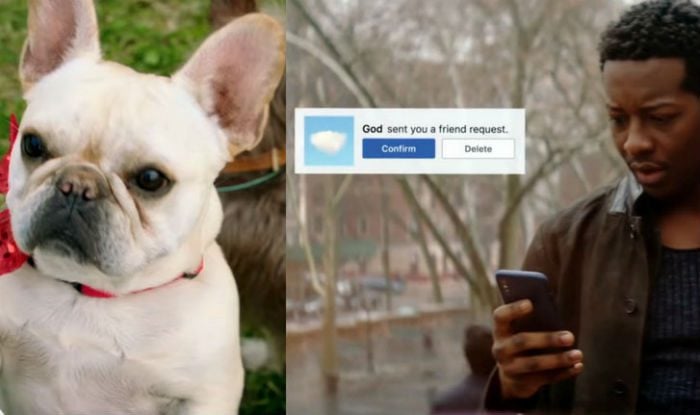 I've seen bad movies with good trailers, but I've never seen a good movie with a bad trailer. So, with these advance looks at CBS' series "God Friended Me" and the feature film "Dog Days," we might be onto something.
Here's how CBS describes "God Friended Me," from uber-producer Greg Berlanti, premiering Sunday, Sept. 30 …
A podcast-hosting, self-proclaimed "pesky atheist who wants to make you think" (Brandon Micheal Hall) isn't so sure what to think when he's friended by God on Facebook and then poked to help strangers for reasons that aren't immediately clear. The truth is there's more to this story than our hero or anyone else knows.
I'm currently attending the biannual TV Critics Association Press Tour in Beverly Hills, and I hope soon to both get a look at the "God Friended Me" pilot, and talk to series creators Steve Lilien and Bryan Wynbrandt. In the meantime:
You won't have to wait nearly as long for "Dog Days," hitting theaters on Aug. 8. It comes from LD Entertainment, the people behind "Risen," "The Miracle Season," "The Devil and Father Amorth," "I Can Only Imagine," "Jackie" and "The Zookeeper's Wife."
Here's how the Website describes it:
From actor/director Ken Marino (HOW TO BE A LATIN LOVER), DOG DAYS is a hilarious and heartwarming ensemble comedy with an eclectic cast of characters both human and canine.

Elizabeth (Nina Dobrev) is a charming newscaster, settling into single life and battling the on-screen chemistry with her new co- anchor, former NFL star Jimmy Johntson (Tone Bell) while seeking advice from her dog's therapist Danielle (Tig Notaro). Tara (Vanessa Hudgens), a spunky barista, dreams of a life beyond the coffee shop with her crush, hunky vet Dr. Mike (Michael Cassidy,) while her friend Daisy, (Lauren Lapkus), a lovelorn dog walker, is enamored with a client she hasn't quite met yet.

Meanwhile, Garrett (Jon Bass), owner of New Tricks Dog Rescue, pines after Tara, while trying to keep his struggling dog adoption business afloat. Soon-to-be parents to twins, Ruth (Jessica St. Clair) and Greg (Thomas Lennon) reluctantly leave their big mischievous mutt in the care of Ruth's brother Dax (Adam Pally), an irresponsible man-child in a band with his ex-girlfriend Lola (Jasmine Cephas Jones). Grace (Eva Longoria) and Kurt (Rob Corddry) anxiously await the arrival of their adopted daughter Amelia (Elizabeth Caro), whose life inadvertently converges with that of Walter (Ron Cephas Jones), an elderly widower who's lost his overweight pug. Tyler (Finn Wolfhard), the neighborhood pizza delivery boy, befriends Walter and helps him search for his beloved pet.

DOG DAYS highlights the everyday connections between people and their dogs in Los Angeles as they uncover life lessons and new relationships in this romantic comedy in the vein of LOVE, ACTUALLY and CRAZY, STUPID LOVE.
Take a look:
Having high hopes!
Images: Courtesy CBS/LD Entertainment
Don't miss a thing: head over to my other home, as Social Media Manager at Family Theater Productions; and check out FTP's Faith & Family Media Blog, and our YouTube Channel.