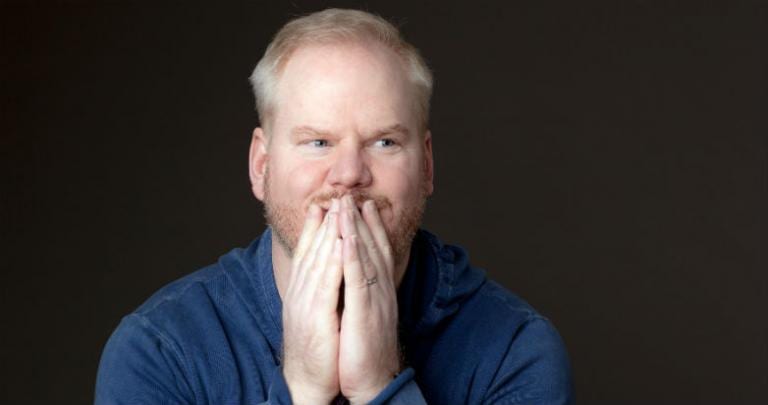 Today, Amazon Prime Video announced that Catholic comic and family man Jim Gaffigan will headline his seventh stand-up comedy special, called Quality Time, to premiere later in 2019.
From my inbox:
Using his signature everyman humor to deal with the unthinkable, four-time Grammy Best Comedy Album nominee Gaffigan proves why the Wall Street Journal has anointed him the "King of Clean comedy." Quality Time will be recorded live at the State Theatre in Minneapolis, MN, on March 9, 2019.  Quality Time is directed by Jeannie Gaffigan, and executive produced by Brian Volk-Weiss & Cisco Henson (of Comedy Dynamics) with Alex Murray (Brillstein Entertainment Partners). All five of Gaffigan's scheduled Minneapolis performances are already sold out. Quality Time is distributed and produced by Comedy Dynamics.

"I am so honored to be Amazon's first original stand up special. This is going to be exciting," said Jim Gaffigan.

Gaffigan's previous hour-long stand up specials include Beyond the Pale – 2006, King Baby – 2009, Mr. Universe – 2012, Obsessed – 2014, Cinco – 2017, and Noble Ape – 2018, the last four of which were produced by Comedy Dynamics and garnered Grammy nominations for Best Comedy Album.

2019 will be a breakthrough year for Gaffigan. He is not only co-starring with Academy Award-winners Viola Davis and Allison Janney in Amazon Studios' film Troop Zero, but will also be seen in a staggering nine feature films this year. Three of those films will premiere at the upcoming Sundance Film Festival.  He will also star in two thrillers, including Amasia Entertainment's thriller Them That Follow (also starring Olivia Colman and Walton Goggins), and American Dreamer. Gaffigan can also be seen in Bron Studio's comedy Drunk Parents (starring Alec Baldwin and Salma Hayek), and as the lead in Cold Iron Picture's comedy, Being Frank, which premiered at the SXSW Film Festival in March 2018.

In 2018 Gaffigan received praise for his dramatic turn as Paul Markham in the Ted Kennedy biopic Chappaquiddick, and for voicing iconic monster hunter Abraham Van Helsing in Hotel Transylvania 3. Gaffigan also reprised his role of Larry Johnson in the Fox Pictures comedy Super Troopers 2. Gaffigan has authored two New York Times-bestselling books DAD IS FAT and FOOD: A LOVE STORY. He also regularly provides humorous commentaries for CBS Sunday Morning, for which he received a Daytime Emmy award.
Amazon Prime members will be able to stream the show at no additional cost.
Gaffigan and wife Jeannie also produced a comedy called The Jim Gaffigan Show, inspired by their lives as parents of five in New York City, that aired for two seasons on TVLand. More about that here and here. Also noteworthy is that Jeannie Gaffigan, Jim Gaffigan's wife and creative partner, is back in action following risky surgery for a life-threatening brain tumor in 2017, which she said reaffirmed her Catholic faith.
Image: Alan Gastelum/Wikimedia Commons
Don't miss a thing: head over to my other home, as Social Media Manager at Family Theater Productions; and check out FTP's Faith & Family Media Blog, and our YouTube Channel.