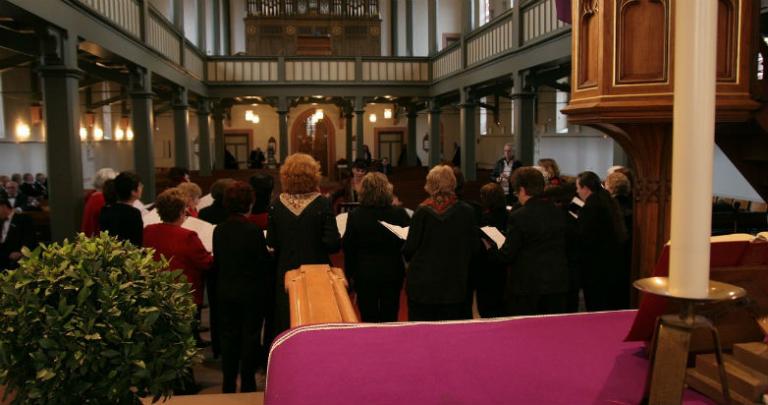 Bradley Whitford may return to NBC — where he did The West Wing and Studio 60 on the Sunset Strip — with a single-camera comedy about a church choir.
NBC has ordered a pilot for the project from Lesley Wake Webster (Speechless) and Jason Winer (Single Parents), for which Whitford is executive producer and potential star.
From Deadline.com:
Written by Webster, the untitled comedy is about a rural church choir that gets the director it never thought it needed when a salty, Ivy League music professor (Whitford) stumbles through their door.
Whitford can currently be seen in National Geographic Channel's docudrama miniseries Valley of the Boom (more on that here), and in the crime drama The Destroyer, with Catholic Nicole Kidman. He also has a one-year series-regular deal to return as Commander Joseph Lawrence in Hulu's The Handmaid's Tale. On top of all this, he's in two upcoming movies, Call of the Wild from 20th Century Fox, and Netflix's Sergio.
Whitford is reported to be a longtime attendee of All Saints Episcopal Church in Pasadena, California, and has been involved in its social-justice outreach. In 2011, he and Amy Brenneman did a production for the community. From
the All Saints website
:
This Sunday, January 23rd, Amy and Bradley come to the Rector's Forum to support the Civil Rights issue of marriage equality. They will talk to us about STANDING ON CEREMONY: THE GAY MARRIAGE PLAYS. Created in response to the on-going struggle for marriage equality throughout the United States, the program is a series of short plays that look at the institution of marriage and relationships.

Insightful, funny, and heartwarming, the plays, are testimony to the struggle for commitment, compassion and humor for all people who work through any committed relationship. After two sold out benefits earlier this year with the New York Theatre Workshop and at the El Portal Theatre in North Hollywood, STANDING ON CEREMONY is now playing at the Coronet Theater in Los Angeles.

We at All Saints Church are proud to have been in the forefront of the marriage equality movement and Sunday's Forum will be another opportunity for us to gather as a community to recommit ourselves to that important work.
We'll see in May whether the show makes it to the NBC fall schedule (and gets a title).
Images: Pixabay; Getty Images Embed
Don't miss a thing: head over to my other home, as Social Media Manager at Family Theater Productions; and check out FTP's Faith & Family Media Blog, and our YouTube Channel.