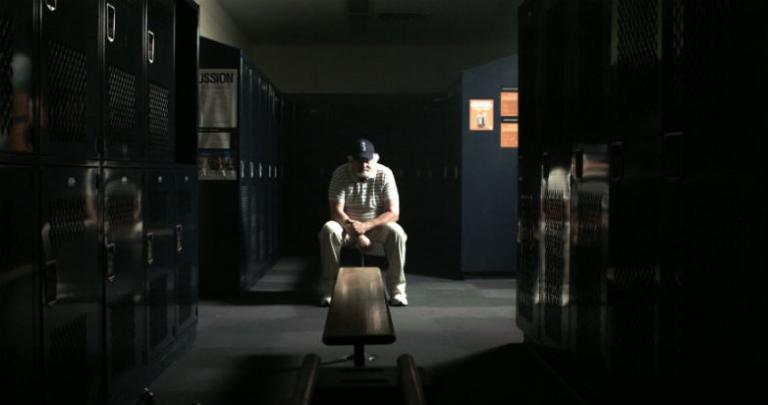 If you're a young indie filmmaker going to debut with a football movie, better set it in Texas, make it about more than football, and get a star from Friday Night Lights. Director Rob Smat's The Last Whistle, landing in theaters and digital streaming on June 28, hits all three.
Born in Texas and living in Los Angeles after graduating from USC film school, Rob Smat found a powerful hook — the unexpected death of young athletes from Sudden Cardiac Arrest (SCA) — went home to film, and headed up his cast with Brad Leland, known to Friday Night Lights fans as former Dillon Panthers QB and chief team booster Buddy Garrity.
After winning accolades on the festival circuit, Smat is bringing The Last Whistle to selected theaters on Friday, June 28, along with rolling it out on iTunes, Google Play and other platforms.
Leland plays a top high-school football coach shaken by the death of his star player during practice. As he tries to keep his team on a winning streak, the coach faces pressure from the town and the player's mother, forcing him to reconsider his decisions and why he made them.
Also starring are Jim O'Heir (Parks and Rec), Eric Nelson (The Affair), Sainty Nelson (Boss Baby), Kristos Andrews (The Bay), Fred Tolliver Jr. (She's Gotta Have It), Tyler Perez (Code Black), and a debut performance from Deanne Lauvin, who was awarded best actress at the Deep in the Heart Film Festival.
Also featured is BCS Championship-winning coach Les Miles as the coach's toughest critic. Miles also acted as an adviser to Leland, who hadn't before played a football coach.
Texas country singer Pat Green and radio personality George Durham wrote an original song for the film called 'Til the Last Whistle Blows. Have a listen:
In the midst of preparation for his film's premiere, I grabbed Smat for a short email Q&A:
What inspired you to make The Last Whistle?

I was prompted to make The Last Whistle, more so than inspired. The film was my submission to Robert Rodriguez's Rebel Without A Crew series, which asked first-time filmmakers to write a script that could be shot on a budget of $7,000. When the project wasn't selected for the series, I decided to make it independently for a slightly higher budget.

The idea for the film came from my time in high school football. While my team never suffered an accident like the one in the film, there were schools in the area that did, and it was a prevalent issue. That had haunted me for years, and nothing makes an intriguing film premise like a haunting truth.

How did you attract your cast?

I was shocked at how effective a good script with meaty roles could be. It's apparently rarer than I thought in our industry. Each of our cast members came onto the project in a different way, once they had enjoyed the script.

For instance, Eric and Sainty Nelsen were involved very early on, and worked extensively to help cast other roles in the film. Jim O'Heir joined midway through the project, and gave us legitimacy. Then in the end, we brought in Brad Leland only a couple weeks before shooting, and he was magnificent despite the lack of time.

The script was hugely important, and made it possible to get talents such as these on the film. Plus, we were willing to work with different actors' schedules, and really tried to accommodate everyone beyond their expectations. Sugar is better than salt!

How important was it to get the right actors?

Excellent actors are the crux of my films, which are all about character. My directing style is to use my script as an outline, rather than a rulebook. I like to collaborate with actors on their characters, and let them say the lines (or not) however they feel is best.

So. if I get an inexperienced actor, who's just there to do exactly what I want and not put their own spin on it, it makes the work worse. Luckily, this cast was full of talent who not only came to play on camera, but also off camera. Never before have I had such supportive actors, willing to work late hours, travel for shoots, and go above and beyond for their roles.

You're a Catholic filmmaker, but this is a sports film — is there a faith component?

There is a faith component to the film, but it's subtle. The movie is about a man on the verge of ruining his life, and in the end he figures out a solution that's outside of his comfort zone, but the right thing to do. The solution has little to do with religion, and could be considered secular.

However, I've found that lots of people feel a faith component in where the film ends, and so I'm excited with the balance we walk there. We're able to inspire the religious while not turning off those who just want to watch a football movie.

I wanted this movie to be realistic. Theological, if not entirely scholarly. If that's not a Catholic approach, I don't know what is!

As an independent filmmaker, what were your biggest hurdles?

Many independent filmmakers will talk about financing as their biggest hurdle, and while that was a challenge, my biggest hurdle was legitimacy. With a decent script, a pitch video, and a USC degree, I still had plenty of questions about my prior work, and if I had done a feature film before. Obviously, I hadn't.

And I also hadn't spend tens of thousands on a short film that would impress the gatekeepers. So I was starting from scratch. I had a lot of doors shut in my face, both in producing and in casting.

Deep down, I knew I could do it with the team I had, but there weren't many other people who thought the same. Those who did get to reap the rewards.

What's next?

I'm accepting manager meetings right now, trying to find a good rep who can submit my spec scripts, while developing my directing/producing projects. Acknowledging that process will take some time, I'm developing another feature at a slightly higher budget level than The Last Whistle. Sort of The Nativity Story meets The Young Messiah, with a little Scorcese mixed in.

I'd like to take an Ignatian-prayer approach to the parts of Jesus's life we don't know much about, and present that film in a way that both faith audiences and non-faith audiences can enjoy.

It's a narrow margin, but we hit the nail on the head with Last Whistle, so I'm confident we can do that again.
If you're lucky enough to be in one of the cities where The Last Whistle is in theaters, click here for the Fandango link, to buy tickets.
Images: Courtesy Rob Smat, Circus Road
Don't miss a thing: Subscribe to all that I write at Authory.com/KateOHare.
And, head over to my other home, as Social Media Manager at Family Theater Productions; and check out FTP's Faith & Family Media Blog, and our YouTube Channel.