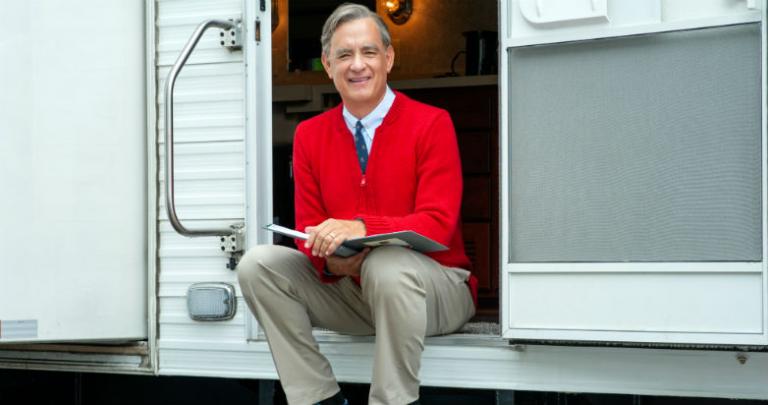 Oscar may have snubbed the Mr. Rogers documentary Won't You Be My Neighbor, but if the gut reaction to the release of the trailer for the scripted biopic A Beautiful Day in the Neighborhood, starring Tom Hanks as Fred Rogers, is any indication, there may be a few tear-soaked ballots in the Academy's future.
Here are some headlines.
From The Wall Street Journal:
The trailer for the Mister Rogers movie is out, and people are so ready for a wholesome biopic
From Vanity Fair:
Tom Hanks as Mister Rogers Is the Purest Thing You'll See All Day
From CNN:
Tom Hanks is absolutely perfect as Mister Rogers in new movie trailer
From USA Today:
Tom Hanks as Mister Rogers gives us our childhood back in first 'A Beautiful Day in the Neighborhood' trailer
From The Onion:
Tom Hanks Recalls Arriving On 'A Beautiful Day In The Neighborhood' Set At Dawn For Grueling 6-Hour Cardigan-Application Process
(OK, it's the Onion, after all.)
Coming out this Thanksgiving, the Sony Pictures film, inspired by a true story, stars Matthew Rhys (The Americans) as Lloyd Vogel, a cynical magazine journalist who heads to Pittsburgh to profile the PBS children's TV host.
As you can see from the trailer, Lloyd gets feels of his own.
According to an interview at Collider, director Marielle Heller was able to use the original studio for Mister Rogers' Neighborhood, along with the original cameras and lights. Some of the props and costume pieces, including one of Fred Rogers' own ties, were also original. This didn't include the show's iconic puppets, which were recreated.
As for how she saw Rogers, Heller said:
He's a guide for how to slow yourself down and connect with what's true in your heart, your kindness, your patience, and your goodness. Having his voice in my head for the past two years while I've been making this movie has made me a better parent.

[He calls for] us to be our best selves, and I think that's required of parents in order to be patient and see these little people we're bringing into the world with compassion. Mister Rogers helped break down those things in a way that, as a parent, you can gain a lot of compassion that translates beyond just your relationship with your children; it translates into your relationship with your partner or spouse, or relationships at work.

I know it translated into how I wanted to make this movie, and the process by which we work creatively and how we treat the crew. I approached every decision with the movie as: "How would Fred approach this? How can we treat everybody with a level of emotional empathy and compassion that shows that we value everyone?" That was his main message: Everyone is valued.
Rogers was an ordained Presbyterian minister, and the documentary didn't shy away from that side of his life, and how Christianity informed his message to children and families. We'll see whether the scripted biopic follows the same path.
One hopeful sign is this July 23 tweet from AFFIRM Films, Sony's faith-based division:
Giving thanks, indeed.
Image: Sony Pictures/Lacey Terrell
Don't miss a thing: Subscribe to all that I write at Authory.com/KateOHare.
And, head over to my other home, as Social Media Manager at Family Theater Productions; and check out FTP's Faith & Family Media Blog, and our YouTube Channel.