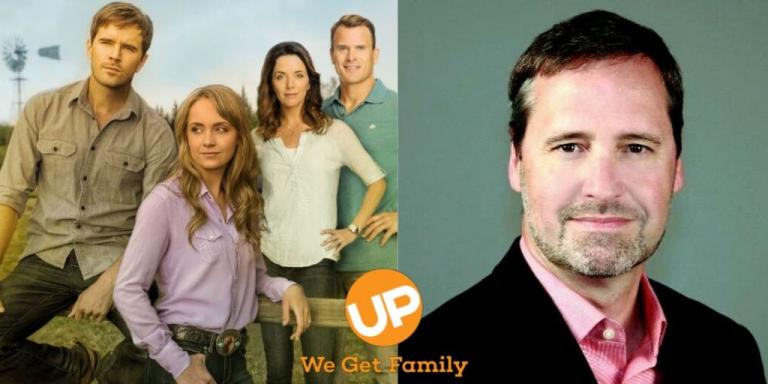 If anyone was destined to work in faith-and-family broadcasting, it's UPtv founder and CEO Charley Humbard. The youngest son of Pentecostal televangelist Rex Humbard, Charley Humbard spent much of his youth touring stadiums and other sites around the world with his globe-trotting father.
UPtv began as the Gospel Music Channel, later known as GMC TV, then rebranded itself as UPtv in 2013, offering family-suitable "uplifting" fare. These days, it features a mix of such off-network shows as 7th Heaven and Gilmore Girls, the Canadian-produced drama Heartland (which began its 12th season on June 25), unscripted shows (Bringing Up Bates, Our Wedding Story) along with original movies (Christmas, like these, and otherwise).
Country star Reba McEntire is coming to the network with Reba, a WB network comedy that cast her as a single mom of three in a Houston suburb. The show launches with a marathon the night of Aug. 2, then starts airing weeknights at 7 p.m. ET/PT on Aug. 5.
Humbard has also launched UP Faith & Family, a family-focused streaming service.
I recently had a wide-ranging phone chat with Humbard. Here are some highlights (edited for length and clarity). This is part one of two, which will be in the next post:
On his programming philosophy:
Our programming philosophy is get ratings. OK, it's more than that. Our programming philosophy, is to make sure that we stay true to the brand. We are a purpose-driven brand, and we were purpose-driven long before it was cool, because everybody's purpose-driven now. Purpose driven brand to inspire hearts to be better. Everything really flows from that.

So, as we look at shows, we look at series, movies, ideas that we want to put on the air, we want to make sure first and foremost that it can not only be great entertainment, but have an impact or move people to a better place, if they spend five minutes with us, and hour with us. We're a network that really targets your heart.

Our real message happens when we really hook your heart and can move you, make you feel emotional about something, make you think differently about something.

In the end, our hope is that when you're done watching whatever you watch with us, you'll feel like it was really time well-spent, and you'll trust us to bring entertainment that aligns with your values, your family's values, what you want in your household. We do that, and it helps us stand out and be unique in a very crowded but yet kind of a dark media landscape that's out there.
On how UPtv defines "family" and "family values":
One thing I've learned in my life is when you stand for everything, you probably stand for nothing. It's important that you understand what's important to your audience, in our case. Our audience is a 40 plus million group.

We call them the "uplifters." They identify with four really important things that they want from their entertainment experience. They want family, they want home. They value family, they value home. They value faith. And in this case, the Christian faith. And they value traditional television.

How we define family is around Christian values, and how the Christian faith defines values. It's a slippery slope these days. You start talking about that and getting into the nuances. But generally our audience is pretty keen on it.

We also take on real-life subjects, and we don't just live in a bubble here at UP, thinking, "Well, everything's got to be good and rosy." It's an important differentiator for us, because even though you maybe have a Christian household or a Christian family, you may be an individual by yourself as a Christian, that doesn't mean you live this perfect life. You have the same challenges, the same trials and relationships issues, and drugs can get into your teenagers, and all these things can happen.

What's good about what we do and our storytelling is we're real and authentic about how we deal with our circumstances and the situations. But there are consequences to your actions and the decisions you make, and I think it's important that as you tell these stories, you also resolve those stories to understand that your decisions, your actions have consequences.
On the CBC-produced Heartland, based on the books series by Lauren Brooke, a multi-generational saga about a ranching family in Alberta, Canada:
Heartland, by the way, is also huge on our SVOD (streaming video on demand) service. It's the most-watched on the service today.
On the inclusion of Christian elements into UPtv's productions and how the channel differs from Hallmark Channel, which celebrates warm feelings and family but seldom overtly references faith:
We want to be authentic with our viewers in life. You can find the escapist on us as well, and I think that's a big feature of Hallmark is that kind of surreal escape. But for us, it's important to stay authentic, stay true to it, but at the same time, stay true to Christian values in it.

That doesn't mean everything you watch on our channel, you're going to go, "Oh, that's a Christian movie," or that's this or that's that.

We will show, where Hallmark will not, the biggest Christian films as they come out. We tend to be the home for those. A God's Not Dead comes out, we'll be the premiere place for people to find it, because that's an important quality and value in our viewers. And important differentiator for us from a Hallmark. We're kind of Hallmark-plus versus Hallmark-light, right?
On the balance of Christian values with appealing to a broad audience:
People know first and foremost that we're a commercial television network. The Christian values inform a lot of our storylines. We're not what people out there would look at and say, "That's a Christian TV network." Right? I mean, I think Christian TV, as in TBN and INSP and those others, are very different than us.

We sell time to pastors just like Discovery, Lifetime and others. But I think number one, that has helped us from not being I guess in the crosshairs. The other thing is if somebody wants to criticize us for airing God's Not Dead, bring it on. We're not discriminatory, in that anybody can watch us. We're not saying only Christians can watch us, because Muslims and Jews and everybody else share much of the same values.

When you talk about Christian-informed values, those are love your neighbor as yourself , treat others fairly and do those things. That's not exclusionary to one religion to another, right?

And there again, it's something that we keep in mind in our storytelling not to offend people in those areas, but it's not something that you would look at our network and go, "That's clearly a Christian network." We air Gilmore Girls. It wasn't developed to be a Christian show. We air Whose Line is It Anyway, got some pretty edgy comedy in there. There's a lot of variety on the network.

But there again, what I was saying before, what sets us apart is we go that extra mile and we'll be the ones who will air the big Christian films. We'll be the ones who will make Christmas movies that are really about the story of why Christmas came about. Not just about Santa Claus and gift giving, but Christmas came about because of the greatest story ever told, right? That's where we make our mark and we're different.
In the next post Humbard talks about the importance of getting both male and female viewers, what he looks for in movies, and the network show he'd most want to acquire (hint: it features a family).
Image: UPtv
Don't miss a thing: Subscribe to all that I write at Authory.com/KateOHare.
And, head over to my other home, as Social Media Manager at Family Theater Productions; and check out FTP's Faith & Family Media Blog, and our YouTube Channel.