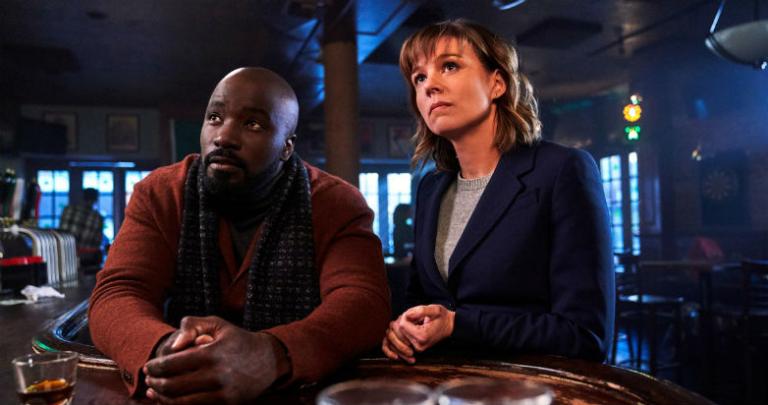 CBS' Evil, premiering Thursday, Sept 26, poses an interesting question: If human evil is so easily and readily transmittable over the Internet, are demons even necessary to do the dirty work?
Evil comes from executive producers/writers Michelle King (a self-described "agnostic Jew") and her husband Robert King (a self-described "devout Catholic"), who also directs; and executive producer Liz Glotzer. The Kings are also behind the CBS show The Good Wife and its CBS All-Access spin-off The Good Fight.
Here's now the network describes the show:
Evil is a psychological mystery that examines the origins of evil along the dividing line between science and religion. The series focuses on a skeptical female psychologist who joins a priest-in-training and a carpenter as they investigate the Church's backlog of unexplained mysteries, including supposed miracles, demonic possessions and hauntings. Their job is to assess if there is a logical explanation or if something truly supernatural is at work.
Katja Herbers (Westworld) plays the psychologist, a mother of four daughters, a wife (with an absentee husband and father), a professional expert witness and a lapsed Catholic. Mike Colter (Luke Cage) plays the "priest-in-training" — yes, they mean seminarian, but it's a TV version of one, who isn't just sitting in classrooms — who has a background as a foreign correspondent.
He's employed by the Church to investigate possible hauntings and demonic possessions, with the help of the contractor (Aasif Mandvi) from his rectory (shades of the spook-chasing plumbers from Ghost Hunters).
Christine Lahti joined the cast after the pilot, playing the psychologist's mother (the original actress had a scheduling conflict).
Lurking around the edges is Michael Emerson (Person of Interest, Lost) as a shadowy figure who may or may not be supernaturally evil, but definitely is up to no good.
More on the show closer to premiere, including some answers to questions I posed to the Kings (making them suspect I was from a Catholic publication — outed!), but for now, here's a trailer premiered at the biannual TV Critics Association Press Tour this past August:
Image: Elizabeth Fisher/CBS ©2019 CBS Broadcasting, Inc.
Don't miss a thing: Subscribe to all that I write at Authory.com/KateOHare
And, head over to my other home, as Social Media Manager at Family Theater Productions; and check out FTP's Faith & Family Media Blog, and our YouTube Channel.