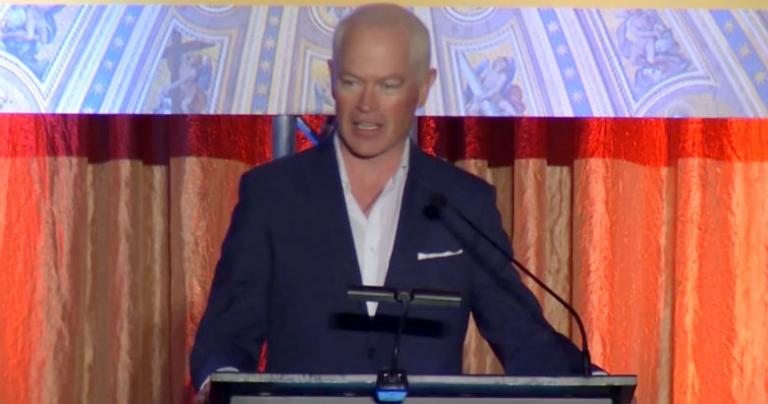 Back in April, actor Neal McDonough (Suits, Yellowstone, Altered Carbon, Project Blue Book, Justified) stood up in front of the Orange Catholic Foundation sponsors and friends in Irvine, California, and told the story of how a Catholic kid from Cape Cod made it in Hollywood, lost a lot for his faith, and then got it back.
On a personal note, as an entertainment journalist, I've know McDonough since the '90s, and I made the connection between the Orange Diocese folks and his representative. Happy to report that McDonough jumped on the invitation to speak at the Foundation's annual breakfast Conference on Business & Ethics. He's also hoping to do more Catholic events in the future.
McDonough has made a career in recent years of playing cops, military men, men in authority and various kinds of villains. But he draws the line at doing sex scenes — out of respect for his marriage to wife Ruve, mother of their five children — and that's cost him in his career.
He has started to inch into doing faith-based projects, such as the 2016 movie Greater — click here for the interview we did for that one.
These days, McDonough is very busy on several TV shows (as you can see from the credits above), and he's just starting his career as a Catholic speaker. Check out the video below and see what you think of how he does. I think it's pretty good.
Image: YouTube screenshot
Don't miss a thing: Subscribe to all that I write at Authory.com/KateOHare
And, head over to my other home, as Social Media Manager at Family Theater Productions; and check out FTP's Faith & Family Media Blog, and our YouTube Channel.