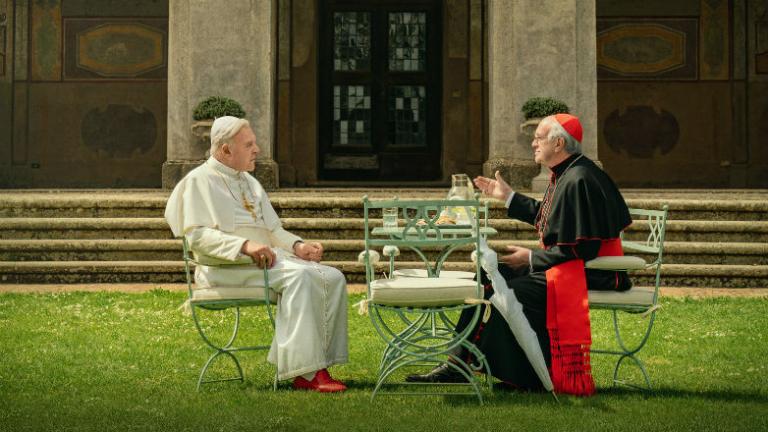 Wouldn't you love to know what Pope Emeritus Benedict XVI and Pope Francis say to each other in private — even before Cardinal Jorge Bergolio was elected to the papacy? Netflix's The Two Popes aims to (fictionally) lift the curtain.
After having announced it was giving Martin Scorsese's The Irishman a nearly month-long theatrical release on Nov. 1, with its streaming debut on Nov. 27 (the day before Thanksgiving), Netflix is doing something similar for The Two Popes. It hits selected theaters on Nov. 27, before coming to Netflix on Dec. 20. Way to have your Thanksgiving box-office turkey (with streaming stuffing) and your Christmas-streaming goose on one plate.
Said to be "Inspired by true events," The Two Popes comes from Brazilian City of God director Fernando Meirelles, working from a screenplay by New Zealand-born Anthony McCarten (Bohemian Rhapsody, Darkest Hour, The Theory of Everything). Anthony Hopkins plays then-Pope Benedict XVI, and summons then-Cardinal Bergoglio (Jonathan Pryce) to the Vatican.
So, technically, it's not "two popes," it's "one pope and one future pope, who doesn't yet know for sure that he's going to be pope."
Here's how Netflix describes the movie:
From Fernando Meirelles, the Academy Award-nominated director of "City of God," and three-time Academy Award-nominated screenwriter Anthony McCarten, comes an intimate story of one of the most dramatic transitions of power in the last 2,000 years.

Frustrated with the direction of the church, Cardinal Bergoglio (Jonathan Pryce) requests permission to retire in 2012 from Pope Benedict (Anthony Hopkins). Instead, facing scandal and self-doubt, the introspective Pope Benedict summons his harshest critic and future successor to Rome to reveal a secret that would shake the foundations of the Catholic Church.

Behind Vatican walls, a struggle commences between both tradition and progress, guilt and forgiveness, as these two very different men confront elements from their pasts in order to find common ground and forge a future for a billion followers around the world.
Have a look at the just-released trailer:
Obviously, "inspired by true events" doesn't mean this is a documentary, and the conversations between the two men — which appear to comprise most of the film — are likely almost entirely from the imaginations of the screenwriter. But they do have two powerhouse actors who certainly look their parts.
Ultimately, this is a work of fiction, which unfortunately could get confused with HBO's The Young Pope and its upcoming The New Pope (more on that below).
None of these productions is, or should be, considered an accurate representation of the papacy. They're all works of imagination, but as I saw with The Young Pope, sometimes a fictional story can get at the truth of a matter. Or, The Two Popes could be awful.
Several prominent Catholics have taken to social media to express their disdain for the production, which none of them has seen. I can't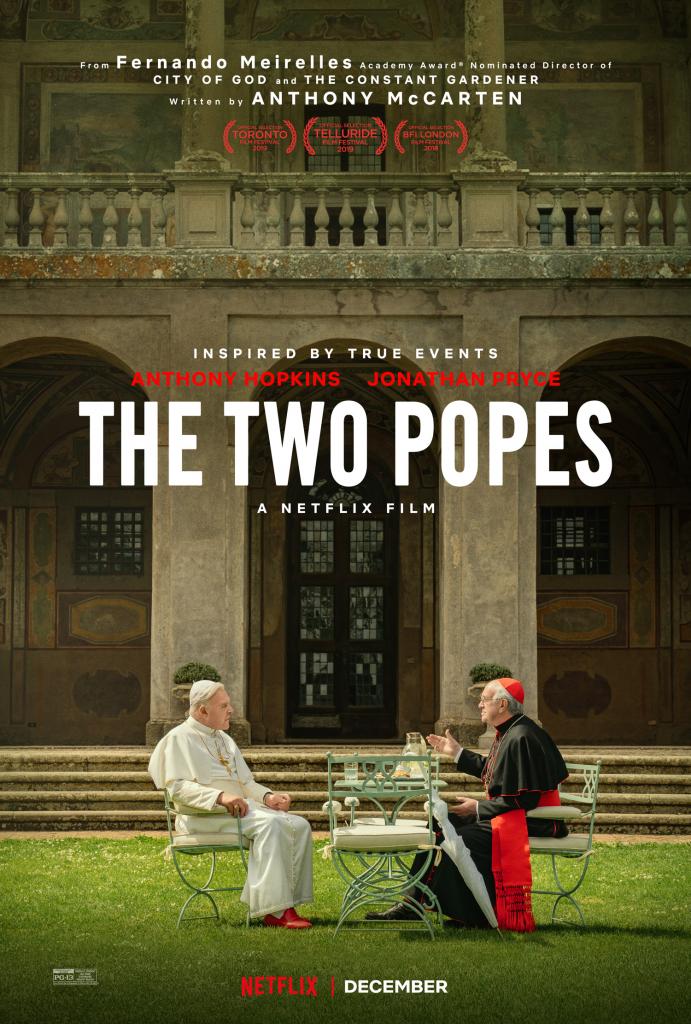 blame them, seeing how Hollywood's usual treatment of the Church is negative, inaccurate, mocking and hostile. On the other hand, if we're asking Hollywood to remain open-minded about us, it might be worth doing the same in return.
So, since I don't know of anyone involved in this who's a public and vocal anti-Catholic, I'm reserving judgment until I have something to judge.
We won't have to wait long for the first reviews of The Two Popes, since the film makes its world premiere at the Telluride Film Festival in Colorado, which takes place Aug. 30-Sept. 2.
The official Netflix site is here.
Oh, by the way, HBO has just released a trailer for the miniseries The New Pope (if you don't want to see Jude Law in a Speedo, turn away now), its follow-up to The Young Pope. Is it a horror? Is it blasphemy? Is it an utter and complete calumny against the Church? I thought that of the The Young Pope, and I was wrong.
So, take it for what it is. At times like this, I'm reminded of the saying by literary genius, sinner and deathbed Catholic convert Oscar Wilde, who observed, "The only thing worse than being talked about is not being talked about."
They're sure talking about us.
Here's your Speedo warning …
.
.
.
.
.
Image: Courtesy Netflix
Don't miss a thing: Subscribe to all that I write at Authory.com/KateOHare
And, head over to my other home, as Social Media Manager at Family Theater Productions; and check out FTP's Faith & Family Media Blog, and our YouTube Channel.