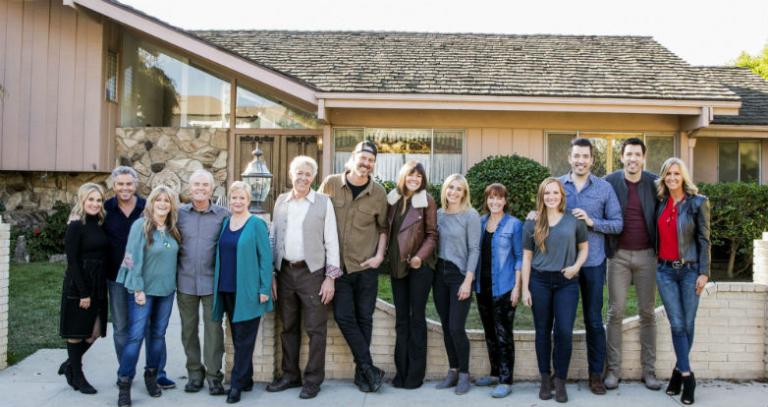 The Brady Bunch is back on HGTV — and it's time for shag carpets and avocado kitchen appliances all over again. A Very Brady Renovation premieres Monday, Sept. 9, on HGTV, at 9 p.m. ET/PT, reuniting the original kids for a major remodel.
If you can sing any or all of The Brady Bunch theme, you might officially be a member of that '70s cohort that's close to but not exactly Gen X, but definitely separated from their older siblings and cousins among the cultural Boomers who came of age in the '60s.
These kids never went to Woodstock or marched to end the war in Vietnam or dropped acid during the Summer of Love (as they were were in elementary school at the time). They sat with their moms and dads in gas lines; watched the nightly Vietnam body counts and the fall of Saigon on TV; and came home after school to that endless soap opera called the Watergate hearings. Too young to hit discos until later in the decade, many of them hailed the Jackson Five and the Osmonds as icons (not to mention The Monkees in afterschool reruns).
That 70s Show and The Wonder Years chronicled their lives later — but The Brady Bunch did it in real time. Airing from 1969 to 1974 on ABC, the sitcom followed the comic misadventures of a blended family comprising single mom Carol (Florence Henderson) and her three blond daughters Marcia (Maureen McCormick), Jan (Eve Plumb) and Cindy (Susan Olson); and widower Mike (Robert Reed) and his three sons, Greg (Barry Williams), Peter (Christopher Knight) and Bobby (Mike Lookinland). Also in the household were a live-in housekeeper, Alice (Ann B. Davis), and the boys' dog, Tiger.
They all lived in a suburban, two-story house designed by Mike, an architect, in a Los Angeles suburb. One house in Studio City in the San Fernando Valley stood in for the exterior, while the interior and backyard were located in soundstages at Paramount Studios in Hollywood. As many have noticed over the years, the exterior and interior didn't exactly line up. That's where HGTV came in. The set's long gone, but the original house was on the market, and HGTV snapped it up.
Pairing the six Brady Bunch siblings with HGTV stars Jonathan and Drew Scott (Property Brothers), Mina Starsiak Hawk and Karen E. Laine (Good Bones), siblings Leanne and Steve Ford (Restored by the Fords), Jasmine Roth (Hidden Potential) and Lara Spencer (Flea Market Flip), the goal of A Very Brady Renovation was to add 2,000 square feet to the interior of the house (while preserving the iconic street view) and recreate the look of the Brady home.
Starting tonight with a 90-minute opener, the series condenses more than 9,000 hours of footage of demolition, renovation and meticulous replication.
At the recent TV Critics Association Press Tour in Beverly Hills, the Brady kids were asked about coming back together, and here's a bit of what they had to say:
Eve Plumb:
They weren't asking us to come back and play Brady Bunch characters again. It was. "Let's explore what the house would be like if we could make it in real life, and please help us do that." I started watching all the HGTV shows, and I went, "This is going to be good."
Maureen McCormick:
For me, I always look at each project on its own and see if it resonates with me as something that would be real and just good. When I heard about this, I'm a huge fan of HGTV and all the shows that they do, and I talked with the people, and I just felt like they had a love for this project, and I felt like this would be a really good gone to be involved with. I was very excited in getting back together with everyone. It's been a really long time since we've all been together and working together, and it's just been so beautiful to be a part of this.
Susan Olsen:
We were right in thinking that this was the right thing to do, because it's proven to be a path with heart.
Christopher Knight:
I think one of the most interesting aspects of working on this project was learning just how connected the audience was to this house. But we had no recollection of it. I mean, it was placed as an establishing shot into the show. And like I said, I didn't know where it was and everybody else, you know, nobody worked there. And I don't think anyone else during the period the show was being filmed knew where this house was. So, there was a disconnect that I didn't even know existed between us or me and the audience.
Mike Lookinland:
I think it was more exciting for me to return to the house this time on our first day of production than it was the first time I ever saw it which was also in 1990. I … didn't even know where it was until 1990.
Barry Williams:
After our original show was cancelled, I was invited by a mutual friend for a lunch in the Valley. And I went into the house and we're having lunch and they're all looking at me and laughing. And "Doesn't this remind you of something?" And I'm looking around going, "No." They said, "Well, don't you know where you are?" And I said, "No." They said, "Well, you're in the Brady house." And I said, "No." They had to walk me back outside to look at the photograph that we see on television for me to make the connection because the inside resembled it not at all.
And where are the Brady kids now? At Press Tour, Williams said he now lives in Branson, Missouri, and plays acoustic guitar with a trio called Barry Williams and the Traveliers, and is a spokesperson for the classic-TV network MeTV. Knight said he has launched Christopher Knight Home, selling furniture online, and Christoper Knight Collection, selling other items for the home.
Lookinland said he lives in Salt Lake City, Utah, where he runs a small company making concrete countertops, fireplace fascia, stairs and other concrete architectural features. Olsen talked about leaving acting to become an artist and acting teacher (and animal rescurer). Plumb, now living in New York City, said she continues to act as well as doing some apartment renovations.
McCormick said she also continues to act and has a grown daughter who's gotten into the real-estate business.
Here's a tour of the house from ET:
Images: Courtesy HGTV
Don't miss a thing: Subscribe to all that I write at Authory.com/KateOHare
And, head over to my other home, as Social Media Manager at Family Theater Productions; and check out FTP's Faith & Family Media Blog, and our YouTube Channel.