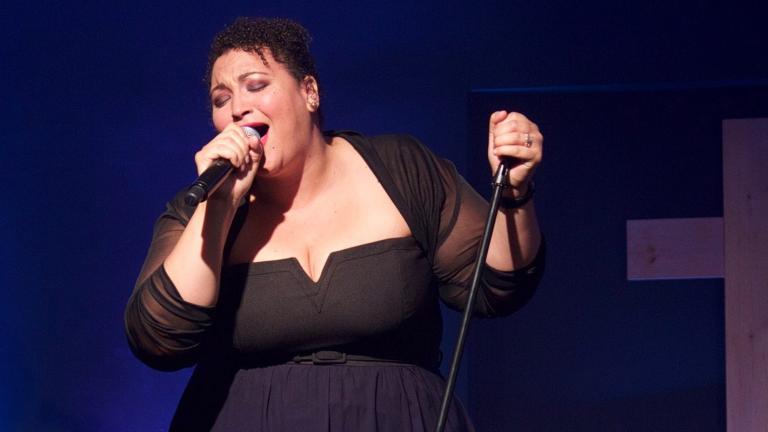 It's always a challenge for independent films, especially indie faith-based films. But writer/director/actor Tarek Tohme, a USC film-school grad, turned his cinematic dream into a reality. His debut feature, Hold On, opened Dec. 6 and is currently in theaters.
Here's what its about (official website here):
Hold On is a music-driven drama film. Written and directed by Tarek Tohme, it tells the story of Sidney Rhodes (Micayla De Ette), an overlooked singing prodigy who fights to keep her career dreams alive and save her brother from a life of addiction on Los Angeles' Skid Row, all the while embarking on an unexpected creative journey with the son of a famed music manager.

I caught up with Tohme to see how he brought Hold On to the screen …
What was the process of crafting the story for the film out of yours and Micayla's experiences?
The process of creating this story and film was a truly cathartic one. Micayla and I both drew from our personal battles with grief and loss when crafting the script. But Micayla allowed me and the team to take things one step further. when it came to incorporating her trauma and life experiences. She allowed us to base the film around a song– "Hold On"–which she began writing several years ago, in the aftermath of family tragedy.

Up until filming began, she had abandoned any efforts to complete or release the song, because it simply brought up too much trauma when she would sing it. Amazingly, Micayla didn't finish the song's final lyrics until she showed up on set to film the scene in which the song first appears. So yes, we definitely drew on a lot of life experiences when creating the film. We like to say that this project is an example of "turning beauty from ashes."
It's a hard road for indie filmmakers today — how did you manage to get this movie made and find distribution?
It all began with a story that we ourselves–and then others–truly believed in. It then took further shape by bringing on an amazing team, many of whom were my former classmates at USC film school. Shortly after finishing the film, one of our actors and producers — Luis & his son Cemi Guzman — connected us to Ed Martin of Joule Entertainment, who immediately made us an offer and began positioning the film for theatrical release. It's truly amazing to have such a strong and special team believe in this story.
How important is faith to the story?
Faith is central to this story. It's interesting because there is a scene in the film in which my (Tarek's) character tells Micayla about one of her songs, "We need to tone down the God stuff because it might rub some people the wrong way." And we certainly have had our share of obstacles in getting mainstream folks to believe in the film, due to the role faith plays. But the role of God and faith is certainly central to the film. It is the central aspect of Micayla's real life, the central aspect of her character in the film's life, and there would be no Hold On without faith at the center.
What do you want people to most take away from the film?
I would love for people to leave the theaters with a feeling of empathy for their fellow humans. Moreover, I would love for people to open themselves up for the capacity to genuinely feel as they watch the film. We explore some serious and dramatic subject matters (drug addiction, homelessness), and I think it's important to put a human face to those real-life themes and subjects. When we set out in making this film, we said, "If we can help impact one person's life for the better, then we have done our job." And that is still our belief and desire.
What did you learn at USC that helped you most in making Hold On — and what did you learn from the actual making of the film?
USC definitely prepared me for the production and on-set side of the filmmaking process. I don't believe there is a film school in the world that does a better job of teaching filmmakers the arts of directing, producing and writing, and how to get a project shot and edited.

In terms of things I learned from the making of the film, that would have to be the fundraising and distribution side. Those are elements of the filmmaking process that can only be taught by firsthand experience, and I'm truly grateful to our acquisition team for being so transparent with us throughout the journey so that we could learn as the project was taken to the next level.
Images: Film Bureau
Don't miss a thing: Subscribe to all that I write at Authory.com/KateOHare.