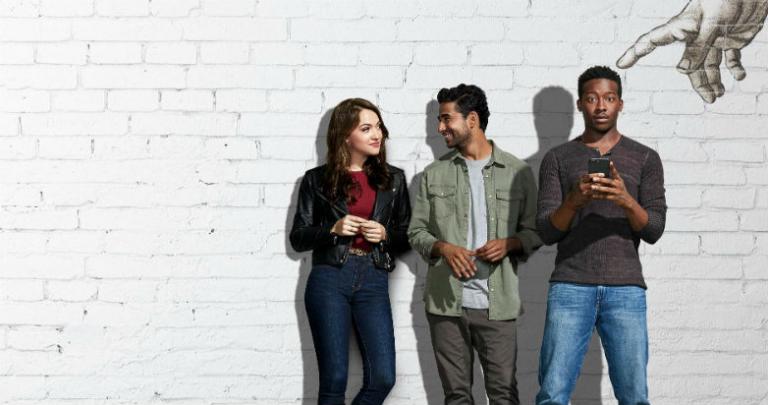 CBS has announced the cancellation of its Sunday-night drama God Friended Me, which will now end with the two-hour April 26 season finale, starting at 8 p.m. ET/PT.
According to The Hollywood Reporter, the producers — including Greg Berlanti, Steven Lilien and Bryan Wynbrandt — were given enough warning to be able to craft a conclusion to the story.
From the Reporter story:
"We're extremely proud of the unique concept and uplifting stories God Friended Me has told over the past two seasons," CBS and Warner Bros. TV said in a statement. "We thank the brilliant cast, writers, production team and crew for a show that stirred thoughtful conversation about faith, life and happiness, and made viewers feel good at the end of each episode.

The creative team behind the show has one last 'friend suggestion' in mind, as well as an ending we hope brings a satisfying conclusion to Miles' journey in search of the God Account."

The series stars Brandon Micheal Hall as an outspoken atheist who receives a social-media friend request from "God" and unwittingly becomes an agent of change for the people around him. The cast also includes Violett Beane, Suraj Sharma, Javicia Leslie, Joe Morton and Erica Gimpel.
Reached for comment, Wynbrandt replied via email:
Making God Friended Me has been an absolute joy. Getting to work everyday with our amazing cast and crew is what every showrunner and creator hopes for. And on top of that, we had the most amazing and devoted fans. They came out every Sunday night to support the show and we are forever grateful for that.

When Steven and I heard we weren't coming back for a third season we devised a plan to edit the final episode to be a series finale. And it will provide our audience with a fitting and satisfying end to Miles' journey.
I also put out a call for comments from one of the Facebook groups devoted to
God Friended Me
(official site
here
). Here are some of them:
There are few good family shows on this network; and now they are canceling God Friended Me !!!! … David S.

God Friended Me was one of the only uplifting shows on television. It is sad to see a positive show like this be discontinued! … Breeda K.

Our family loves this show! The acting and writing are great and it is an uplifting story, there is so much junk on TV that degrades the spirit and this show is a gift we look forward to every week. I truly hope the show will continue. We need this right now. It's like John Krasinski "Some Good News", we need it! … Barbara C.

I am an Orthodox Christian, my husband is eclectic in his beliefs. We both shed tears of joy and sorrow and relief generated by this brilliant program. It is the only network TV program we watch. … Katy B.

This is the only evening show I watch! I can't imagine why this would be cancelled. It will certainly be a loss to those of us who were lifted up by the show. … Karen B.

It's sad to see God Friended Me end — it was a great show that touched on many spiritual ideas without being dogmatic. In a lot of ways, I viewed it a millennial "Touched by an Angel." It was smart and well written. While it's sad to see it end and I wish it would have continued on, it feels like it's a good time to conclude the story. I'm thankful the writers were given notice to wrap it up and (hopefully) bring some closure. … Fritz K.
At the same time, the faith-centric supernatural drama Evil has been given a season-two greenlight (more on that show from me here).
If you're catching up on God Friended Me, you can watch online at CBS.com, on CBS On Demand or on CBS All Access.
Here's a peek at the finale:
Image: CBS
Don't miss a thing: Subscribe to all that I write at Authory.com/KateOHare