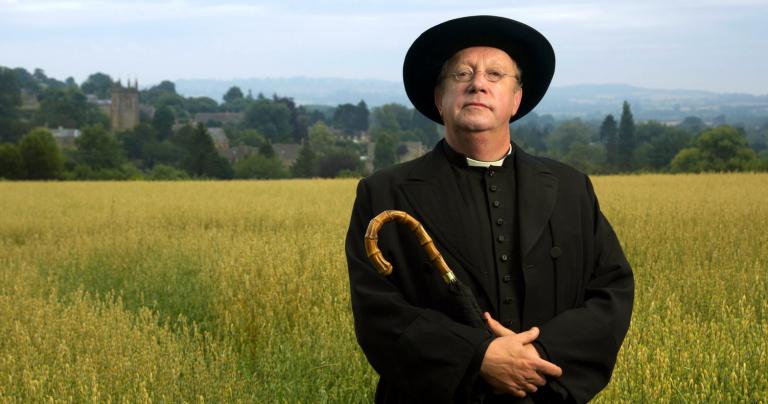 As we were not on video chat, I couldn't tell if Father Brown star Mark Williams had tea over in Britain, but I had my piping hot morning mug of Irish breakfast brew before we got on the phone.
Anyway, as Williams points out, noting the time differential, "It's evening here."
What Is Father Brown?
Produced by the BBC — which airs it during the day in the U.K. — Father Brown is loosely based on the series of detective stories by Catholic British writer G.K. Chesterton. Currently in its eighth season, it airs in the U.S. in syndication on PBS stations and on streaming service BritBox.
The original stories were written between 1910 and 1936, and many took place in and around London. But the TV series moves the setting to the bucolic Cotswolds in the 1950s. What stays the same is the contrast in the person of Father Brown of a man of deep faith and compassion, but who also has a devotion to reason and penetrating intelligence.
Explains Williams: "Father Brown is a man of faith, and he tries to live by that. And as G.K. Chesterton knew when he set out to write a detective who was a man of faith, that it's not just an intellectual exercise, not just a crossword, to solve a crime.
"It is about somebody's soul, about later on in life. That makes everything much more important. The stakes are so much higher. And that has a bearing on his attitude towards both the criminal and the victim. It's a much richer relationship he has with the crime."
Also, if you think about it, after a priest has listened to a few years' worth of confessions, there's probably very little of human failing that he hasn't heard about.
Says Williams of Father Brown, "He does not judge people, because he knows what everybody is like in a confessional. He's never holier than thou. And, he takes a very dim view of people who are like that. The theory is, without sin, cast the first stone.
"It is an attitude informed by faith and belief in a higher power."
Why do U.S. and U.K. fans love Father Brown?
On both sides of the pond, fans of all sorts love Father Brown, and Williams has a theory about that.
"Well,," he says, "I think it's about storytelling. That's what we're trying to do, to the best of our ability. That's what people respond to. They want it to be a good story. It's like being read a bedtime story."
The Ecumenical Side of Father Brown
Father Brown is set in the fictional town of Kembleford in the green, rolling Cotswolds (also its actual filming location), where there appears to be a remarkable number of Catholics — honorable and criminal — and a very cozy relationship with the local Anglican community.
That begins with Father Brown's parish, St. Mary's, which, in real life, is Saints Peter and Paul in the village of Blockley, with a rainbow-festooned website and a female pastor (with whom Williams says he has many nice chats). Originally built in the late Norman period, it wasn't always Anglican.
"Sorry," says Williams, "can I just add something? Of course, it was Catholic."
It's an irony of historically Catholic England that its ancient Catholic churches were taken over by the Church of England, and many current Catholic churches were built in the 20th century. So, if you want to shoot a Catholic show in a beautiful old English church, you're probably going to be in an Anglican parish.
One feature of Father Brown is its ecumenical spirit, with little of Britain's real-life anti-Catholic prejudice on display.
In one season-eight episode, The Celestial Choir, a competition finds the Kembleford Choristers singing Schubert's full Ave Maria in an Anglican cathedral, with the cathedral's vicar clapping in appreciation (and, of course, the scene was actually shot in an Anglican cathedral).
Score one there for Our Lady.
Chesterton, Anyone?
If you wonder whether Williams has read any Chesterton, wonder no more, since I asked him.
"Chesterton is very interesting," he replies. "Have you read his poetry? It's stunning. The Blue Cross, which is the first Father Brown story, is the exemplary way of introducing the character, because, you don't think he's the hero for most of the story. You think it's going to be Valentin, and it's not. So, The Blue Cross is a brilliant story."
If you're curious, you can read The Blue Cross here.
More Brown — and also Boniface
The BBC has already confirmed a ninth season of Father Brown, and back in April, BritBox announced that it has commissioned a spin-off series called The Sister Boniface Mysteries, featuring Lorna Watson reprising the role she played in season one of Father Brown.
From PBS station KERA's Tellyspotting blog:
The initial 10-part series has been created and written by Jude Tindall (Father Brown, Shakespeare & Hathaway) and will be executive produced by Will Trotter. Set in 1960s England (rural Warwickshire, to be exact), The Sister Boniface Mysteries finds itself deep in a world where DNA has yet to be discovered, blood testing could take days, the notion of trace evidence is still in its infancy and the preservation of crime scenes is not commonplace.

Thankfully, there's a secret weapon living in St. Vincent's Convent, which houses a small community of wine-making nuns, by the name of Sister Boniface. Sporting an IQ of 156, a PhD in forensic science and a fully-equipped crime laboratory at her fingertips, Sister Boniface is an invaluable asset to the Great Slaughter Police Department.
Let's hope it's as successful as Father Brown, and that TV gets over its fear of including faithful Catholic characters and authentic faith in dramas and comedies.
As Williams himself remarked on the topic, "Nothing ventured, nothing gained."
Image: BBC
Don't miss a thing: Subscribe to all that I write at Authory.com/KateOHare