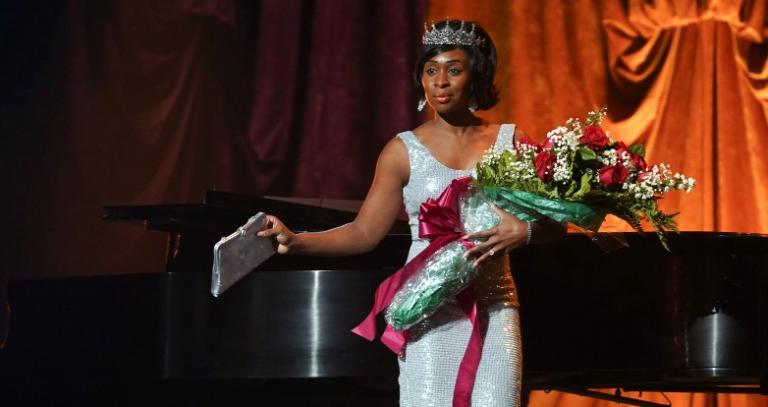 Since her death in 2018 at the age of 76, the legend of "Queen of Soul" Aretha Franklin has only grown. Evidence of that is two projects coming out this year honoring her: Nat Geo Channel's Genius: Aretha, premiering Sunday, March 21, and a feature biopic, Respect, starring Jennifer Hudson, hitting theaters August 13. But if you really want to dig into the details of Aretha's life, Genius: Aretha is for you.
Clocking in at eight hours spread over Sunday-Wednesday (the eve of Aretha's birthday), 9-11 p.m. ET/PT (episodes premiere on Hulu the day after they air on Nat Geo), this latest installment in the Genius franchise stars Academy Award-nominated British actress/singer Cynthia Erivo (Harriet) as the adult Aretha, with newcomer Shaian Jordan as the young Aretha.
COVID-19 interrupted production on Genius: Aretha and delayed its premiere by nearly a year, but the difficulties don't show in the impressive result (which I enjoyed while skipping Harry and Meghan's interview with Oprah). Official website here.
Aretha's Complicated Family Life
Courtney B. Vance has a showy turn as Aretha's flamboyant preacher father, Pastor C.L. Franklin, and the father/daughter relationship underpins the entire drama. A successful public preacher, civil-rights activist and spoken-word recording artist in his own right, Pastor Franklin first urged his daughter to sing in public, and his influence over her continued throughout his life.
As the miniseries shows, Pastor Franklin enjoyed his Saturday nights as much as his Sunday mornings. His philandering ways (including impregnating a 12-year-old) cost him his marriage to Aretha's mother, who moved away from the family, and other relationships. Aretha's pregnancies at age 12 (after going with her father on his speaking circuit) and 14 throw doubt on his role as the custodial parent.
Regarding those teen pregnancies — Aretha kept both babies — there's one positive, pro-life element. Her maternal grandmother (Pauletta Washington), while scolding her son for parental negligence when the first pregnancy is revealed, assures Aretha that the child would be the "family's baby," and that motherhood won't stop her from achieving her dreams (and it didn't). This all happened in the 1950s, and terminating either pregnancy is never mentioned.
She had a third son with husband and manager Ted White (Malcolm Barrett). After a tempestuous marriage — including abuse, as the miniseries shows — that ended in divorce, she had a fourth son with her road manager.
Aretha and Jerry Wexler: What a Partnership With the Right Producer Can Do
While there were many male relationships on her personal side, Genius: Aretha also explores the performer's most important male professional relationship, with record producer Jerry Wexler (David Cross).
The music industry tends to eat up artists. Many get financially and emotionally damaged or even destroyed, but Aretha — or Miss Franklin, as she preferred to be called — was fortunate enough to find a manager who respected and understood her.
At one of the two sessions for the show at the biannual TV Critics Association Press Tour, executive producer/showrunner Suzan-Lori Parks recalled one scene in the studio with Aretha and Wexler:
Muscle Shoals, Alabama, 1967, when George Wallace and George Wallace's wife were running the state. Aretha Franklin goes down to Muscle Shoals to find her sound at the suggestion of Jerry Wexler, producer of Atlantic [Records]. So we know the setup. She finds a group of white musicians, right, who are awesome, but they're white dudes. How are white dudes going to help her find her sound? Genius moment, she is inclusive, right?
Despite the difficulties Ted causes in the studio in Muscle Shoals, Aretha proves herself in control of the room, the band and her signature sound. The scene also showcases Aretha's musicianship — and Erivo's ability to channel the woman she's playing.
At the same TCA session, Erivo said:
Singing, I guess, is my second language. So, the rumor is true. I do sing live on set. And I think I'll be singing live consistently.  … I guess it allows me to connect to her, you know?  Music is a real way to open up and to be vulnerable and to share the way one feels to express the things that you can't say.

And so, to be able to actually sing live means that I can be in the moment, and I don't have to manufacture it. And it's there in the words, in the lyrics, in the music, in the way I have to sing it.  So, for me, it's a gift, a true gift to be able to sing live on set, truly.
Erivo captures Aretha's introspective and shy personality while letting us see her ambition and competitiveness (even with her own singing sisters), and the grit and determination that led her to use her platform to serve Dr. Martin Luther King, Jr. and the Civil Rights movement.
Finding Her Amazing Grace
Genius: Aretha also focuses on the 1972 gospel performance at New Temple Missionary Baptist Church in Los Angeles immortalized in a 1972 live album and 2018 documentary, both called Amazing Grace (click here to read my interview with the man who resurrected the long-shelved film version).
While choosing that location caused issues with her father, Aretha showed that, despite a less-than-perfect life, Christ was ultimately at the center of all she did.
Unfortunately, my screeners didn't include the eighth and last episode, in which Aretha gives her legendary Grammys performance in 1998 (a classy contrast to the recent awards, which sank in the ratings), so we'll get to discover this treat together.
As a teaser, here is the real performance, as Aretha steps in at the last moment for friend Luciano Pavarotti, who was suffering from a sore throat, to perform the song he was going to do, the famed Puccini aria Nessun Dorma:
And here's a peek at Erivo as Aretha …
Image: National Geographic/Richard DuCree
Don't miss a thing: Subscribe to all that I write at Authory.com/KateOHare