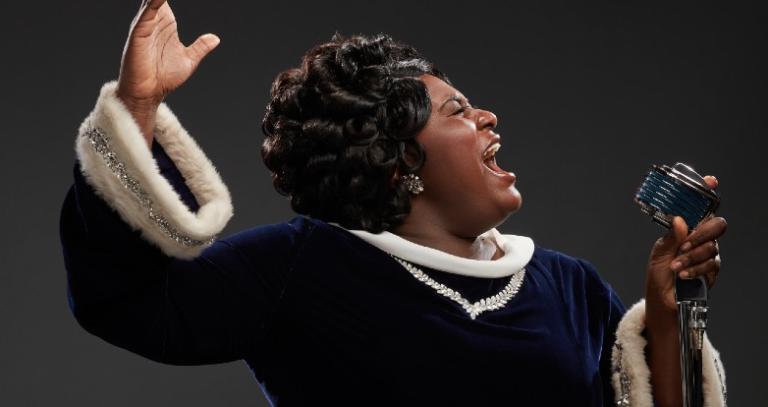 Last Holy Saturday, Lifetime profiled gospel group the Clark Sisters, and this Holy Saturday, the network goes gospel again with Robin Roberts Presents: Mahalia, a biopic of gospel-music legend Mahalia Jackson.
Executive-produced by Linda Berman and Good Morning America anchor Robin Roberts, the film stars Grammy-winning actress and singer Danielle Brooks (Orange Is the New Black), as Mahalia, who rose from poverty in New Orleans to gospel-music stardom, first in Chicago and then around the world, including performances at Carnegie Hall and a JFK inaugural ball.
Kenny Leon directs from a screenplay by Bettina Gilois (the film is dedicated to her, since she died from cancer in July) and Todd Kreidler. The cast also includes Joaquina Kalukango, Olivia Washington and Jason Dirden.
Jim Thorburn plays Mahalia's longtime friend, Chicago radio personality Studs Terkel, who's credited with introducing her to a larger audience.
Interestingly, the premiere of Mahalia comes only days after the finale of National Geographic Channel's eight-episode miniseries Genius: Aretha, a profile of Aretha Franklin (it wasn't planned; COVID-19 affected the timeline of both productions).
While being born in different generations — Jackson, in 1911, and Franklin, in 1942 — there are similarities. Both women grew up singing in church, and both became superstars and musical legends.
The two also became involved with the Civil Rights Movement and Dr. Martin Luther King, Jr., who was friends with both and is a character in both stories (Rob Demery plays him in Mahalia).
As shown on screen, both were also strong-willed women determined to guide their own careers and lives, and stay true to their signature styles (even if men they loved and trusted often let them down).
One big difference is that, while Aretha became most famous singing secular music (though never abandoning her gospel roots), Mahalia never crossed over. Despite opportunities to sing the blues and other kinds of music, Mahalia Jackson remained dedicated to her faith and using her gift only in His service.
She wasn't a perfect person — there were two husbands, and a preacher she loved, who passed away before they could marry — but Mahalia didn't want to sing just to entertain or make money or express herself.
She wanted to take people to church — and that's something Brooks understands.
At this winter's virtual version of the biannual TV Critics Association, she said:
Mahalia stood firm on her faith with God. And I've also had to do the same thing through my journey. I think that's why I was so connected to who she was, because I also grew up in the church, and I also had to lean on God when I felt like I couldn't do things.

This was definitely one of those moments where I didn't know how the story was going to get told, where the story was going to get told. But I had to trust that what was told to me in my spirit, what was given to me was that I was supposed to play Mahalia Jackson, and I had to trust that.
At 106 minutes (without commercials), Mahalia is a severely condensed version of the singer's life. Without the luxury of the eight hours accorded to Genius: Aretha (and with not nearly the budget), the film can only tap the high points of the 40 years it covers.
But, with glorious gospel music (with the voice of Brooks, who reportedly sang 85 percent of the songs live) and the story of a strong woman of faith, short of the actual Resurrection (which is over on Discovery+), Robin Robert Presents: Mahalia is an inspiring choice for Easter weekend.
Incidentally, last year's The Clark Sisters: First Ladies of Gospel re-airs at (all times ET/PT) on April 3 at 5:30 p.m, followed by back-to-back-to-back airings of Mahalia, at 8 and 11:03 p.m. and 12:59 a.m. Mahalia then airs again on Easter Sunday, April 4, at 5:30 p.m.
Image: Courtesy of Lifetime, Copyright 2021
Don't miss a thing: Subscribe to all that I write at Authory.com/KateOHare