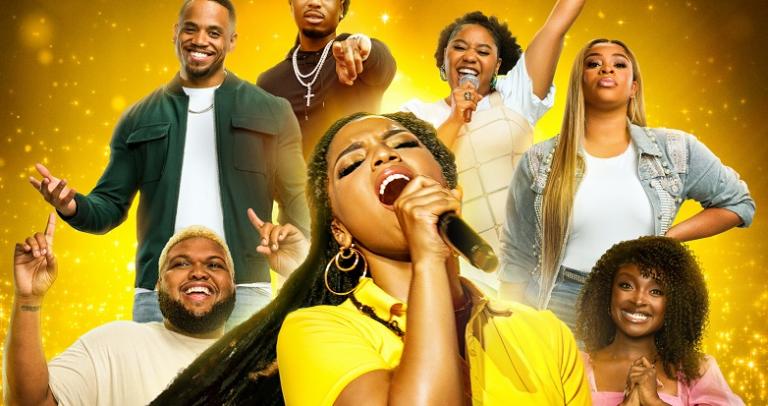 Praise This! is all about singing for Jesus, but there's a little Saturday night in its Sunday morning.
What's Praise This! About?
Streaming on Peacock, the musical comedy/drama stars Chloe Bailey as Sam, an aspiring — and increasingly wayward — Los Angeles singer left by her widowed, worried father with her psychologist uncle in Atlanta.
There, she's roped into joining the praise team at her cousin's storefront (OK, former warehouse) church.
Now, a praise team is not a team of preachers. It's a team of singers and dancers (and we aren't talking about square dancing, here. More on that in a bit.).
Big losers in the previous year's praise-team competition (such things apparently exist), the young members of the Oil Factory (named after their church) are back for more. But when Sam reluctantly joins these underdogs — and especially once she gets the Holy Spirit — they become contenders.
Praise This! is like a contemporary blend of Pitch Perfect, Bring It On and Sister Act II.
The film also stars comedian Druski (House Party, The Crew League), Grammy-nominated Atlanta-based hip-hop sensation Quavo (The Crew League), Grammy-nominee Tristan Mack Wilds (The Wire, 90210), Birgundi Baker (The Chi, Black Lightning), Loren Lott (Tag, The Young and the Restless), Kiara Iman (Resentment), newcomer Ilario Grant, Crystal Hayslett (Sistas, Zatima), Cocoa Brown (9-1-1, Ted 2), Vanessa Fraction (Barbershop 2: Back in Business, Mann and Wife) and Grammy-nominated gospel stars Jekalyn Carr and Koryn Hawthorne.
Tina Gordon directs from a screenplay by herself, along with Brandon Broussard & Hudson Obayuwana & Jana Savage (the trio collectively known as Murder Ink). Praise This! comes from Will Packer Productions, under its first-look deal with Universal, and is a Peacock Original.
Take a look:
There's More Than One Kind of Jesus Music
Back in 2021, I wrote about a film called The Jesus Music, a documentary focusing on Christian Contemporary Music (CCM), a genre about which I confessed to knowing very little.
As an Irish Catholic from the Adirondack foothills, living in Los Angeles, I know even less about Atlanta, praise teams and Christian hip-hop music.
But, while The Jesus Music didn't leave me wanting to know more about CCM, Praise This! was actually fun, and much of the music is rather good.
Bailey (sister of Halle Bailey, who's in Disney's new live-action The Little Mermaid) is an amazing singer, as are several in the cast.
Although Sam is not a "church girl," she has the rhyming ability to imbue any song, even a risqué one, with a Gospel message. While I wasn't particularly familiar with the previous versions of some of the songs she does this to, true fans will get a kick out of her reframing of the lyrics.
Take a listen:
About That Saturday Night …
But, and this may be an issue for parents, while the praise teams sing about God, many of them are also out there shaking what God gave them.
Some of the costumes (especially certain tops Bailey wears) are a wee bit skimpy. And there is scattered salty language (not including the f-word, though).
There's no sex (although Sam's uncle and his wife are charmingly frisky with each other), and only a bit of drinking. While weed is discussed, there's no drug use shown.
There are also a couple of gossipy "church ladies" at the competitions, one of whom may have a few sexy skeletons in the closet herself.
But Packer wasn't interested in making God's Not Dead: The Musical.
From a story in the Wall Street Journal:
"I wanted to make a movie that felt like it could be authentic to people that don't go to church, that don't know what a praise team is," Packer said. "That maybe — and this is true of a lot of us within the past few years — have lost their faith and maybe don't have a connection with their own spirituality or with a higher power."

That's not to say "Praise This" is preachy. In fact, it's a little edgy for traditional church folk — even leaving aside the gospel remix of "Savage" — but that's by design. Gordon wanted to focus on a generation used to documenting their lives on social media, for better or worse.
This Is Not Your Grandma's Gospel Music
In the world of gospel music, the line between Saturday night and Sunday morning often gets a little hazy, as 2021's dueling Aretha Franklin biopics showed, in film and on TV.
You will not mistake any of the music in Praise This! for Gregorian chant, the Hallelujah Chorus or even the Staples Singers, but the film's heart is in the right place.
Praise This! is unapologetically Christian. The characters are imperfect, and many have checkered pasts (or even checkered presents). But, as a competition announcer points out, God is in the redemption business.
After losing her mother, Sam has become a lost soul, heading straight down the road to perdition. But through performing with the praise team — and the influence of her goofy, sunny cousin Jess (Anjelika Washington) — she turns a corner.
The Rapper Might Even Get Redeemed
There is a nice little twist to Sam's quest for success. Desperate to break into the music business, she sneaks into a rapper Ty's (Quavo) party and sings one of his songs. Later, she returns and basically offers herself to him in exchange for a chance.
Ty is no Christian, despite wearing a huge jeweled cross (he's never heard of Isaiah, for example). But, rather than taking advantage of this young woman, he sees Sam as a fellow artist, rather than a groupie or a one-night stand.
Quavo even told Vibe.com that he's open to making a gospel album:
For the Migos member, acting in a gospel film, believing in God, praying, and "keeping Him first" have served as a form of therapy for him.

His on-set experience has also been an eye-opener to the endless musical opportunities, such as the possibility of one day creating a gospel album with artists of the genre.

"I wouldn't mind," he expressed. "But I like working with gospel artists. I think that they feel that's how they got it. And I got it out the mud in another different lane. But whenever we cross [paths] and get together, I think, 'Yes, we should do something.' I think I should do a collab, yeah."
In Conclusion
So, Praise This! is not squeaky-clean, but it is a faith-based film, with the Spirit front and center. Hey, there's even a confession scene, and characters do the Sign of the Cross.
Amen to that.
Image: Chloe Bailey (center) in 'Praise This!'/Peacock
Don't miss a thing: Subscribe to all that I write at Authory.com/KateOHare