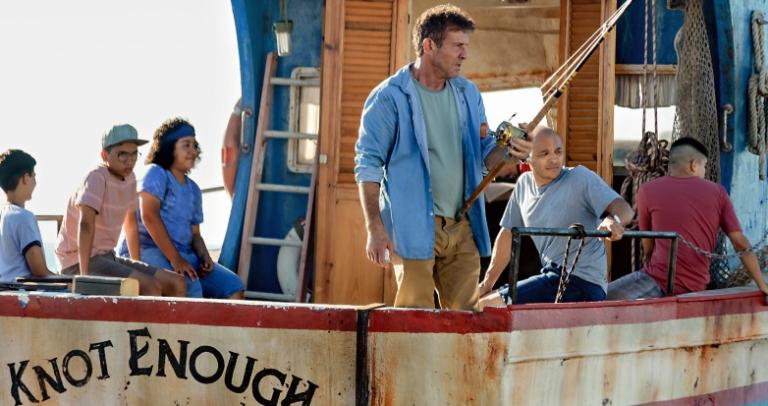 Very little happens in Netflix's Blue Miracle, available now, that should surprise anyone — especially anyone who follows today's faith-based movies. But that doesn't mean it's not fun to watch.
Blue Miracle is loosely based on the true 2014 story of a ragtag team of first-time fishermen from Casa Hogar, a financially strapped, hurricane-ravaged charitable home for orphan boys in Cabo San Lucas, Mexico. The orphans and their caregiver enter the prestigious Bisbee's Black & Blue Marlin tournament, aiming to win the $250,000+ first prize.
I'm not going to say if they prevailed, but allow me to assure you that the tone of this movie ensures that the outcome is never really in doubt. It's every underdog sports movie you've ever seen, except with fishing poles instead of balls, and an ocean instead of a field or a court.
Speaking of ocean, director and co-writer (with Chris Dowling) Julio Quintana — a protégé of Terrence Malick — captures the waves at their bluest, and then proceeds to liberally sprinkle all shades of the color blue throughout nearly every scene.
Built on the bare bones of the original Casa Hogar story, the film spins out a family-friendly yarn featuring a grown-up orphan (Jimmy Gonzales) with a troubled past (involving water), a gruff and grizzled American fishing-boat captain (Dennis Quad), a passel of orphans with cute nicknames and contrasting personalities, and a beaten-up boat.
If you're getting Jaws vibes, fear not, there are no shark attacks, but at one point, everyone starts comparing scars.
One upside, the orphanage story does highlight the gritty, dangerous, impoverished reality of the streets just outside Cabo's luxury resorts, which many tourists no doubt avoid.
It is rather puzzling, though, since this is a story set in Mexico, and almost all the characters are Mexican, that the dialogue is a mix of mostly English and a little Spanish — even when no native English speakers are in the scene.
God and prayer get mentions, but no priests, nuns or pastors wander through at any point, so the more secular members of the family won't get cranky.
I will say, though, that in a TV-movie world dominated by female-driven storylines, it was downright refreshing to see two different but equally masculine leads and a bunch of teen boys in an adventure story that tugs at heartstrings without dissolving into excess sentimentality.
Blue Miracle is fine for the whole family and might even encourage the current and would-be anglers in the family to dust off the rod and reel and hit the water.
Image: Carlos Rodriguez/NETFLIX © 2020
Subscribe to all that I write at Authory.com/KateOHare