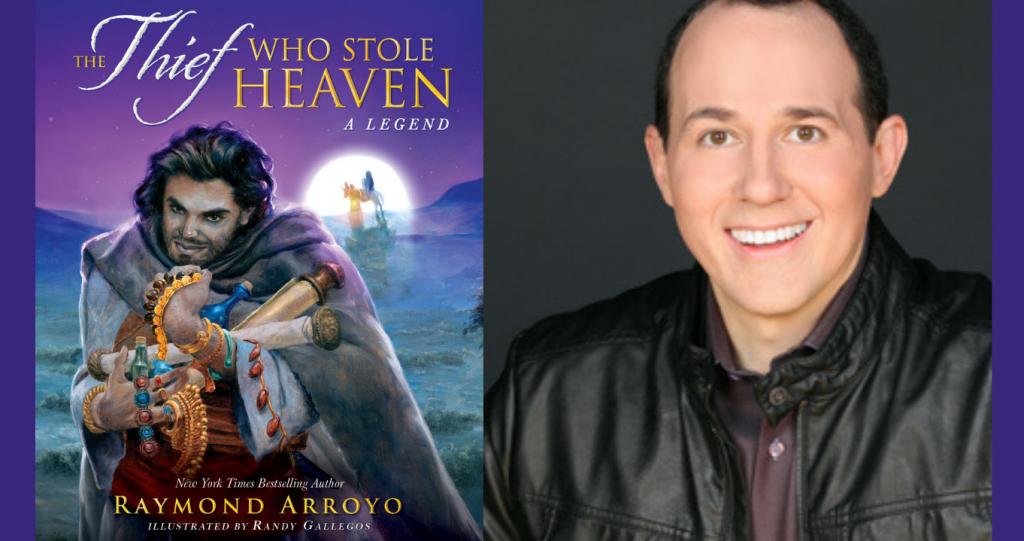 Says journalist and author Raymond Arroyo, "I don't sit around thinking, 'Oh, well, how is Raymond feeling today?' Or, 'How can he inject his faith or his love of gumbo into the story today?' Who cares?"
When he's not doing musical theater (he did graduate from New York University's Tisch School of the Arts) or playing his chief role of husband and father of three in his native New Orleans, Arroyo is the News Director of Catholic cable/satellite/digital network EWTN and host of its weekly news program The World Over.
In his spare time, he pens articles for a variety of national publications and makes regular TV appearances (including a recurring pop-culture segment on Fox News' The Ingraham Angle).
He also authors best-selling children's books, including the most recent, the picture book The Thief Who Stole Heaven, from Sophia Institute Press.
Whatever the venue, all Arroyo really wants to do is tell you a story — but not a story centering on himself.
He says, "You tell the story well, you get out of the way, and if the story is any good, it will move people, it will change them. But that's the power of the story, not your power. You're not a magician. You don't do very much.
"All we do is arrange words on the page and hopefully create an atmosphere where people feel comfortable entering into this story with these characters. But that's my theatrical training."
The Thief Who Stole Heaven fleshes out the Biblical tale of the Good Thief, who spoke up in Jesus' defense while they were both nailed to crosses, and who was promised to end Good Friday with Christ in Paradise.
So, Arroyo went beyond the confines of the Gospel narrative and into the Church's legends and long oral tradition to find out more about the thief, called Dismas in these tales. He also fills out the backstory of the unrepentant third member of the crucified trio, whom the tales call Gestas.
In Arroyo's version, illustrated by Randy Gallegos, Gestas takes in the abandoned boy Dismas and raises him to be a ruthless thief, waylaying, robbing and killing travelers. But when Dismas encounters the Holy Family on the way to Egypt, he has an encounter with the Child Jesus that, while it doesn't cause him to totally mend his ways, remains in his heart.
"What I've discovered," Arroyo explains, "among the writings of St. Augustine and John Chrysostom, and others, is really, I think, a historic tale of the origins of this Good Thief.
"It never made sense to me, Kate, when we hear the Good Friday reading about him, why does he leap to the defense of this Nazarene preacher, all of a sudden?
"I mean, presumably, his only encounter with Him is when they're carrying their crosses up the hill, and then he's hanging on the cross next to Jesus.
"When you've got the mob, including your mentor yelling at this guy, there is really no reason for you to suddenly step forward and defend Him, when you're about to draw your last breath.
"But, I think it makes a lot of sense that he probably encountered this Jesus much earlier, and really, that's what this story is about. Not only how the thief stole heaven, but why he stole it."
Some might argue that this is all imagination and has no basis in Scripture, to which Arroyo replies, "We have to remember, the Bible itself says, 'This is not everything that happened. This is just what we were able to capture.'
"So, there is a lot more that happened here, and there is a lot more in the oral tradition that, for whatever reason, we've forgotten, or has been ignored, or has fallen away, and I wanted to reclaim a little bit of that."
Arroyo cites the film The Passion of the Christ as a story that is popular with a wide swath of Christians, Catholic and otherwise, although it contains extra-Biblical material.
Also, the current hit online series The Chosen — produced by an Evangelical and starring a Catholic as Jesus — uses imagination to fill in the backstories of the Apostles and others who knew Christ.
In addition, the author sees the legend of Dismas as one of the links between Christmas and Easter. The thief meets Christ both at the beginning of His life and at the end.
"That's the thing that I think upsets people the most," says Arroyo, "the idea that before Apostles or disciples, or the Blessed Virgin Mary, or popes, it was this degenerate, murderous thief that enters Heaven before everybody else. He is the first story of Easter, in some ways."
The story also illustrates that a touch of God's grace may not cause someone to reform his or her life immediately. But the grace persists, offering hope of redemption to the last.
"That idea," says Arroyo, "of the glance of God on you, that it never really leaves you, should be consoling and a bit terrifying at the same time. That's what Dismas goes through.
"It makes human sense. It makes story logic that this tale would proceed this way. And, without that preamble, he becomes very remote and hard for any of us to get our arms around for anything."
The Thief That Stole Heaven is a book for children, and there are children who truly take its meaning.
"I got a letter the other day from a little girl," says Arroyo. "Her father is in prison. She said she read it with her father, and she said, 'After reading this, I really believe that God still loves my daddy, despite the bad things he did. And that he has things he can do for God, too.'
"I thought, she got that from the story. So the story works its own magic. You don't have to lean into it, or beat people over the head with it. I do think it tells its own tale, if you're true to it."
Images: Sophia Institute Press
Subscribe to all that I write at Authory.com/KateOHare