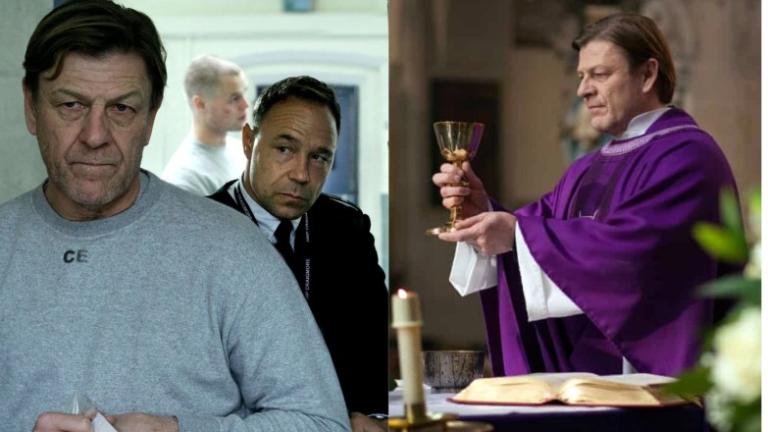 Born the fifth of nine children into an Irish-Catholic family in Liverpool, England, TV and movie writer Jimmy McGovern says he no longer believes in the Faith, but it's in just about everything he creates.
From crime in Cracker to faith in Broken
Not all of what McGovern's written is available on American TV, but many PBS viewers here got to see the crime drama Cracker (1993-2006), where Scottish Robbie Coltrane played a rough-edged detective with a Catholic background.  It won McGovern two Edgar Awards from the Mystery Writers of America.
Thanks to streaming service BritBox — which also carries Cracker — two more of McGovern's more recent dramas are available here. Both star Sean Bean and feature very positive portraits of Catholic characters — often inspired by the priests McGovern knew growing up.
NOTE: For language and content, both are for mature audiences ONLY.
I recently had a chat with McGovern from his home in Liverpool, and he says, "I feel [there are] so many very good Catholic priests in this city. This is not a wealthy city here, and you need to be of the people to function as a priest, you need to be of the people. And many of our priests are.
"I think, to see priests in action and be impressed by them, it's no bad thing. So, that's always allowed me to maintain a respect for Catholicism. I do respect the Faith, and other things, maybe not. But the Faith and the ordinary Catholic priests who work within this faith, with the people, it's very impressive."
A priest is Broken but not destroyed
In the six-part Broken (2017) — which did air on some PBS stations — Bean plays Father Michael Kerrigan, pastor of a parish in a city in the northwest of England (the series shot in Liverpool).
Surrounding Father Michael are poverty, crime and despair, and he comes to doubt himself while struggling to cope with it all. His childhood haunts him, along with one more recent moment: a phone call he didn't take, which he thinks may have contributed to a troubled young man's death.
Amid the heartbreak and while working through his own difficulties (which don't involve breaking his vows in any way, or turning to drink or drugs), Father Michael and his parishioners find redemption and a renewal of faith.
British viewers embraced Bean's Broken priest
Amazingly, the British public — which has an historic aversion to all things Catholic — embraced Broken.
Says McGovern, "I was quite surprised by how popular it was. I knew it would be popular with a certain part of the British public, but obviously, it wasn't watched just by Catholics alone.
"The British public watched it, and they really liked it. But in a way, I wasn't surprised, because I thought Sean Bean was absolutely fantastic in it. He nailed it. He absolutely nailed that priest, he really got him. So, I was pleasantly surprised by just how popular it was. And Sean Bean won a BAFTA for that performance."
I have to admit being leery of Broken when I first heard of it, considering how the Church is usually kicked around on TV. It is difficult to watch, but ultimately it just reduced me to sniffles. Bean's Father Michael has truly suffered and is as frail as any human, but he is also ultimately heroic and a light to his people.
If you don't have BritBox, Broken is available for digital purchase and on DVD from Amazon Video.
Sean Bean does Time as a teacher put in prison
More recently, McGovern put Bean front and center again in Time (2021), The three-episode series casts him as teacher and lapsed Catholic Mark Cobden, who winds up in prison after killing someone while driving drunk.
Mark struggles to adapt and survive in the harsh prison environment, with the help of a Catholic sister (Siobhan Finneran), who acts as a prison chaplain.
At the same time, a tough but compassionate prison officer (Stephen Graham) tries to do the right thing, but when his own son winds up in another prison, he faces impossible choices.
The result is, again, hard to watch — this is nearly a constant in McGovern's raw, realistic dramas — but ultimately beautiful. Especially moving is the scene where the sister walks Mark through his father's funeral Mass, when he is unable to attend.
The British class system exists, even today
Shot in a closed-down, Victorian-era prison in Shrewsbury, near the border of England and Wales, Time emphasizes an ancient aspect of British society which has never truly disappeared.
"This a class-ridden country here," says McGovern. "It is still class-ridden. [Sean] is convincingly working class, and so I wanted that, even though he was a school teacher, which is a fairly middle-class job in this country. I wanted that.
"I wanted the pores on his skin, the lines on his face, the common humanity of the man. That's what you get, which, both shown in Stephen Graham. Two people in a very claustrophobic, potentially violent environment full of humanity. And then I just think they're wonderful actors, the two of them. They really are."
"If it comes to a tussle between an Anglican vicar or a Catholic nun…"
McGovern reveals that the sister was originally going to have a larger part.
"She was going to have breast cancer," he says. "And to talk about, actually talk about the so-called 'nun's disease,' and how it's gone down with her family, and how her family has always resented her becoming a Catholic nun, and what this would go for her and her family.
"It was going to be a lot more of her, but things had to go, and that part of it had to go. So, I didn't even write it in the end.
"In the research, I interviewed quite a few prison chaplains, and quite a few of them were female. And one of them was an Anglican vicar, who was an Anglican female vicar. And I found her hugely impressive.
"It came out of that really, but if it comes to a tussle between an Anglican vicar or a Catholic nun, I'll always write the Catholic nun."
Image: BBC/BritBox
Don't miss a thing: Subscribe to all that I write at Authory.com/KateOHare