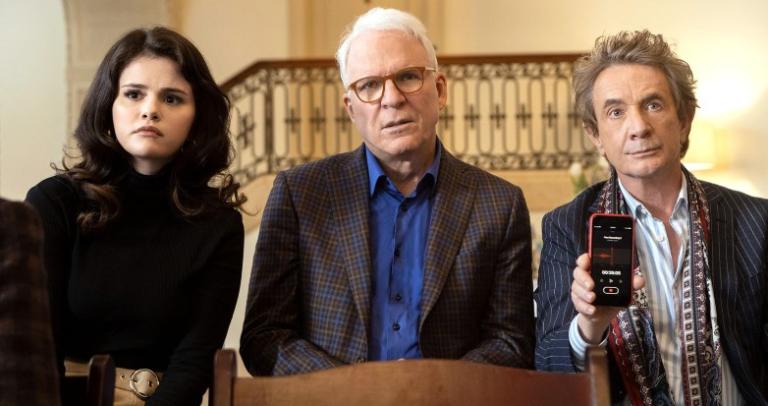 Is Only Murders in the Building, launching Aug. 31 on Hulu, good? Yes. Is it entertaining? Yes. Do Selena Gomez, Steve Martin and Martin Short make a terrific true-crime-podcasting trio? Yes.
But does it also shoot itself in the foot? Yes — not fatally, but annoyingly.
UPDATE: Season-two renewal announced!
What Is Only Murders in the Building?
With 10 half-hour-ish episodes (Hulu's website says five, and they dropped three the first night, so … I dunno what the whole air schedule is) coming out on Tuesdays (I've previewed them all), Only Murders in the Building unites three strangers (the actors above, who are also executive producers), all living in a swanky apartment building in New York City called the Arconia.
Sting also apparently lives there, but I'll let you find out about that on your own.
Gomez plays Mabel Mora, whose history with the building is a bit complicated, and whose current residency in a half-torn-apart apartment is shrouded in secrets. Martin, who co-created the show, plays Charles-Haden Savage, an actor of declining fortunes best known for playing a TV detective. Short rounds out the trio as Oliver Putnam, a struggling Broadway director who can't resist trying to direct real life as well.
When a sensational murder happens in their building, the three become unlikely pals and amateur sleuths. They then decide to turn the investigation into a true-crime podcast, with funding from a deli magnate (Nathan Lane), thereby irritating the detective (Da'Vine Joy Randolph) assigned to the case.
Is it any good?
As someone who must confess to listening to more than a couple of true-crime podcasts — including Serial, the one that started it all — and who likes a good cozy murder mystery, Only Murders in the Building (also the name of the trio's podcast) is utterly charming.
Of course, it's got Steve Martin and Martin Short, so the bar is set pretty high. Nevertheless, Gomez, in a true grown-up role, does quite well (and sports some smashing coats and boots).
At the recent TV Critics Association (virtual) Summer Press Tour, Martin said:
I knew Selena Gomez, but I didn't know all her work — although I do dance around the house to her music all the time and have for years. But I didn't know of her theatric or movie work or television work. So I looked it up, and I thought, 'Oh, she's going to be young, she's a beginner.' And she's done more movies than I have.
Short said:
What I love about the end product of the show is the three different energies of the actors. I kind of play it very real. Steve goes way over the top.  And Selena grounds everything in this kind of dry, hilarious delivery. The combination, I think, is perfect.
And from Gomez:
What I'd say is the level of sophistication of the material is first the reason why I wanted to do this.  But I don't know.  I was a kid [at Disney]; I didn't know what I was doing. I was just riding around on set and now I just — I feel like a sponge, and I soak up all the wisdom that I can. It's really nice to be back on TV and it's nice to be cast as my actual age, which never happens.
What's the problem with it?
There's no overt violence shown in Only Murders in the Building, and no overt sex (hinted at, mentioned, but not actually shown). What it has, though, is foul language.
Don't get me wrong, I have enjoyed many shows that feature plenty of bad language — like Deadwood, Silicon Valley and Clarkson's Farm — but here it just feels forced and entirely unnecessary.
Remove it, and you have a delightful cozy mystery in an urban setting, enjoyable for the whole family and for those with delicate sensibilities (who form a fair portion of mystery and true-crime fans — that's a mystery for you).
But every time f-bombs, etc., are dropped in Only Murders in the Building, they just land wrong and don't seem to fit.
Why did this happen?
Maybe this was a Hulu requirement, to prove that the show is mature and sophisticated. Maybe fellow executive producer Dan Fogelman wanted to cut loose after several seasons of his NBC show This Is Us. Maybe Martin, Short and Gomez wanted it.
I don't know, but it threw a damper on the whole thing for me. The amateur detectives are doing a true-crime podcast, but as I said, this is essentially a cozy mystery — and that style is usually a bit more decorous. It's hard to imagine Miss Marple or Father Brown cursing a blue streak.
But, all that being said, it's great fun. And the bit with Sting is … well, you'll see.
Image: Hulu
Don't miss a thing: Subscribe to all that I write at Authory.com/KateOHare