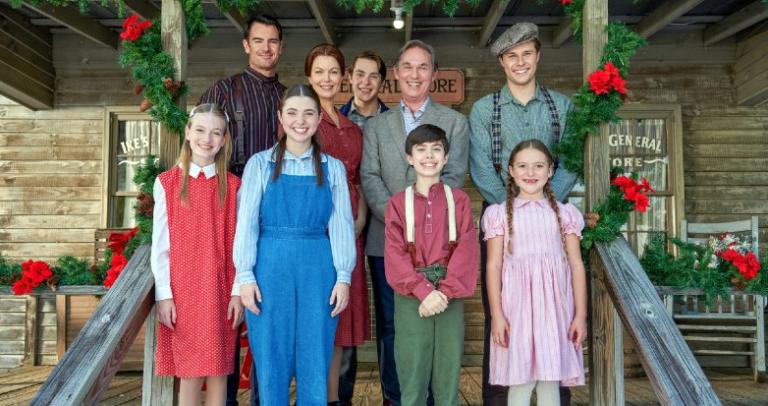 With its dramas, especially its plethora of superhero series, The CW Network aims for a teens-and-up audience, but the shows also feature edgy and provocative themes and characters. It's about the last place I'd expect to see a faithful — and faith-full — reboot of The Waltons.
Nevertheless, on Sunday, Nov. 28, at 8 p.m. ET, The CW premieres The Waltons' Homecoming, a reworking of the 1971 movie The Homecoming: A Christmas Story, which launched the series the following fall.
In this era of studios reaching into their vaults to reboot existing intellectual properties, The Waltons' pedigree does include both of the network's corporate parents — ViacomCBS and WarnerMedia's Warner Bros. Television. Lorimar Television, a subsidiary of Warner Bros., produced the original show, and it aired as a weekly series from 1972-'81 on CBS.
Based on the semi-autobiographical works of writer Earl Hamner Jr. (who also narrated), it focused on the large Walton clan of rural Virginia during the '30s and '40s. The show is often considered the gold standard of wholesome, but it did deal — in a realistic but family-suitable way — with such difficult issues as death, disease, war, poverty, sexism, abuse and bigotry.
Also, mom Olivia Walton was a devout Baptist, but father John, while not an atheist, was not a big fan of organized religion, espousing more of a universalist spirituality. So, the show also dealt with big questions of belief and suffering, and how families reconcile (or sometimes don't) faith differences.
Click here to learn all about the original show.
Original series star Richard Thomas, who played the eldest Walton son, aspiring writer John-Boy, returns to take Hamner's role as narrator.
Set in 1933, the story finds the family waiting for father John (Ben Lawson) to come home from his faraway job for Christmas. When John Sr. doesn't arrive on time, 17-year-old John-Boy (Logan Shroyer) makes an extraordinary Christmas Eve journey that changes the direction of his life.
Bellamy Young co-stars as mom Olivia.
Considering the current climate, one might expect faith to be excised or at least downplayed in this new version of The Waltons. It's not. The family's faith dynamics remain the same.
While The Waltons' Homecoming is not high art, it does stand out as not only being entirely family-suitable — even for orthodox Catholic and other Christian families — but also being one of the few Christmas-themed projects to even mention, let alone overtly show, that Christmas is a Christian holy day.
In another scene, Olivia has a conversation with one of her children about which church they should attend on Christmas Eve.
During a press event, actress Young said:
Getting to say out loud that everyone is welcome in God's house — what a privilege to just say the notion, to just literally say the words, is the best Christmas gift ever, really and truly.
There's even a moment on Christmas Eve when guest stars Marilyn McCoo and Billy Davis Jr., married singers playing church congregants, sing Silent Night.
I checked in with Mark Pedowitz, the chairman and CEO of The CW, about how this all came to be. Here's our email Q&A:
Where did the idea for doing The Waltons' Homecoming originate?

Executive producer Sam Haskell came to us and pitched us on bringing The Waltons back  to television, to honor the 50th anniversary of the original Homecoming movie. He was very passionate about the project and really wanted to pay homage to this iconic family, and we loved the idea of spending time with the Waltons during the holidays and thought this would be perfect for our first-ever foray into made-for-TV films.

The film is very different from much of the rest of The CW's programming. Is this just a holiday one-off or might it (or other shows like it) have a future on the network?

Family is at the core of almost all of the stories we tell in our programming – from All American to The Flash to Kung Fu, and there is no more quintessential TV family than the Waltons, so we actually believe this fits very nicely into our line-up, especially during the holidays, and is ideal for our first-ever TV movie. As far as what happens beyond this, I never say never. We love the cast and the story they are telling. They've done a phenomenal job with this movie, so we'll have to see.

The show has a strong faith element. Haskell said you were happy to have this included. This is rare on The CW and even in most Christmas films these days. What appealed to you about this?

With the movie centered on Christmas and gathering with loved ones for the holidays, everyone felt very strongly about having faith and the characters' connection to their faith play a big part of this movie, and we absolutely agreed. When you see it, it's very clear how important faith is to the story, to this family and the bond that it creates for them, and we all wanted that reflected.

Like The Waltons before it, this is a straightforward scripted family offering with great co-viewing potential. Many networks seldom make this kind of programming anymore. What might you say to them to urge them to lean more into this space?

For us, we definitely see The Waltons' Homecoming as perfect entertainment to watch with the whole family. In order to appeal to broad audiences and families, we definitely believe it starts with having a multi-generational cast and stories that resonate with different age groups with the household. Today, when there are so many different entertainment options that are hyper targeted to very specific viewers, it's nice to have something like The Waltons that everyone in the family can enjoy.
If the film does well, it'll be interesting to see if The CW keeps the Walton clan around. Perhaps the network would even develop more shows in this vein (not holding my breath about that, but Christmas is a season of miracles).
UPDATE: Apparently The Waltons' Homecoming hit a home run for The CW.
In the latest TV ratings, The Waltons' Homecoming — a remake of the 1971 TV-movie that wound up spawning CBS' The Waltons series — averaged nearly 960,000 total viewers on Sunday, marking The CW's most watched night of the fall (and since April 14). In the 18-49 demo, it scored a CW-typical 0.1.
The Waltons' Homecoming is available for pre-order on DVD from Warner Bros. Home Entertainment, with a release date of Dec. 14. It is reported to also be available that day for digital purchase from various outlets.
Image: Tom Griscom/The CW — © 2021 The CW Network, LLC. All Rights Reserved.
Don't miss a thing: Subscribe to see all I write at Authory.com/KateOHare