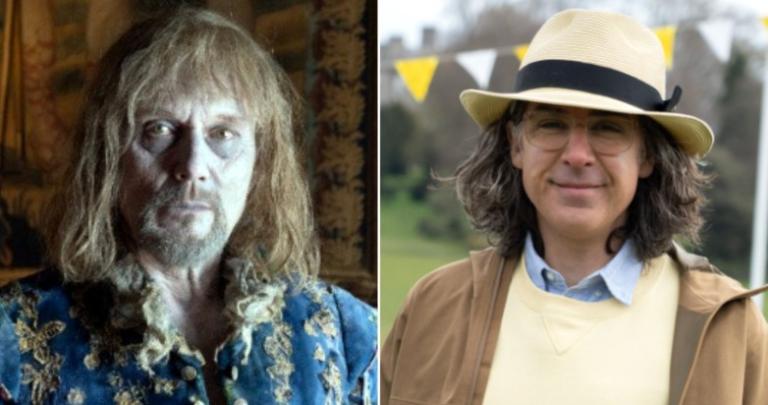 Starting Sunday, Oct. 31, at 9 p.m. ET/6 p.m. PT, non-commercial network BYUtv presents a modern-day adaptation of Oscar Wilde's classic humorously spooky tale The Canterville Ghost, a co-production with BBC Studios — and Ted Lasso fans have reason to tune in.
Anthony Head, who plays the villainous Rupert Mannion on the hit AppleTV+ series, plays the title character, the undead Sir Simon de Canterville. Joining him is James Lance as Hiram Otis, head of an enterprising American family that buys Sir Simon's English country house.
On Ted Lasso, Lance plays Trent Crimm, a now-former sportswriter for the British newspaper The Independent. Without giving too much away, Crimm saw his professional life upended in the recent season-two finale of Ted Lasso.
Calling in by Skype from his home in Britain, Lance says, "Oh, well, I'm just really excited about it. I've been excited about the show right from the top. From the moment I read the first script, and Trent Crimm came on the scene, I just knew that I wanted to play this part, there was something about him.
"I thought, this guy's got some juice. And so it's really interesting seeing how it's developing, because he probably wasn't in season two quite as much, but in a way, he had more of an impact, just with his decisions. And it's going to be really interesting what happens in season three."
As a fan of Oscar Wilde, Lance was also interested when The Canterville Ghost (you can read the original 1887 novella here) landed in his lap.
"Love Oscar Wilde," Lance says. "I love him so much, actually, I went to visit the hotel he lived in for a while in Paris. It's called L'Hotel now, and it's really stunning, where he spent his last days.
"And I went to visit his grave, which, if you've never seen it in Paris, it's the most phenomenal thing. Took my breath away."
(Click here to see a photo of the grave, which is in Père Lachaise Cemetery, where Jim Morrison, singer for the legendary '60s band, The Doors, is also buried. And, by the way, despite his libertine lifestyle, which ended in a public trial and scandal, Wilde became a Catholic on his deathbed.)
In The Canterville Ghost, which airs over consecutive Sundays, the Otis family refuses to be afraid of Sir Simon and his repertoire of apparitions but instead is determined to use American initiative to solve the mysteries of his life.
Obviously, in updating the narrative and stretching it to fit over four one-hour episodes, a lot is changed and expanded, but it does retain the spirit, as it were, of the original. It's also quite suitable for the whole family.
Here's a peek:
The woman responsible for the adaptation is writer Jude Tindall, who has written for the current Father Brown mystery series, inspired by G.K. Chesterton's crimesolving Catholic priest, and creator of that show's new spin-off for BritBox, The Sister Boniface Mysteries.
In The Canterville Ghost, Lance also gets to show off his American accent.
"To play an American," he says, "I was like, 'This is great.' So, first thing I thought was, 'Well, what's wrong with it?' And I started reading the script, and I was like, 'This is great.' And then I read the next one, and I was like, 'This is really good, too.' And then the next one.
"Actually, my favorite episode is the fourth episode. I read the original short story before I read the scripts. … And by the time it gets to the fourth episode, the writer, Jude, has adapted it, has done something quite spectacular with it.
"I mean, I can't speak for Oscar Wilde, but I think that he'd love it. And she's really just… what's the word? Elaborated it. That's not quite the word. But just she's developed it in a way that is very satisfying, I think, and really exciting, and really perfect for now and the modern audience."
Lance also really connected to his character, a father of three.
"There was something that the director said to me when we chatted at the very beginning," Lance recalls, "when I was in conversation with him before coming on board. And he's like, 'Look, I just want this dad to be the dad that everyone wishes they had, and he's just a really sweet man.'
"I had a great relationship with my dad. He's no longer here. I loved him to bits. And that just connected in my heart, and I thought, 'OK, I think we can do this.' Also, I became a father three years ago.
"I've got a beautiful little boy. And so, it was just the timing of it all. It felt great to play this dad. And I just started to find his rhythm and his tone, and then the voice started to come, and then Hiram was in the room. And that's how it organically happened."
Lance's little boy crawls up on his father's lap during the conversation, and he's just as cherubic as he could be, with a head of golden curls.
"I don't know how it happened," says the proud papa. "It's bonkers. It's like a little angel moved into our house."
Although Hiram and Sir Simon don't intersect much in The Canterville Ghost, Lance did get to share a moment with Head.
"So, what I had to tell Anthony Head when we first met," Lance recalls, "that I was a huge fan of his because, when I was a child actor, I went to see him in a musical called Chess in the West End many years ago. He made a big impression on me.
"I mean, I was about 15, 14, and he was phenomenal — and, I mean, phenomenal. So, I was super excited when I heard that he was going to be playing the ghost. … That happens as a child actor, you start to work with your heroes sometimes."
Asked if he believes in ghosts, Lance says, "Well, my favorite line from Ted Lasso is when Hannah Waddingham says, 'Do you believe in ghosts, Ted?' And he says, 'Yes, I do. But most of all, I hope they believe in themselves.' Which is just such a beautiful joke, so I'm to go with that."
BYUtv — owned and operated by Brigham Young University, itself sponsored by the Church of Jesus Christ of Latter-day Saints — can be watched on cable systems, through its streaming app and online at BYUtv.org.
The channel covers some LDS Church events and has devotional programs on Sunday mornings, but the bulk of its ad-free programming is geared to values-driven family-friendly shows and movies.
BYUtv also airs The Chosen, the hit series inspired by the Gospels — as I wrote about here.
Image: BYUtv
Don't miss a thing: Subscribe to see all I write at Authory.com/KateOHare