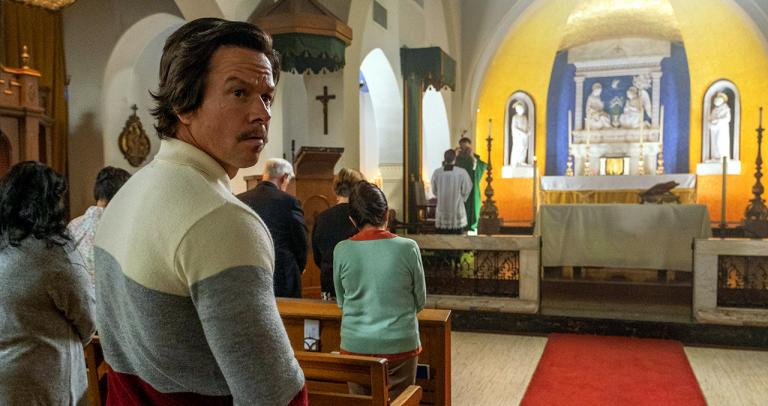 Stuart Long took a long and winding road to become a faithful Catholic, only slightly longer than the one taken by Mark Wahlberg, the man who plays him in the new movie Father Stu.
What Do Stuart Long and Mark Wahlberg Have in Common?
Baptized and raised Catholic, Wahlberg has had an up-and-down life, from troubles with drugs and the law to rap stardom, modeling, and these days, a very successful career as an actor, producer and businessman.
Along the way, he became a father and husband and returned to his Catholic faith.
Many elements of Wahlberg's own life are wrapped up in his latest starring role in Father Stu, hitting theaters on April 13. Wahlberg is also a producer on the film, which has been a passion project.
The True Story of Stuart Long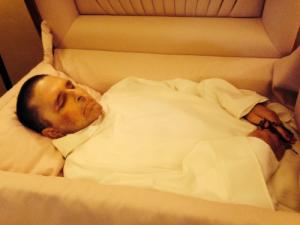 Father Stu is the story of Father Stuart Long, who passed away at the age of 50 in 2014 at the Big Sky Care Center in Helena, Montana, where he grew up, due to complications of inclusion body myositis, a rare autoimmune disease that mimics ALS, or Lou Gehrig's disease.
(Click here to read my interviews with a priest who knew Father Stu, and the bishop who ordained him.)
But in his relatively short life, Stu  — who was not raised Catholic — traveled a long way. He began as a high-school athlete, then became a boxer.
After moving to Los Angeles, he tried his hand at acting, worked as a bouncer, and wound up as a manager for the Norton Simon Museum in Pasadena.
He met a Catholic woman and considered converting to marry her. But a near-fatal accident awakened a powerful desire to know God, eventually leading to Stu becoming a priest — despite his increasing disability.
Although Stu's ministry wasn't long, it had a huge impact on everyone who knew him or heard his story — and that includes Walhberg (who broke his usual physical-fitness regimen to temporarily pack on pounds for the role).
Father Stu Represents a Turning Point for Mark Wahlberg
Wahlberg reached into his own pocket to finance the film, which Sony then acquired for global distribution under its Columbia Pictures banner.
Written and directed by Rosalind Ross, Mel Gibson's business and personal partner, the film also stars Gibson as Stu's father Bill; Jacki Weaver as Stu's mother; and Teresa Ruiz as Carmen, Stu's love interest.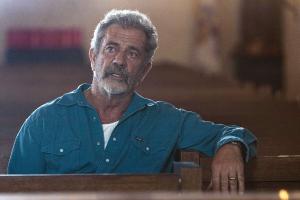 "I couldn't be more proud to be a part of this movie," Wahlberg says in a recent one-on-one interview (edited for clarity; video below). "I couldn't be more proud to bring Stu's story to light.
"And I couldn't be more proud to say that this is the first of me in a new chapter of my life, doing more to fulfill God's good work."
Wahlberg has starred in many kinds of films, but as he says, Father Stu represents a new direction.
He says, "I've done action. I've done drama. I've done comedy. I've always gravitated towards real stories and biopics, but I think definitely, yes, hopefully, this will be the first of many successful faith-based movies with mainstream audiences with major studios.
"So my plan is to make lots more faith-based content, both film and television, long-form, short-form, and hopefully, Stu will be the first of many.
"I can kind of open the door for other people who have great stories to tell, and if I can help them in any way, I'd be more than happy to.
"But I think, yes, this is… you got to kind of break through somehow, and so this movie also… look, it's tough mercy and tough grace, and it's rated R, but it's so uplifting, and it's inspiring so many people.
"Stu was such a colorful character is the only way to tell it, was as honest as possible."
How Faith Emerges From an R-Rated Life
Father Stu earns its R rating, mostly for profanity (which begins at the beginning), and for scenes of Stu's rough-and-tumble life. But it's the truth, and from it came Stu's remarkable redemption story.
It's something that Wahlberg could relate to — as well as Gibson, a Catholic who's also led a complicated life.
"If you think about it," says Wahlberg, "some of the most — and one of my favorite quotes in the movie — some of the most remarkable figures in the history of the Church are reformed men.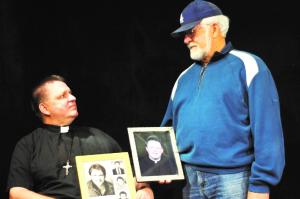 "And people with real-life experience carry so much more credibility when speaking the Word, because they've been touched by God, and they've been saved.
"God knows your heart, and if you really are a good person at the core, God is going to utilize you for good. So, to be able to do that, and when Stu talked to inmates and his prison minister or anything, they knew he was truthful and authentic and could relate to them because he was one of them.
"If he wasn't plucked out of that life, he would've been one of those inmates listening to somebody else come in. And so the most effective are the people that have the most real-life experience."
Father Stu Is Not Just a Movie for Catholics
Wahlberg also believes that Father Stu will have broad appeal.
"I've seen it with the Hollywood audience," he says, "where people are bit jaded and a bit cynical, and they have lots of laughs and still get very emotional.
"But … what a Hollywood person might laugh at and a Catholic person in Middle America laughs at are two totally different things.
"The great thing is, everybody's reacting and responding to the movie, and somebody's getting something. It's touching them and affecting them in a very personal, intimate way, and that has been a universal reaction to the film, which is amazing."
Here's the video version of the interview, plus co-star Ruiz:
For ticket and group-sales information, visit FatherStuMovie.com.
Image: Columbia Pictures/PHOTO BY: Karen Ballard/© 2022 CTMG, Inc. All Rights Reserved.
Don't miss a thing: Subscribe to all that I write at Authory.com/KateOHare