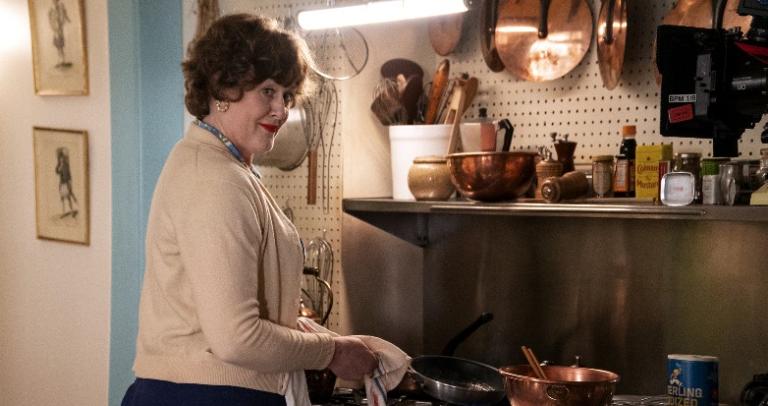 On Thursday, March 31, HBO Max premiered Julia, an eight-episode look at what led up to the 1963 official launch of the TV career of cookbook author Julia Child in The French Chef, produced by Boston public-TV station WGBH.
What Was The French Chef?
I have to confess — I really haven't watched The French Chef, which ran from 1963-'66 on NET (National Educational Television), and then from 1970-'73 on its successor, PBS. It aired in reruns until 1989, and, around 2010, showed up on the Cooking Channel (which probably would never have existed without Julia Child).
Episodes are currently available to stream via PBS Passport and Amazon Prime Video.
My avoidance of the show is partly because I'm not a big fan of French cooking (sorry), and also because of the one time I, quite accidentally, caught an episode of the show as a kid.
On it, Child demonstrated cooking live lobsters. Plunging them headfirst into boiling water, she declared that they died immediately. But then she put a lid on the pot — and A WEIGHT ON THE LID.
That scarred me for life, and if I didn't already dislike most seafood, it would have put me off lobster forever.
Does Julia Live Up to its Real-Life Inspiration?
After screening all the episodes of Julia, I can declare it a delight. As portrayed by British actress Sarah Lancashire, Julia Child is a confident, imposing, charming tower of eccentricities, all of which adds up to a compelling TV personality.
She's salty and sassy, and there's a lot of (discreet, especially for HBO) cuddling with her diplomat/artist husband, Paul (David Hyde Pierce). Like Bertha and George Russell on HBO's costume drama The Gilded Age, Julia and Paul have a mutually supportive, relatively egalitarian — and sexy — marriage.
It's not without its challenges — these are the early '60s, after all — but it's lovely to see how they love each other.
The French Chef vs. The Feminine Mystique
Julia also bucks current trends by daring to portray a career woman entering menopause and obviously regretting never having had a child.
There's this bizarre notion in modern entertainment that all women should be depicted as fervently wishing to escape having a husband and children to run into the welcoming arms of work.
That's as ridiculous an idea as depicting women only as wives and mothers.
At one point, Julia has a dust-up at an event with women's-rights activist Betty Friedan, author of The Feminine Mystique.
She accuses Julia of deluding women about the reality of gourmet cooking, chaining them to their kitchens, and single-handedly holding back the tide of women's liberation.
Friedan doesn't take into account that Julia is a successful author who chose to love cooking and share that love with others, along with being a middle-aged woman who became a TV pioneer. That sounds fairly liberated to me.
After all, people shouldn't be expected to live their lives just to suit someone else's political or social agendas. The (probably fictional) conversation does rattle Julia's cage, but fortunately, as we know, she persevered.
The Power of Perseverance
At the recent TV Critics Association (virtual) Press Tour, executive producer and show creator Daniel Goldfarb observed:
There's something kind of unsinkable about her. She never took no for an answer. She just always persevered, and she persevered with joy. She lived her life really with joy in every stage of her life.

And she sort of bloomed as she got older and older and more and more comfortable in her shoes and as herself. And I think there's something when you watch her, whether she was cooking or whatever she was doing, you sort of saw the joy and the kind of love for life that she had.  It had staying power.
What's True and What's Not in Julia
Speaking of women, the show portrays The French Chef as having an African-American woman, Alice Naman (Brittany Bradford), as a producer. I thought, golly, that was rather amazing for a TV network in the early 1960s — except, it's not true.
The French Chef did indeed have a female producer, Ruth Lockwood, but she was not a woman of color. But, this choice increases the diversity of the main cast and allows for a look at issues of race in the '60s.
As Bradford pointed out at TCA Press Tour, just because this wasn't true of The French Chef doesn't mean it didn't happen.
She said:
You don't get to hear a lot about Black producers at this time, which they were around, I just want to say. Sometimes you want to think that something that's improbable or impossible, but it's not.
Also, single Alice's conversations with her marriage-minded mother do, for better or worse, emphasize the marriage-vs.-career conundrum in a way that Julia's situation can't.
The Other Man Behind The French Chef (and Other Shows)
I was also surprised to realize that real-life producer Russ Morash (played by Fran Kranz) was the man responsible for getting The French Chef on WGBH.
I've met and interviewed Morash and even been to his house in a Boston suburb — since his backyard was the actual location for both WGBH's The Victory Garden and The New Yankee Workshop.
Morash is also the creator of Workshop's predecessor, This Old House, a show I've watched since I was a kid, and the granddaddy of all home-improvement shows.
Morash didn't leave cooking entirely behind him. His wife, Marian, is a James Beard-award-winning chef and restaurateur, and Victory Garden episodes included her whipping up produce-based recipes in the Morash kitchen.
Julia viewers can see the beginning of Marian Morash's career, as her husband's involvement in The French Chef inspires her to move from tuna casseroles to more sophisticated fare.
What's Up With the Crucifix?
Faith doesn't play a role in Julia (which features profanities, cigarettes and alcohol, but no sex scenes or violence). But, when Julia first walks into the WGBH offices, she passes a portrait of Pope John XXIII.
And, there is a scene in the first episode where she arrives at Alice's office, and inexplicably, there's a crucifix hanging outside her door.  Here's the proof: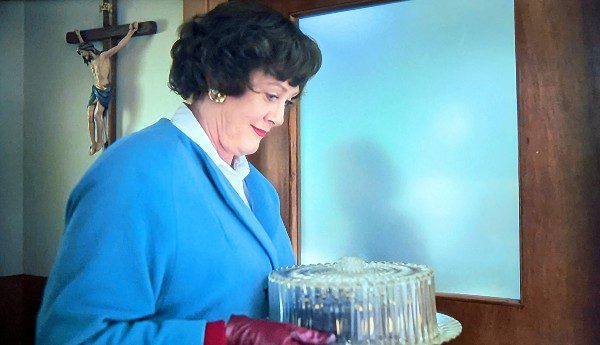 Or not so inexplicably, as explained in a post at Wikipedia:
During the early morning hours of October 14, 1961, a large fire devastated the Cambridge studios of WGBH-TV and WGBH radio.

Until the WGBH Educational Foundation was able to build a new studio complex to replace the destroyed former building, the two stations arranged to operate from temporary offices and had to produce their local programming from the studio facilities of various television stations in the Boston area and southern New Hampshire.

WGBH-TV maintained a splintered operation, basing its master control operations at Newman Catholic Center at Boston University …
As for Child's attitude on the subject, here are excerpts from a 2000 interview in Esquire, as quoted in 2004 in the GetReligion blog:
I hate organized religion. I think you have to love thy neighbor as thyself. I think you have to pick your own God and be true to him. I always say "him" rather than "her." Maybe it's because of my generation, but I don't like the idea of a female God. I see God as a benevolent male. Tears mess up your makeup.

. . . I don't believe in heaven. I think when we die we just go back to the great ball of energy that makes up the universe.

Hell only exists on earth, when you've made mistakes and you're paying for them.
Nevertheless, Child tapped into something truly universal, which also accounts for the enduring popularity of food posts on Facebook and Instagram.
We all eat.
As Child would say, "Bon appetit."
Image: HBO Max
Don't miss a thing: Subscribe to all that I write at Authory.com/KateOHare