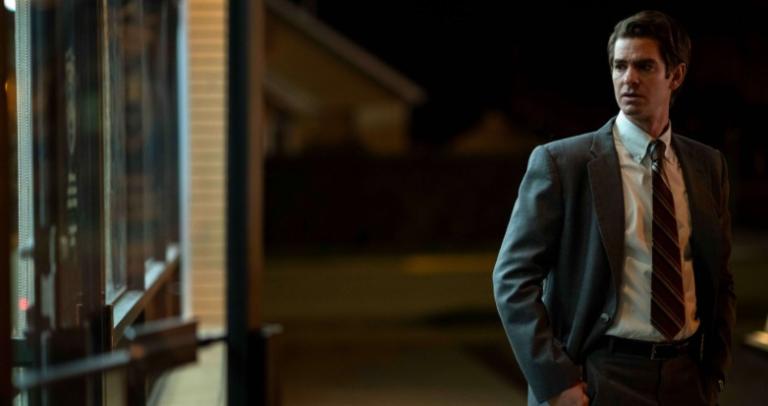 Currently streaming on Hulu, Under the Banner of Heaven (produced by FX) looks at the horrific 1984 murders of a mother and child in American Fork, an exurb of Salt Lake City, Utah, connected to a family-run breakaway fundamentalist sect from the Church of Jesus Christ of Latter-day Saints.
Where did Under the Banner of Heaven begin?
It's based on Jon Krakauer's gripping 2003 true-crime bestseller Under the Banner of Heaven: A true story of violent faith. I've watched the five (of seven total) episodes made available to the press. Like the book, the TV version of Under the Banner of Heaven, while well-acted and handsomely produced, is a sometimes-awkward blending of the 1980s and the 19th Century.
To shift Krakauer's nonfiction book into a narrative form, writer Dustin Lance Black adds two fictional detectives: faithful LDS husband and father Jeb Pyre (Andrew Garfield), and his secular partner, Bill Taba (Gil Birmingham).
As Pyre and Taba investigate the gruesome killings of young Brenda Wright Lafferty (Daisy Edgar-Jones) and her baby daughter (mercifully, the gore is hinted at but not shown), Pyre begins to suffer doubts about his faith.
These mostly come about because the stories of the early years of the LDS Church are woven throughout the script, primarily as Jeb talks to Brenda's husband, Allen Lafferty (Billy Howle). The stories support the film's thesis, that the crimes sprang from LDS history, and that the church's leaders don't want believers to ask too many questions.
Is Banner Fair to the LDS Church?
The miniseries left me with the same feeling that the book did — that I was getting only part of the story. My impression after reading the book was one of unfairness. It seemed to me that Krakauer spent a lot of time talking to LDS dissidents, apostates and breakaway sects, and to historians, but not to faithful mainstream LDS Church members.
From the LDS Church's official response to the book:
It is evident from the adulation that Krakauer heaps on three or four historians who are unsympathetic to the Church that they have heavily influenced him. On the other hand, there is such a paucity of quotes attributed to modern Church leaders or ranking members that one wonders who the "dozens of Mormons" were whom Krakauer is supposed to have interviewed for his research.
Now, it may be that LDS Church members or leaders wouldn't talk to Krakauer — a self-described nonbeliever — but I haven't found any coverage of the book where he said that.
He did condense some of his book into a lengthy 2021 piece at Medium.com, where he makes it clear that his reservations about "violent faith" are not just relegated to Mormons. He writes:
Faith is the very antithesis of reason. Spiritual devotion defies rational analysis. And when religious fanaticism supplants sound judgment, all bets are suddenly off. Anything can happen. Absolutely anything. Common sense is no match for the voice of God.
This makes me think that Krakauer came into his story with a presupposition about believers. And, I wonder if he made a serious effort to talk to people who would credibly challenge that assumption.
Who is behind the miniseries version of Banner?
Black, the miniseries' creator, was raised in the LDS Church (in Texas and California, though, not in Utah), and has now become an LGBT activist, both in his life and work. He also previously wrote for HBO's Big Love, a series about a non-mainstream LDS Church family secretly engaging in the long-forbidden practice of polygamy.
Imagine Entertainment — the same company that took Dan Brown's poorly written but entertaining pulp thrillers and turned them into Very Important Movies About Hidden Catholic History — might answer by saying that's why Black was hired.
But while he brings knowledge about growing up in the LDS Church, he's made it clear that he opposes it on key issues and is no longer an active member.
From a piece in USA Today:
Black, an Oscar-winning screenwriter for the 2008 Harvey Milk biopic "Milk," narrated the 2010 documentary "8: The Mormon Proposition," and was a writer and producer of HBO's 2006-11 drama "Big Love," centered on a Mormon polygamist family living in Utah.

"There's really no beating that lived experience," says Black, adding his identity as gay and a former member of the Mormon church inspires many of his projects.
If someone spent their youth in a faith that they later left, and with which they have obvious and serious philosophical differences, why would such a person be the go-to creative in a project about that faith?
Did Imagine's Brian Grazer and Ron Howard then make an effort to include the "lived experience" of people with positive views of the LDS Church in any major creative or executive positions? Maybe they did, but it doesn't look like it.
According to a piece on the Under the Banner of Heaven miniseries in the Deseret News, the LDS Church-owned newspaper in Salt Lake City:
When the Deseret News asked if any active Latter-day Saints were hired to help with the production of "Under the Banner of Heaven," a publicist said they would check. They later confirmed that no active church members were paid to write or produce the show. But they did find some active Latter-day Saints working in costume design and with the "crew."

So, there's that.

Imagine Hollywood spending millions of dollars to produce a series focusing negative attention on a minority faith in America and then deciding not to integrate their voices into the writing or production.
Or, what if Hollywood decided to do a movie about crusading journalists but only talked to bitter ex-journalists, those who thought that journalism was a sham, or those who fundamentally disagreed with the concept of a free press?
How does Hollywood often deal with projects about certain religions?
But frequently, when dealing with Christianity (especially Catholicism) or the LDS Church, it seems that many journalists and Hollywood types think they can only get the truth from dissidents, apostates and opponents.
If they're feeling generous, they might go to scholars, who, despite studying religion, are not necessarily religious themselves or may even be anti-religious. This doesn't happen all the time, but it happens a lot.
Now, don't get me wrong. I'm no LDS apologist, and I'm not qualified to argue what Krakauer or the miniseries got right or wrong about LDS theology or daily life. For that, you could turn to a Wall Street Journal opinion piece written by LDS journalist Daryl Austin.
But, I don't like unfairness. And in an age that has become hypersensitive to respecting the "authenticity" and "personal truth" of various groups of people, faithful Christians and Mormons remain suspect, even, and, perhaps especially, when someone is telling a dramatic story that deeply involves their faith.
My guess is that a big chunk of that is based on the same media presupposition: you'll never get the truth from a true believer.
As I said, I'm not here to defend the LDS Church or its beliefs. But storytellers should ask themselves, would I want someone to do a project that treats my sincerely held beliefs in the same way I'm treating beliefs with which I don't agree?
If the answer is no, then it could be time to bring in consultants, writers or producers who might challenge assumptions — and I salute all storytellers who do so.
In the end, storytellers may decide to go on with their original idea, but at least they tried. They listened. They were willing to admit they might not know everything, or that what they know may be incomplete, unfair or inaccurate.
What can believers do?
At the same time, it behooves Christians and LDS Church members — and all people of faith — to be proactive in making sure their voices are heard, and not just in complaining after the fact.
Watch what's going into development and production, and if producers don't come calling, call them. At a minimum, have people always available (and easily reachable) who understand showbiz, who have a realistic understanding of how TV shows and movies are written and produced, and who can offer concrete suggestions, whether they're accepted or not.
Image: Michelle Faye/FX
Don't miss a thing: Subscribe to all that I write at Authory.com/KateOHare