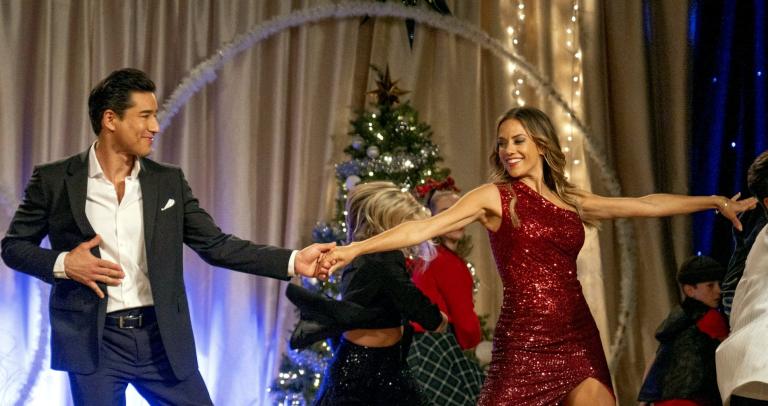 Way back in 2006, Mario Lopez joined the cast of Dancing With the Stars, competing with then-girlfriend Karina Smirnoff. Alas, they lost to the team of pro dancer Cheryl Burke and former NFL star Emmitt Smith (I saw that season, and it was a righteous win).
Mario Lopez Is Dancing Into Christmas
Now, on Friday, Nov. 25, Lopez straps his dancing shoes back on to star in (and executive-produce) Steppin' Into the Holiday, part of Lifetime's It's a Wonderful Lifetime Christmas-movie event.
From Lifetime:
Former Broadway star Billy Holiday returns to his hometown for Christmas after being abruptly fired as the host-producer-judge of the hit TV series "Celebrity Dance Off."

While there, he encounters Rae, the charismatic owner of the local dance studio, where Billy's 12-year-old nephew is her standout student. This Christmas, Rae is planning a dance recital fundraiser with the goal of taking her students to see a Broadway show in New York City.

Billy volunteers to help Rae with the recital by reviving the town's traditional Christmas Eve show which was once a showcase for local talent. With Billy's knack for producing and Rae's knowledge of all things local, their collaboration clicks, and romantic sparks start flying!

Stars Mario Lopez, Jana Kramer, Terri Hoyos, Carla Jimenez, Enzo Rodriguez, Stefanie Black, Courtney Mazza, Cheri Oteri, Mario Cantone and Alicia Haymer.
Country star Kramer, who plays Rae, is also a Dancing With the Stars alum, and Steppin' Into the Holiday filmed in her current hometown of Nashville. Oh, and there are even some religious Christmas songs tossed in near the end, and lots of dancing.
How Did Steppin' Into the Holiday Come About?
In a recent virtual press conference, Lopez — a Catholic husband and father of three — explained how he first got involved.
I always wanted to do a holiday film with some kind of movement and incorporating a little dance in and just having a sort of musical element. I thought it was fun, and I had been wanting to work with Jana, and the network had suggested that we might be a fun pairing together.

So, we hit it off right away and I thought we had a lot of chemistry. And it was everything that I wanted it to be and expected it to be.
"I don't want to hit you over the head with a tortilla. I just want to be Latino."
Lopez has done several Christmas films, but Steppin' Into the Holiday represents his second partnership with writer/producer Peter Murietta, whose long list of credits includes the series Mr. Iglesias, Superior Donuts, the reboot of One Day at a Time, Lopez (with George, not Mario), and Wizards of Waverly Place (with Catholic actor David Henrie).
The duo's first film was the 2020 Lifetime movie Feliz NaviDAD. Murietta wrote both films with wife Aliza Murietta.
I asked Lopez about working with Murietta, and he said:
He's known for writing comedies, and he's an old friend for a long time. And we go back. And we've got a couple other projects that we're doing together. So, I just asked him if he wouldn't mind taking a stab in [the holiday-movie] space.

Him and his wife, who is a big fan of this space, and didn't hesitate. They got on board and I thought they did a great job. So, it was a lot of fun. But yeah, we're just old friends and happen to go back.
In Feliz NaviDAD, Lopez played a character named David Morales. Although his character's name in Steppin' Into the Holiday is Billy Holiday, that's a stage name for Guillermo Hernandez.
I rang up Murietta to ask about the partnership, and he explained:
He wanted to have lunch. And so I went to lunch with him, we caught up, and he said, "I do these Christmas movies, I've done a couple. And I do them, but I never play Latino. I just play like the guy who owns the toy store or whatever."

And Mario has this phrase I love, "I don't want to hit you over the head with a tortilla. I just want to be Latino."
As for the name Billy Holiday, Murietta says:
I'm a big fan of [legendary singer] Billie Holiday, and I love this little nod. And, in a little odd way, just like I liked on Wizards when one of Selena 's [Selena Gomez] boyfriends was named Dean Moriarty from the On the Road books. I always like to do stuff like that. It's just a little fun for us.
Finding That Sentimental Sweet Spot
While Murietta is known for writing comedy, he's not really known for writing the sort of warmhearted Christmas movie that viewers have come to expect. But as a dad of now-grown kids, Murietta has begun to find that sentimental sweet spot.
He recalls:
But as you get older, when you have those moments, you feel them as you walk away or you walk towards them where you're like, this is sort of what this is all about.

All the work I do, all the jobs I do, it's so I can fly to Chicago and hug my kid [at college]. It's weird. But that's it. So I do think as you get older, you tap into that sentiment a little bit more.
Asked if writing with his wife has put a strain on their 30-year marriage, Murietta says:
It didn't put a strain, you know what it did, it did the same thing that the hug with [my son] Dan did.

It made me realize that I'm working with her, and for 30 years she's been the person I've come home to say, "I don't know if that table read was great," or, "Hey, will you read this? The third act doesn't make any sense to me."

So in a way, she's been involved in everything I do, and now her name's on the front. So it didn't feel like a new set of clothes. It felt like a real comfortable outfit."
Steppin' Into the Holiday premieres Friday, Nov. 25, at 8 p.m. ET/PT on Lifetime, and is available to stream the next day on Lifetime Movie Club.
Image: Lifetime
Don't miss a thing: Subscribe to all that I write at Authory.com/KateOHare