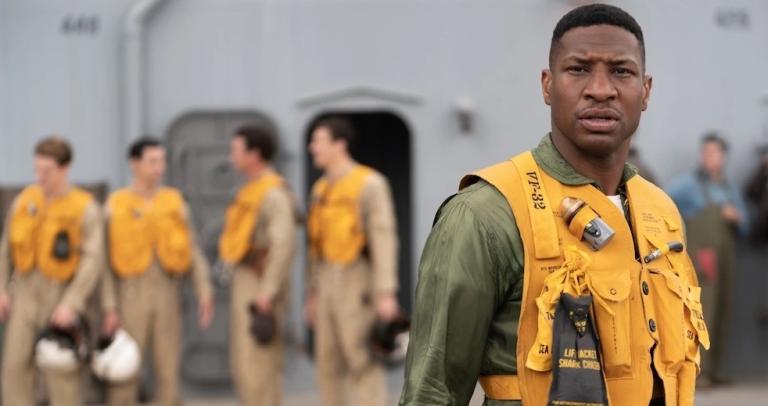 You might glance at Devotion, which just touched down in theaters, and think, "Wow, Glen Powell was so excited playing crack Navy pilot Hangman in Top Gun: Maverick, he just had to run right out and play another Naval aviator whose name begins with an H."
You might think that, but you'd be wrong. For one thing, Top Gun: Maverick is pure fiction, but Devotion is based in fact.
How Did Glen Powell Wind Up in Devotion?
Five years ago — long before his aerial escapades with Tom Cruise — Powell took a recommendation from his father and read the 2017 book Devotion: An Epic Story of Heroism, Brotherhood and Sacrifice (paid link), by Adam Makos.
Impressed by the tale of Korean War wingmen Lt. Thomas Hudner and Ensign Jesse L. Brown — one white, and the other, the first Black Naval aviator, respectively — he pursued the film rights.
From Variety:
To get Hudner's blessing, the actor flew to the aviator's home, where they sat in his office talking about his friendship with Brown and watching footage of the Corsair planes they flew.

"I remember exactly where I was when I make that promise," the actor said of Hudner, who died in 2017. "I said, if you give me the rights to your life, I promise I'll do this right. I just know he'd be proud of this movie."
This isn't the first time Powell's been associated with military aviation.
Also Variety:
Powell does have his pilot's license, as well as a special commendation from the Congressional Medal of Honor Society. ("Devotion" marks the third time the actor has played a Navy aviator, following "Top Gun: Maverick" and "Hidden Figures," where he portrayed John Glenn.)
Who Else Is Involved?
All these years later, Devotion finally hits the big screen, with Powell as Hudner, and, as Brown, Jonathan Majors (When We Rise, Lovecraft Country, Loki, and more than one upcoming Avengers movie, as Kang the Conqueror).
Also starring are Christina Jackson, as Brown's wife, Daisy; and Joe Jonas as a member of the flying squadron.
Director/executive producer J.D. Dillard also has some familial flight credentials.
From Military.com:
JD Dillard is the son of Bruce Dillard, a Naval aviator who was the second Black member of the Blue Angels and JD grew up around planes and military culture. There may have been no other person more qualified to make a movie about the Navy's first Black aviator than JD Dillard.
But, the links with Top Gun: Maverick go beyond just Powell. Kevin LaRosa, aerial coordinator on TG:M, also worked on Devotion. Of course, he had to go back several decades in time to the military aircraft of the 1950s — but the filming technique was the same.
From Military.com:
LaRosa used the same plane-based camera system developed for "Top Gun: Maverick," a big factor in why "Devotion" looks so good. "The CineJet got to see another naval movie," LaRosa said. "It was on "Devotion" for about four months, and we built a new system onto the CineJet, which was a hard-mounted camera. It was a Sony Venice camera mounted just above the duckbill, which is right above the exhaust to the jet below the rudder.

"That's an idea that the director, JD Dillard, loved," LaRosa continued. "We wanted a very close-up visceral look into the cowling and the engine and the prop of these big fighters to be right in your face.

And there's some amazing shots of the Skyraider and Corsair of that very thing, just this massive radial, right in your face, air to air. It's an angle we typically don't see."
There's Some Familiar Flying Going on Here
Perhaps it's just a coincidence, or it's something to do with LaRosa, but some of the aerial sequences in Devotion even look like ones in Top Gun: Maverick. Planes must traverse a winding path on an attack run, flying low to the ground over a winter landscape. Sound familiar?
Of course, both sequences still remind me of the attack on the Death Star in the 1977 Star Wars: A New Hope. But, at least in Devotion, they aren't trying to hit a womp-rat-sized target.
Oh, and there are harrowing landings on a carrier, but you knew that had to happen.
Rising Above the Times
Obviously, Devotion also deals with the issue of race relations, especially as the Armed Forces coped with increasing levels of integration in the years after World War II.
Majors gives a contained and powerful performance as Brown, who carries all the scars of the prejudice he's experienced, but still rises above it to achieve excellence. To this day, the Hudner and Brown families remain close, a testament to the strong bond forged between the two men during America's "Forgotten War."
After you see the film, click here to learn more about the amazing events at the end, which will stay with you long after the lights come up.
Is Devotion Suitable for Families?
Devotion is rated PG-13 for strong language, smoking and scenes of war, but it's perfectly acceptable for middle-schoolers and up.
Despite the title, strong religious devotion isn't a big part of the story. But, Brown's wife wears a cross necklace, there's a crucifix on the wall of their home, and there's even a brief mention of prayer.
So, if you're looking for a bit of the thrills and chills of Top Gun: Maverick, along with a great story from true American history, Devotion might be just the thing.
Image: Sony Pictures Entertainment
Don't miss a thing: Subscribe to all that I write at Authory.com/KateOHare
As an Amazon Associate I earn from qualifying purchases.