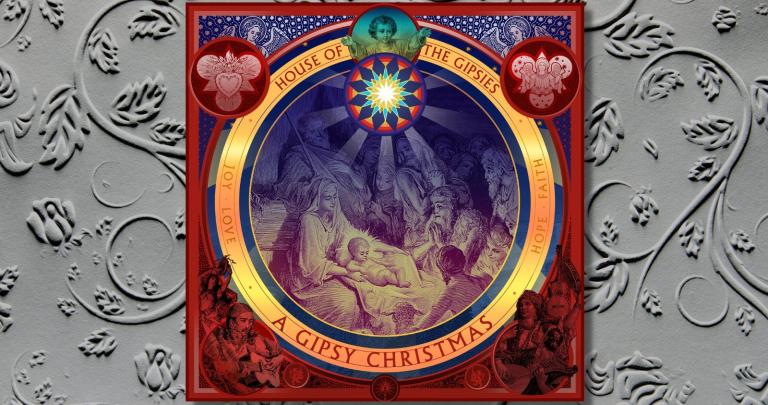 On Nov. 25, House of the Gipsies makes its recording debut with the five-song EP A Gipsy Christmas, featuring traditional carols and songs done in a unique Latin style, mixing rumba, flamenco and other influences.
Who Are House of the Gipsies (Yes, They Prefer That Spelling)?
The band (click here for the official website) may be new, but Patchai and Kakou Reyes, the brothers who co-founded it, come from a long musical heritage. Their uncle, André Reyes, was one of the founding members of the Grammy Award-winning Gipsy Kings (who even landed a song in a Pixar movie).
Originating in southern France in the late '70s, the Gipsy Kings were brought up in a Spanish culture, being the descendants of Gitanos, Spanish Romani, or gypsies, who fled Spain in the '30s during the Spanish Civil War.
House of the Gipsies, representing the next generation, features the Reyes brothers in collaboration with Cedric Leonardi, a former drummer from the original Southern France group, and other musicians.
The band performs in Spanish, French, English — and Catalan, a language that evolved from Vulgar Latin in the Middle Ages around the eastern Pyrenees Mountains.
Catalan is one of the Western Romance languages, which also include French, Portuguese, Spanish and Italian.
How Did A Gipsy Christmas Begin?
House of the Gipsies partnered with another set of brothers, Grammy Award-winning producers Frank and Christian Berman, to create A Gipsy Christmas.
Among the selections are Silent Night (Noche de Paz), the Advent hymn O Come, O Come Emmanuel (O Ven, O Ven Emmanuel), O Come All Ye Faithful (Venid Fieles Todos) and the Jose Feliciano classic Feliz Navidad, used with the blessing of its composer.
From the press release:
"We are especially grateful to Jose Feliciano for allowing us to add a lyrical twist to his iconic song. 'Feliz Navidad' is arguably the most notable original Christmas song of the past 50 years," says Frank Berman. "It is particularly unique as being one of the first number 1 bilingual hits with both Spanish and English lyrics. It is beloved across multiple generations and countries and has become the standard bearer of hope and joy at Christmas."
Coming Together
Coming from a varied and distinctive family history — and one that includes upheaval and persecution — the Reyes brothers see themselves as being on a mission.
As the press release says:
As a musical collective, HOTG allows fluidity for artists to join in – from global gipsy musical tribes (there are 37 different tribal groups and 13 million gipsies globally) to cross cultural superstar collaborations.

Today, House of the Gipsies are prepping gipsy music projects with the Berman Brothers that expand their philanthropic footprint globally and reinforce their cultural mission of unity through music, while igniting the gipsy in all of us.
That's all a bit of hyperbole, but it does reflect the interesting position occupied by the Gipsy Kings and their descendants and spin-off groups.
House of the Gipsies began by reconnecting to Romani roots in India.
Now, the band's music represents a further fusion of cultures and styles. In an age that seems determined to not allow anyone to enjoy anything that doesn't spring from their personal background, it's a good reminder that no culture on Earth evolved in a vacuum.
People move around, they intermarry, they add new ingredients to their cuisine, new words to their languages. Over centuries, they cherry-pick from here and there, from this group and that, this society and that, to create their culture.
Where would the Irish be without potatoes, or the Italians without tomatoes? Well, they'd be where they were for centuries, before those ingredients were brought from the New World.
Cultures Coming Together, With Faith
A Gipsy Christmas offers one flavor of that cultural fusion and adds the element of faith to it.
As Catholics, members of a world religion practiced in every corner of the globe, by every conceivable sort of human, it's a familiar concept.
From the press release:
"I believe that we urgently need a cultural shift through positive messaging in music. It's been exciting and uplifting to be able to experiment with the gipsy sound current inside of my faith and our natural curiosity for different musical and spiritual traditions," says Patchai Reyes, House of the Gipsies co-founder.

It's a family affair, as younger brother Kakou Reyes adds, "We are really happy to share our culture and faith with the world and hope this EP uplifts the hearts of all people this Christmas."
The music will be available on Nov. 25 at AGipsyChristmas.com (the site isn't fully live yet). Patchai and Kakou Reyes will also be hosting four Facebook Live events on the band's page, on Dec. 4, 11, 18 and 25.
Image: House of the Gipsies
Don't miss a thing: Subscribe to all that I write at Authory.com/KateOHare