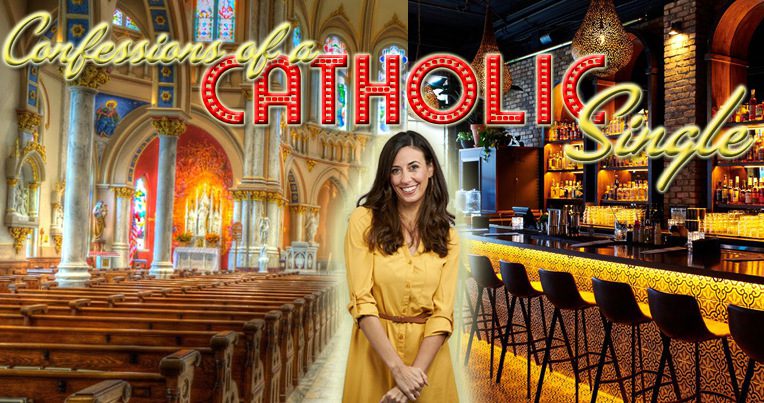 Los Angeles-based filmmaker Erin Dooley is Catholic and single. So, it shouldn't be a surprise that her first foray into a scripted podcast is called Confessions of a Catholic Single.
It's the comic story of Cecilia (Katy Bodenhamer), a newly widowed Catholic woman struggling to find love in Las Vegas, a k a Sin City.
One of the seven deadly sins — like anger, pride, lust, sloth, etc. — inspires each episode. The series is available on several podcasting platforms, which can be linked from the website.
Here's episode one, from the YouTube channel:
I just shot Erin some questions, and she shot back answers. Take a look…
Where did Confessions of a Catholic Single begin?
I had been thinking of this idea for some time, as a feature film and a TV show and finally as a podcast. It's inspired by my life as a Catholic single and wanting to see more stories about people who are like my friends.
Now that all the episodes are out, what's been the response?
It has been fun hearing people asking for more episodes and getting invested in the storyline. Listeners seem to be enjoying it!
What's the most surprising thing you've heard from listeners?
It was interesting to hear conversation at a young-adult group who listened to the first three episodes and discussed dating and the deadly sins. They had some interesting insights.
How did you manage to finish the entire thing?
It took nine months from when I started writing to when it was released. I really enjoyed learning about audio and doing foley [note: this is a showbiz term for creating sound effects].
What do you most hope people take away from it?
I hope that single people of faith can have a good laugh and feel seen. And for listeners see that people who take their Catholic faith seriously aren't odd; we face the same struggles as others but we may handle them differently. And I hope people may be encouraged to go to confession!
Will there be a second season?
We are doing a Christmas special on December 20. I have some ideas for a second season, but we haven't confirmed anything yet.
What's the most important thing you learned from all this?
Writing for a scripted podcast is very different than writing for TV or film. There are many jokes and story ideas that I can't use in the podcast since they depend on visuals too much. It's been fun and interesting!
Do you have one message for Catholic singles?
Our world needs solid, strong marriages and families, and that starts with us dating differently. But also laugh a lot.
Oh, and that Christmas special? Here's Erin to tell you all about it (it'll be on the show's
Facebook page
):
Image: Dash Entertainment, LLC
Don't miss a thing: Subscribe to all that I write at Authory.com/KateOHare