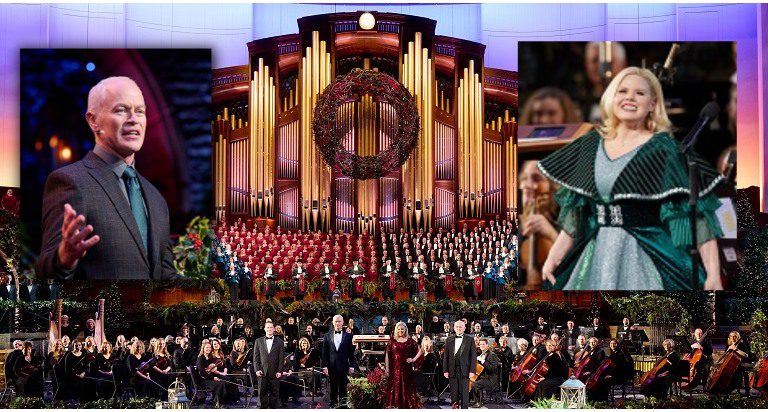 As you watch O Holy Night: Christmas With the Tabernacle Choir, whether on Dec. 13 at 8 p.m. ET on PBS, or Dec. 18 at 8 p.m. ET, on cablenet BYUtv, you might catch a glimpse of me in the crowd (I'm the one with the sparkly red face mask).
And, although I'd never been to Salt Lake City, Utah, before, I also had a reunion with an old pal — Catholic actor Neal McDonough.
Christmas in Salt Lake City
Last December, as the world was slowly shaking itself out of COVID, I took my first out-of-town trip since the pandemic began, at the invitation of BYUtv and the Tabernacle Choir. And, as luck would have it, snow fell the day before, so it was a winter wonderland.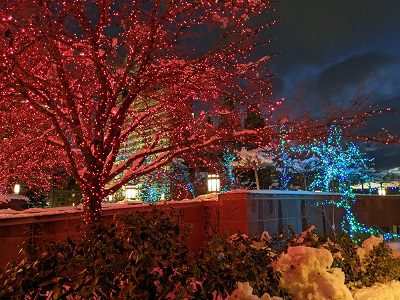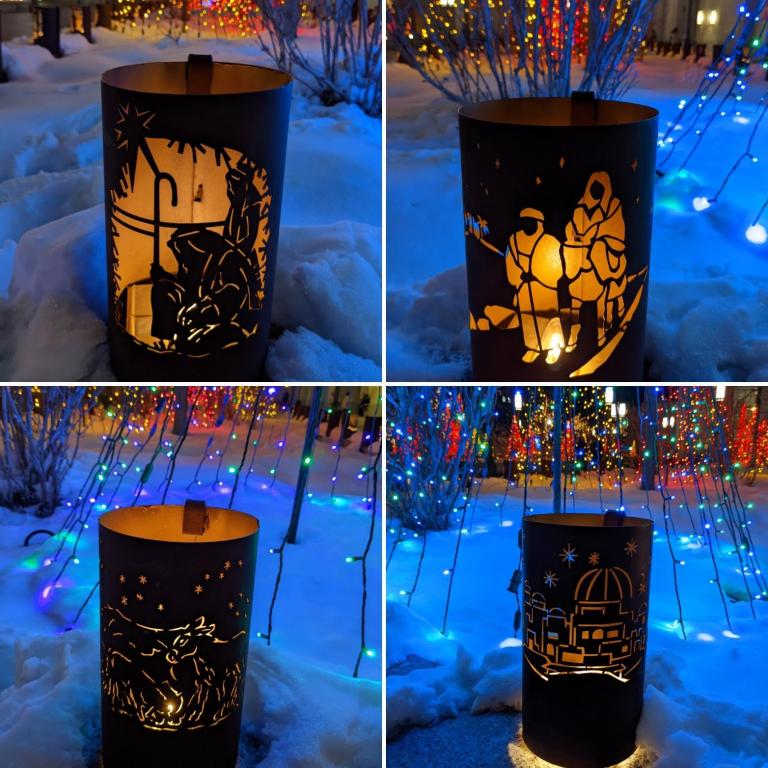 Off to Jerusalem
Accompanied by my Family Theater Productions colleague, Senior Producer Tony Sands, we had a whirlwind trip that began with a tour of the Jerusalem set in Goshen, Utah, south of Provo.
Built by the Church of Jesus Christ of Latter-day Saints for its own use, the impressive set played host to much of Season 2 of the hit Gospels series The Chosen.
Here's what I saw then:
Then to BYUtv (and Some News About The Chosen)
We then toured the equally impressive Provo office and production facilities of non-commercial cable network BYUtv. It also airs The Chosen, which has recently broken box-office records with theatrical showings of its first two new episodes. Those and the rest of season three start airing on BYUtv on Dec. 11, the same day as the season launches on the show's new app.
Oh, BTW, season one of The Chosen is now on Netflix (as I and co-writer Josh Shepherd earlier reported).
Owned and operated as part of Brigham Young University (itself sponsored by the LDS Church), family-friendly BYUtv offers a lineup of reality and scripted shows — including the YA fantasy series Ruby and the Well, which I wrote about earlier — along with BYU sports, movies and some LDS-themed programming.
The First Tabernacle Choir Organ
The next day, back in Salt Lake, we attended an organ recital at the acoustically amazing Tabernacle building in Temple Square, home to the LDS Church's original organ.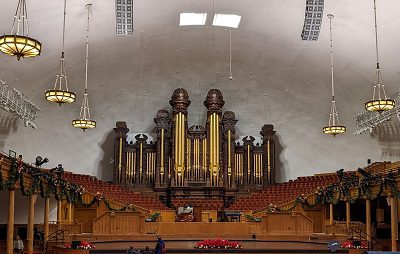 The round Tabernacle, completed in 1867, is also home to the famed Tabernacle Choir. Within the many levels of the building are the all-volunteer choir's practice rooms, costume storage and workshop, and massive, meticulously indexed sheet-music library.
And Then, the Tabernacle Choir Concert Itself
These days, the yearly concert takes place at the massive Conference Center.
Completed in 2000, it's also at Temple Square. The blocky modern complex looks like an amalgam of a corporate office building, art gallery and theater, with its 21,000 seat auditorium — which has not a single visible support column.
With the concert taking place that evening — after COVID testing of all attendees — it was fully decorated. And how (as you can see in this photo).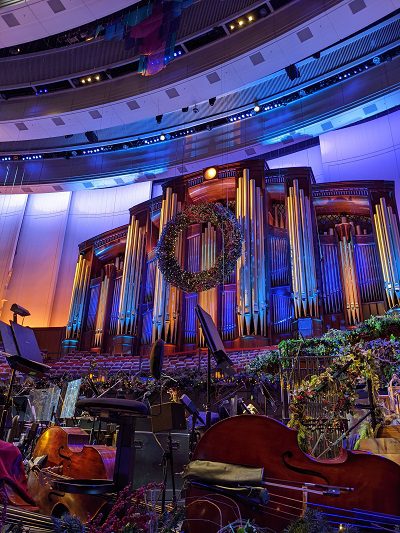 But first, it was time to talk to the hosts, Neal McDonough and Broadway star Megan Hilty.
Note: Hilty's sister and her family were tragically killed in a plane crash in September. Of course, the concert was taped long before that happened. At a recent press conference, Hilty didn't address the loss directly, but there were times she became understandably emotional discussing the holidays.
Catching Up With Neal McDonough
I've known McDonough since I first interviewed him in the mid-'90s. He's a dedicated Catholic, husband, and father of five. Actually, I attend the parish I do in Los Angeles because McDonough got married there and recommended it and its Irish-born pastor.
We're both Irish, and we're both Catholic, and it did seem interesting to both of us that, here we were, in essentially the LDS Church's equivalent of the Vatican. But the concert had a definite Irish flavor (Hilty also has Irish heritage), and McDonough was eager to build bridges.
He said, "I asked Ron [Choir President Ron Jarrett], I think it was yesterday, I said, 'How many Irish Catholic guys have you had on stage as a narrator?' He goes, 'Well, you're the first.' So again, it's a humbling feeling to be that guy that's chosen for this."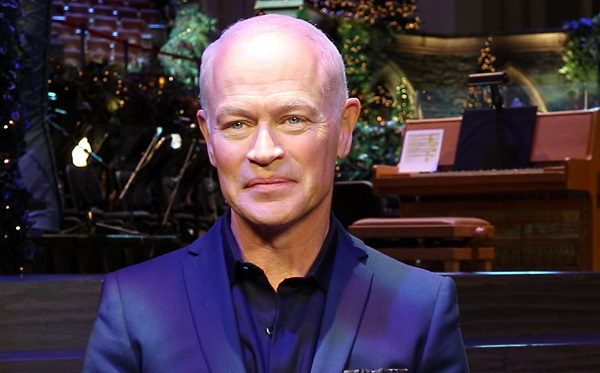 McDonough Had That Family Feeling
McDonough also wasn't a stranger to Salt Lake City, saying, "Well, there's something so near and dear to me with Salt Lake. Doing a few movies here, doing Yellowstone, Park City, Sundance, all these years. The first place I ever skied with my wife, Ruve, and so much time we've spent here, and how much I love it here.
"I truly love the people of Salt Lake. And there's something to the Mormon faith that it's undeniable. It's all about family. And, for me, being the Irish Catholic guy that I am, it's also all about family.
"The Irish, we were simple people with not a lot of money, so all we had in Ireland for generation to generation was our family and our music and our literature. And it's not very different from what it feels like here in Salt Lake City. It's a really wholesome, wonderful feeling, and I'm so proud to now be part of this family. It's really incredible."
McDonough acts as host and narrator of the concert, leaving the singing to Hilty and the choir.
"I'm talking about my Irish heritage," he said, "and really talking about this amazing gift that was given to us, and how we all, as whatever faith you're part of, how we can all be better people as one family, because we're all children of God.
"Doesn't matter what your faith is, doesn't matter where you come from, doesn't matter what your age is. We are all children of God. And that's really the message of this evening, is that we're all family."
McDonough and the Irish Catholic Thing
The Irish haven't had an easy time of it through history. Despite his success, McDonough also has had his own ups and downs — and not just because he won't do sex scenes, which has largely relegated him to playing the villain.
"There's alcohol," he says. "That's a problem in our whole Irish Catholic thing, so giving that up years ago was such a huge thing for me, because it just gave me much more clarity to life and thinking about how I can be better at everything that I do.
"I probably drive my kids nuts because I'm always trying to be better at everything. Whether it's my golf game, whether it's being a coach, whether it's being whatever, whether it's … I'm always trying to do the right thing.
"And my kids now, all of them in their Catholic schools, they're all doing great in the Catholic schools and great in sports, because they all have this deep belief that God has got our back, and He's there for us always."
The concert, was, well, you'll see it. Here's a taste:
And We Couldn't Leave Without Visiting the Catholic Cathedral
Before Tony and I left Salt Lake City, at my email request, Father Martin Diaz, pastor of the absolutely stunningly beautiful Catholic Cathedral of the Madeleine gave us a Saturday tour (we also caught a lovely, reverent Sunday Mass before hopping on our plane). I could post a bunch of pictures of it, but I couldn't do better than this video by Protestant Matt Whitman, who got a similar tour from Father Diaz for his YouTube channel.
If you ever get to Salt Lake, put this place high on your list.
O Holy Night: Christmas With the Tabernacle Choir marks the 19th annual Christmas with The Tabernacle Choir television special, which has been the No. 1 primetime holiday program on PBS for 17 years, since it first aired in 2004. The engaging 60-minute program, presented by GBH, premieres on Tuesday, Dec. 13, at 8 p.m. ET (check local listings) on PBS, PBS.org, and the PBS Video app, and on Sunday, Dec. 18, at 8 p.m. ET on BYUtv, BYUtv.org and the BYUtv app.
Image (top): Courtesy of © 2022 by Intellectual Reserve, Inc. All rights reserved.
Don't miss a thing: Subscribe to all that I write at Authory.com/KateOHare