Season one of Clarkson's Farm was about surviving ignorance, weather, sheep and COVID. Season two, which launched Feb. 10 on Amazon Prime Video, is about surviving other people.
I challenge you to make it through all eight episodes and not be driven to distraction by suffocating piles of government regulation, and the soul-crushing inanity of petty bureaucracy.
Don't get me wrong — this season of Clarkson's Farm is as daffy, profane, hilarious and heartwarming as season one, but also vastly more frustrating. Anyone who's ever tried to remodel a house, build a new church, pave a driveway or start a business will relate.
So, Who Is Jeremy Clarkson?
If you didn't watch season one (stop reading right now and go treat yourself), Clarkson's Farm follows the misadventures of outspoken 62-year-old British motoring journalist and TV personality Jeremy Clarkson.
He's best known in the U.S. as one of the hosts of the long-running auto-centric BBC show Top Gear (which he left after punching a producer) and the equally auto-centric (among other vehicles) Amazon Prime Video original show, The Grand Tour.
Joining Clarkson on that show are his former Top Gear co-hosts James May and Richard Hammond, who left the BBC in the wake of Clarkson's ouster.
In the most recent escapade, the trio went in search of wilderness in Scandinavia.
And What's Clarkson's Farm All About?
Clarkson's Farm came about when, in 2019, Clarkson decided that he was going to try his hand at farming his 1,000-acre spread. It lies in Britain's picturesque Cotswolds, near the town of Chadlington in West Oxfordshire, about two hours by car from central London.
Already in business with Clarkson from The Grand Tour, Amazon Studios turned the enterprise into a series. And that series became a big hit, on both sides of the pond.
I absolutely loved it.
The site, dubbed Diddly Squat Farm, is well-known to The Grand Tour viewers. Clarkson once blew up his house there for an episode after losing a bet, and the show's tent headquarters was parked for a couple of seasons on its rolling landscape.
So, Clarkson Knows Farming, Right? Wrong.
Undeterred by his utter lack of knowledge or skill at farming, Clarkson began by buying an enormous Lamborghini tractor. It all went downhill from there.
He then enlisted an enterprising Gen Z local, Kaleb Cooper, to teach him the ways of farming (which is about all Cooper knows and cares about, but he's a whiz at it).
The two have evolved into an unlikely but outrageously entertaining comedy duo.
Hard-working and entrepreneurial, Cooper — who's spent almost his entire life within a dozen or so miles of his birthplace — is completely unafraid to take the worldly and wealthy Clarkson to task.
On hand for moral support, practical help and to run the eventual Diddly Squat Farm Shop, is Clarkson's Irish girlfriend, Lisa Hogan. Maintaining Diddly Squat's 40 miles of dry-stone walls, and pitching in at harvest time, is the charming but frequently unintelligible septuagenarian Gerald Cooper (no relation).
Finally, there's land agent Charlie "Cheerful Charlie" Ireland, whose function is to throw cold water on Clarkson's madder schemes and keep alive his tenuous connection to agricultural financial reality.
Clarkson's War With Bureaucratic Red Tape
Ireland's other role is to keep Clarkson abreast of, and compliant with, the U.K.'s staggering labyrinth of rules and regulations about every tiny detail of farming.
Not sure if it's any better in the U.S., but even such an unlikely vehicle as the new Magic Mike sequel, Magic Mike's Last Dance, is really about U.K. bureaucratic strangulation.
This reviewer from Reason magazine is talking about London, but everything he writes could also be applied to the bucolic rural setting of Clarkson's Farm.
Yet as political analysis, it's surprisingly on point: Zoning and historic preservation rules are not just bureaucratic nuisances—they are often tools used by politically powerful irritants to shut down projects over which they have no direct authority, but dislike for personal reasons. In the movie as in the real world, urban zoning and historic preservation rules are weapons employed by local sourpusses to stop other people from doing interesting, innovative, and unusual activities, whether for fun, profit, or both. You can't build that is just another way of saying you can't do that.
Now, I'm Not Saying Clarkson Is Everyone's Favorite Neighbor, But …
It must be said at this juncture that, if his TV appearances and news coverage are any indication, Clarkson causes most of his own problems. He's got lots of opinions — ranging from politically incorrect to incendiary — and he's not afraid of expressing them.
As a writer at the New Zealand website Stuff put it:
He sure knows how to "put [his] foot in it". British television personality Jeremy Clarkson's 35-year history of broadcast controversies is almost as long as his filmography credits.
Clarkson's run-ins with the local citizenry and government institutions near Diddly Squat Farm formed a subplot of season one, but they dominate season two. Since we're really only seeing all this from Clarkson's POV, it's impossible to render an impartial judgement on what's happening.
But, I grew up and spent a chunk of my adult life near the boundary of the six-million-acre Adirondack Park in Northern New York State. Much of it is a "Forever Wild" state forest preserve, while the rest is privately owned.
For a century or so, it's been the site of wrangling among landowners, environmental groups, resorts, seasonal residents, farmers, businesses, zoning regulators and other government entities.
Too often, the result of all this is economic stagnation and the destruction of the livelihoods of longtime residents. To locals, it looks like the chief beneficiaries are tourists, wealthy owners of second homes, and urban refugees who want a pretty view but have no clue as to how rural life actually works.
From my perspective, it seems like things aren't all that different in West Oxfordshire. To get into details would be spoiling the show, but click here, here, here and here if you want to see news reports of Clarkson's ongoing struggles to turn a profit on his farm.
Clarkson does win some victories over the season, but after you watch the season finale, click here.
His battles have also garnered TV coverage in the U.K.:
British Farming Has Found Its Champion
Along the way, Clarkson has become an unexpected, but apparently sincere, champion of British farmers — whose future looks increasingly bleak. The same is true of many farmers and ranchers in the U.S. Sometimes, I think it's a plain miracle that anything other than industrial farming survives.
But, for all of Clarkson's raging-bull-in-a-china-shop approach to media and community relations, if one result is that British farmers — and all farmers — have a loud and insistent voice speaking on their behalf, that's a good thing.
But, Parents Be Warned…
People cuss on Clarkson's Farm — a lot. There is no bleeping, And while no humans engage in romantic pursuits, farm animals do (and we see it), and the humans delight in making double entendres and suggestive jokes about that. There's also a fair amount of drinking.
I wish I could say this show is suitable for all ages, but it's not. Amazon recommends it for 16+, and that seems reasonable.
And the Future?
According to a press release from late October 2022, production has already begun on season 3 of Clarkson's Farm.
Here's the announcement image: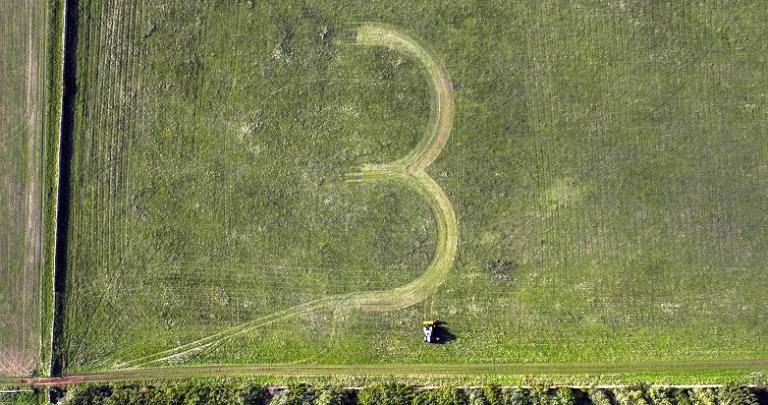 Then, in December, Clarkson caught major heat for, to put it mildly, disapproving comments about American actress Meghan Markle, wife of Prince Harry, younger son of Britain's King Charles III.
From Variety:
Amazon Prime Video is likely to be parting ways with Jeremy Clarkson mere weeks after his comments about Meghan Markle were published in British tabloid The Sun.

Sources tell Variety that the streaming service won't be working with Clarkson beyond seasons of "The Grand Tour" and "Clarkson's Farm" that have already been commissioned. This means that the notorious "Top Gear" presenter likely won't be appearing in any new shows on Prime Video beyond 2024 (though there's every chance a final "Grand Tour" episode could carry over into 2025).
Prime Video declined to comment, and "likely to be" is not the same thing as "is."
Clarkson has apologized. This is far from his first public row, so it's quite possible the whole thing could blow over if season 2 is as big a hit as season 1. But Clarkson's troubles with the West Oxfordshire District Council are another matter entirely …
Image: (L-R) Jeremy Clarkson and Kaleb Cooper, of 'Clarkson's Farm'/Photo: Copyright Amazon Studios
Don't miss a thing: Subscribe to all that I write at Authory.com/KateOHare