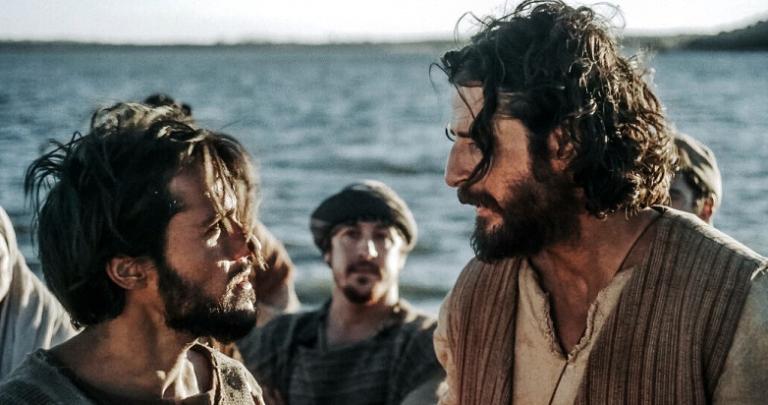 Do you realize how unusual it is for The Chosen to be on The CW?
I've been covering TV since The X-Files was young, and there's not much I haven't seen or heard about. But I've never heard of an independently produced TV series by a non-union writer that managed to land in primetime on a broadcast network — let alone a show about Jesus.
Nevertheless, that's exactly what has happened with The Chosen.
The Chosen Is Not Only on TV, But Doing Well on TV
According to TVSeriesFinale.com, The Chosen is The CW's top-rated summer show in the coveted 18-49 demo.
Formerly the home of edgy vampire and superhero shows, The CW gained new ownership last fall. Created by CBS Studios and Warner Bros. TV as a showcase for new shows — later to be sold internationally and to streamers — it's now under station group Nexstar.
The new owners are aiming for profitability by 2025 — and willing to take a chance. On Dec. 23, 2022, after a last-minute announcement, it aired The Messengers, a Christmas-themed episode of The Chosen.
Following that test run, The CW agreed to pick up the existing three seasons of The Chosen (one fruit of the show's sub-licensing deal with studio Lionsgate).
In the wake of that, the network hasn't necessarily gone all faith-and-family-friendly. But, as network head Brad Schwartz said to The Hollywood Reporter:
I think faith and family is an interesting opportunity that you don't see across broadcast television. …

I see an opportunity in faith and family. The Chosen is a wonderful example of it working. So why wouldn't we try to find a couple of more things? But that that feels like a Sunday night strategy, not an overall company strategy.
Having launched July 16, The Chosen is running through Christmas Eve on Sunday nights (haven't heard yet if the network is picking up future seasons). The run even earned the show a TV Guide cover story.
I recently caught up with The Chosen executive producer Derral Eves, a YouTube expert who's also a viral-marketing strategist. He said:
For us, it's really about reaching the billion [viewers], and really going where other audiences that don't even know The Chosen exists, that we can get in front of them, and then leverage the marketing power of that, either that platform or TV network to market it.

And so I mean, just because we were on CW gave us the ability on TV Guide. I never thought that would happen either. And yet, that's once again, people talking about the show, becoming aware of the show, trying to find out where they can watch the show, and realize that it's in multiple places.
The Chosen already streams on its own app, where episodes will continue to make their small-screen debut, along with the app of its original distributor, Angel Studios. Various seasons are also on several services, including Peacock, Amazon Prime and Netflix. On cable TV, the show airs on BYUtv (more on how that all happened here).
And, that's not the only way the show has been a first lately.
Strike, What Strike?
The ongoing strike by the Writers Guild of America (WGA) didn't affect the show, since creator/writer/director Dallas Jenkins — and his fellow writers, Ryan Swanson and Tyler Thompson — aren't union members.
Now, many of its actors, including Catholic star Jonathan Roumie, are members of the Screen Actors Guild (SAG-AFTRA) union, which went on strike not long after the WGA. So, The Chosen was the first known show to get a SAG-AFTRA waiver to continue filming during the strike and finish out season four.
From Deadline.com:
It is widely anticipated that waivers will largely apply to indie films, given that most U.S. series are made with a studio.

The agreements are being granted to "truly independent producers" as long as they are not affiliated with the Alliance of Motion Picture and Television Producers and agree to be bound retroactively to whatever contract terms eventually are achieved with the AMPTP when the strike is settled.
The Chosen Goes From the Small Screen to the Silver Screen
On top of all this, The Chosen has also become a hit on the big screen, releasing episodes, often paired with musical performances, as wildly popular theatrical Fathom Events.
During a recent livestream with Roumie at the end of filming season four, Jenkins hinted at even more theatrical releases.
From ChurchLeaders.com
Jenkins announced that, while this news is not yet certain, it is possible that all episodes of Season 4 (which will release in late January or early February) will come out in theaters before going to streaming. Previously, the show has only released a couple of episodes at a time in theaters. "I am genuinely shocked," Roumie responded. "I had no idea. That's amazing."
The Chosen Is Based on One of the Ultimate Presold IPs
Comedian and actor Steve Martin once advised entertainers to "be so good they can't ignore you." That's what's happened with The Chosen, as Hollywood media runs to catch up to a worldwide phenomenon that fans have known about since the spring of 2019.
It's a bit ironic, since Hollywood is currently obsessed with using "presold IP (Intellectual Property)," meaning making stuff based on stuff that's already been published or made and has proven to be popular.
The Bible has to be considered as one of the O.G. presold IPs. And if you do it right (and Hollywood often doesn't), you've got a huge and eager audience.
Says Eves:
People have been kind of gathering together, and talking about these stories for last 2,000 years, 3,000 years. And what's really interesting is, it hasn't changed.

The medium changed a little bit, but these stories are relevant now, and there's a lot of people that would find that great content.
As a bonus — and I've said it before — The Chosen is also just a darn good TV show.
Jesus: The Origin Story of Origin Stories
And, let's face it, Jesus Christ is not just the Son of God, He's one of the most significant figures in all human history (the most significant, for Christians). The Church He founded with a handful of followers in First-Century Judea helped shape cultures all over the world and daily affects the lives of over a billion people.
Regardless of your religious affiliation, if you don't think this origin story is one worth telling, your education is severely lacking.
Says Eves:
There's creating content for art and for art alone, and then there's actually bringing value while creating art that literally impacts the world. …

[The Chosen] gives us the ability to share a story around a group of people that was welcoming the Messiah. And some of them didn't welcome them with open arms, of course, but they were there.

They were the early followers, the people that had the interaction with Jesus. And I think that is fascinating for today.

And regardless of religious background or where they come for entertainment, these stories are super relevant and very impactful. And regardless of your religious background, I think people will find this interesting.

We're seeing that across the world, not only just with The CW and different places that were there, but in different countries, and in different languages.
The People Have Spoken (With Their Eyeballs and Their Wallets)
The Chosen is also unique in that its launch in 2019 represented the results of, at that time, the largest crowdfunding effort ever.
A big studio or a billionaire or a private-equity fund didn't provide the money to create The Chosen — ordinary people did.
Things are changing in Hollywood, whether Hollywood likes it or not, exemplified by this crowdfunded, indie show reaching around the globe and breaking into broadcast TV.
Says Eves:
We're at an interesting time with just the union strikes right now, and things that are happening in entertainment, the way streaming is. And I do believe it's going to be more crowd-centric, what the crowd really wants. And they will kind of determine what type of content's being made. …

Projects like The Chosen are turning heads right now. They're like, "Wait a minute. There's a huge segment of the audience here that really cares about it, and they're actually delivering on. Not only are they bringing money in through the movies, we become number one in the box office for a TV show?"

Come on. And then two, getting it to have some great ratings on The CW, which is fantastic. I think we're just turning heads enough that they're going to pay attention.

Where they pay attention will be in the next projects. It'll be to watch The Chosen closely how it performs, but hopefully it inspires. That's what our goal is. It just inspires creators like us that want to create content that will bring net positive content into the world.
Season four is in post-production, with three more planned after that. The juggernaut that is The Chosen is only getting started.
Here's The CW trailer:
Image:  (L-R): Shahar Isaac as Simon/Peter and Jonathan Roumie as Jesus — Photo: The Chosen — © 2023 The Chosen. All Rights Reserved.
Don't miss a thing: Subscribe to all that I write at Authory.com/KateOHare