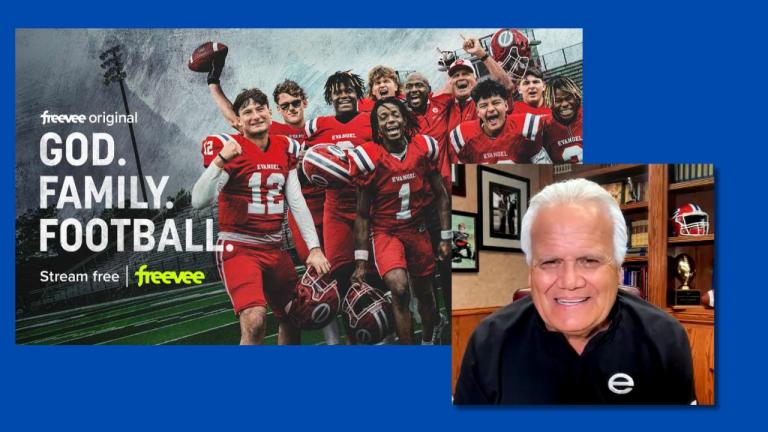 Got a Friday Night Lights-shaped hole in your heart? I might just have the show for you. Streaming on the free, ad-supported Amazon Freevee, God. Family. Football. focuses on tiny Evangel Christian Academy in Shreveport, Louisiana.
The school's Eagles football team was once a powerhouse, but now has fallen on hard times after going through a no-win season.
Pastor Denny Duron, a former Louisiana Tech and WFL player, comes out of retirement to lead the football program he founded (at the school his parents founded).
The six-episode series follows the team as Duron leads them in sports and faith, aiming to train their hearts and souls as well as their bodies.
Take a look:
Talking to Coach Denny Duron
I recently caught up with Duron, who is currently chancellor of Evangel Academy. We talked faith, football (I love a chance to talk football), being a mentor to often-fatherless boys, and lots more.
We also touched on one of the series' executive producers, NFL quarterback Russell Wilson, who left his longtime home with the Seattle Seahawks (my favorite team) to take the helm of the Denver Broncos.
BTW, that experiment hasn't gone especially well for Wilson (other than financially). But, it's good to know that he hasn't slacked on his long history of philanthropy and caring about youth.
Without further ado, here's Coach Denny Duron:
So, What Is Amazon Freevee?
And in case you're wondering what Amazon Freevee is, here's excerpts from how Amazon describes it:
Did you know that, in addition to Prime Video, Amazon also offers a completely free streaming service with thousands of hit movies, shows, and Originals? It's called Amazon Freevee, and it's an ad-supported streaming service that lets you watch all kinds of different movies and TV shows for free.

A wide variety of content is available on Freevee. From an always-updating library of broadly appealing popular movies and TV series across a variety of genres—including comedy, drama, suspense, and animation—to more than 150 always-on FAST channels, there's something for everyone.

If you already have Prime Video, you can watch content from Freevee straight through the Prime Video app. Freevee is also available as a standalone app on a variety of devices, including all Amazon Fire TV devices, iOS and Android mobile devices, Xbox, PlayStation 5, and many smart TVs. If you sign into the app using your Amazon.com username and password, you'll receive personalized movie and TV recommendations.

If Freevee isn't available on your device, you can stream Freevee titles from your web browser on the Amazon website or the Prime Video app via the Freevee Channel. Freevee is currently available in the U.S., the UK, and Germany.
Image: Coach Denny Duron (insert) leads a high-school team in 'God. Family. Football.' on Amazon Freevee/Photo: Amazon Freevee/Screenshot
Don't miss a thing: Subscribe to all that I write at Authory.com/KateOHare