1. Blessed Margaret of Castillo is a blessed one indeed:
After losing her parents to their blind and aimless pursuits, Bl. Margaret fixed her gaze on her true target. https://t.co/UrkAd4NYb4

— Dominicana (@DominicanaDHS) April 13, 2016
2.
"A person's value does not depend on efficiency or value, but because he was created and loved by God". Benedict XVI

— FrSteveGrunow (@FrSteveGrunow) April 13, 2016
3. Today is also the feast of St. Martin, consider this from the Office of Readings:
At all times in our letters we have desired to encourage you in your charity and to alleviate any anxiety you may have for us, as we have for all the saints and all our brothers who share this concern for us in the Lord. But now I am writing to you of things which do oppress us, and I speak the truth in the name of Christ our God.

Removed from all the turmoil of the world and cast aside by our sins, we are separated from life itself. For the people who live in this region are all pagans, and Christians who are known to live in the area have taken on pagan ways, showing none of that charity which human beings, even barbarians, regularly display in numerous compassionate deeds.

Indeed, I have been amazed and continue to be amazed at the lack of perception and the callousness of those who were once connected with me, both my friends and my relatives. They have all completely forgotten about my unhappy state, and do not care to know where I am, whether I am alive or dead.

What sort of conscience, I ask, do we have, we who are to be brought before the tribunal of Christ, where all who are formed out of the same clay will be the accusers and all will have to justify their lives? What is this terror—or fear, if you will, though there is no reason for it—that men seem to have for fulfilling God's commandments even in the slightest degree? Have the evil spirits so succeeded in concealing me by this enforced exile? Have I been shown so clearly to be an enemy to the entire assembly of the Church, an adversary to all my people?

But God wishes all men to be saved and to come to a knowledge of the truth through the prayers of Peter. Hence I pray that God will strengthen their hearts in the orthodox faith, help them to stand firm against every heretic and enemy of the church, and guard them unshaken. And this I ask especially for their shepherd, now designated to be over them, that none may fall or go astray or renounce anything, however trifling, which they professed in writing in the sight of the Lord and his holy angels. In this way, together with me in my humiliation, they will receive the crown of justice in the true faith from the hand of our Lord and Savior Jesus Christ. For the Lord himself will take care of this lowly body of mine as befits his providence, whether this means unending suffering or some small consolation. Why am I anxious? The Lord is near. But my hope is in his compassion that he will not delay in putting an end to this course which he has assigned to me.

Greet in the Lord all your people and all who for love of God have had compassion for my chains. May God on high shield you with his mighty arm from all temptation and preserve you for his kingdom.
4. Today's readings.
5.
Today's 1st reading from Acts 8:1-8 tells of the missionary activity of St Philip, depicted in this window https://t.co/jfCeKJeFjy

— Fr Lawrence Lew OP (@LawrenceOP) April 13, 2016
6.
Communion with Jesus, Even in Persecution – https://t.co/mpWwTC9J3U

— Fr. Roger Landry (@FrRogerLandry) April 13, 2016
7.
Confession is about taking stock of your soul. Seek out your parish priest or chaplain today and begin anew. pic.twitter.com/x2iyhp7Le4

— Diocesan Priest (@diocesanpriest) April 13, 2016
8. From Magnificat today: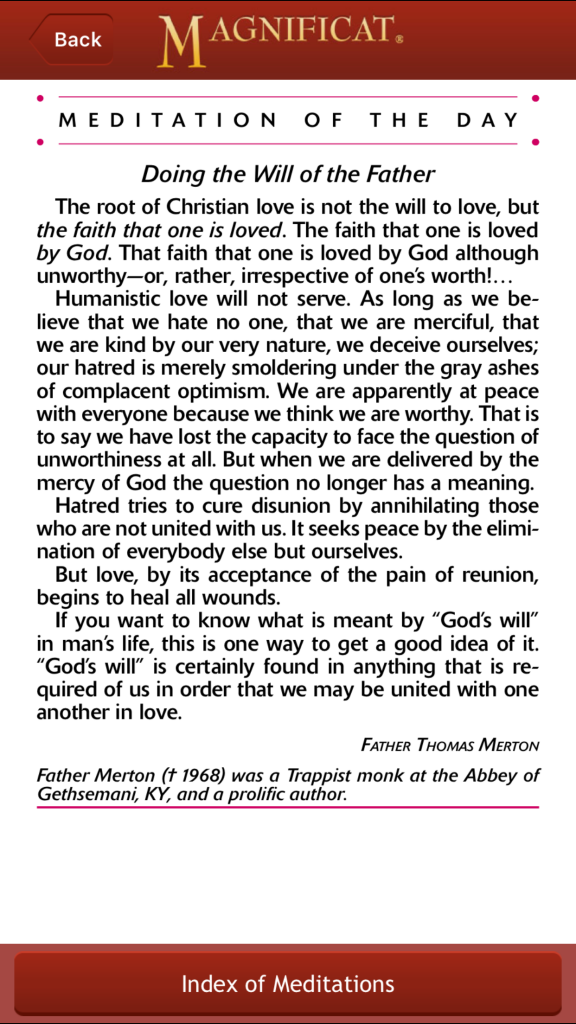 9.
If Catholics really want to understand Pope Francis, they should study the life of St. Peter Faber… – https://t.co/fOCKREPOQP

— New Advent (@newadvent) April 13, 2016
More on Faber from Dawn Eden here and here.
10.
Today's the feast of Bl. Margaret of Castello OP, patron of the disabled and handicapped: pray for us! #op800https://t.co/3W9u4UUISP

— Fr Lawrence Lew OP (@LawrenceOP) April 13, 2016