1.
Our Lady in May – Queen of Peacehttps://t.co/VXVPohGt5E

— Fr Lawrence Lew OP (@LawrenceOP) May 19, 2016
2. In the Liturgy of the Hours today, from Saint Columban on the unfathomable depths of God:
God is everywhere in his immensity, and everywhere close at hand. As he says of himself: I am a God close at hand, not a God far off. The God we seek is not one who dwells at a distance from us, for we have him present with us, if only we are worthy. He dwells in us as the soul in the body, if only we are sound members of his, if we are dead to sin. Then in very truth he dwells in us, the one who said: I will dwell in them and walk among them. If we are worthy of his presence with us, then in truth we are made alive by him as his living members. As the Apostle says: In him we live and move and have our being.

Who, I ask, will search out the Most High in his own being, for he is beyond words or understanding? Who will penetrate the secrets of God? Who will boast that he knows the infinite God, who fills all things, yet encompasses all things, who pervades all things, yet reaches beyond all things, who holds all things in his hand, yet escapes the grasp of all things? No one has ever seen him as he is. No one must then presume to search for the unsearchable things of God: his nature, the manner of his existence, his selfhood. These are beyond telling, beyond scrutiny, beyond investigation. With simplicity, but also with fortitude, only believe that this is how God is and this is how he will be, for God is incapable of change.

Who then is God? He is Father, Son and Holy Spirit, one God. Do not look for any further answers concerning God. Those who want to understand the unfathomable depths of God must first consider the world of nature. Knowledge of the Trinity is rightly compared with the depth of the sea. Wisdom asks: Who will find out what is so very deep? As the depths of the sea are invisible to human sight, so the Godhead of the Trinity is found to be beyond the grasp of human understanding. If any one, I say, wants to know what he should believe he must not imagine that he understands better through speech than through belief; the knowledge of God that he seeks will be all the further off than it was before.

Seek then the highest wisdom, not by arguments in words but by the perfection of your life, not by speech but by the faith that comes from simplicity of heart, not from the learned speculations of the unrighteous. If you search by means of discussions for the God who cannot be defined in words, he will depart further from you than he was before. If you search for him by faith, wisdom will stand where wisdom lives, at the gates. Where wisdom is, wisdom will be seen, at least in part. But wisdom is also to some extent truly attained when the invisible God is the object of faith, in a way beyond our understanding, for we must believe in God, invisible as he is, though he is partially seen by a heart that is pure.
Social-media shortcut version?
Sometimes in the busyness of life we find ourselves feeling lost amidst the crowd. Fear not, God is there with you. pic.twitter.com/b9cdsmQRzS

— Diocesan Priest (@diocesanpriest) May 19, 2016
3. Pentecost should be a bigger deal to all of us. Michael Rennier writes on Aletia:
if the Holy Spirit has arrived on Earth and inhabits the hearts of us all, this means that God has extended to us not a set of rules, but rather his love. Religion is not an attempt to earn our way into heaven by following the demands of a distant God. Religion is a matter of the heart. It is a relationship. Any good relationship, whether it is marriage, friendship, or family, has expectations. If religion has these expectations, too, it isn't because God demands our blind obedience and any dissenters are sent to hell—it is because he wants us to remain in his Divine Romance.
Knowing this is especially important for those of us who don't think we're good enough for God because we make too many mistakes. If the Holy Spirit is with me, then the divine flame burns brightly within me whether I deserve it or not (I probably do not), and it is not my own willpower (or lack thereof) that makes me a good person (or not so good). God loves us all regardless of whether we think we deserve it or not.
Sometimes I think about how amazing it would have been to be St. Peter, who was able to see Jesus in the flesh. But God is as close to us as He was to those who actually saw him. We may not be able to shake His hand or look at His face, but by the power of the Holy Spirit's love, Jesus makes His home within us. Love is mysterious, and I still don't always understand the Holy Spirit or how to picture Him. I do know, however, that if He is a flame, then my life is brighter for His presence. If He is a mighty wind, then He is like sharing a single breath with God. Pentecost and arrival of the Holy Spirit is a big deal, the beginning of our love story with God.
4. Fr. Roger Landry: the Holy Spirit seeks to help us to live a coherent life
There is a general rule concerning all special graces granted to any human being. Whenever the divine favor chooses someone to receive a special grace, or to accept a lofty vocation, God adorns the person chosen with all the gifts of the Spirit needed to fulfill the task at hand. " (Saint Bernardine of Siena) We should recall this whenever we feel God is calling us to do something out of our comfort zone. With the call and opportunity to serve him comes the grace and strength to accomplish the task, no matter how humanly impossible it seems or how humanly unworthy we feel.
6. Blessed are the poor in spirit; the Kingdom of heaven is theirs!
7. Blessed are the Pure of Heart – A Reflection on an Often Misunderstood Beatitude and Virtue
8.
Christ does not affirm us as we are, but insists we repent, seek to make amends, and share with others the mercy we have received.

— FrSteveGrunow (@FrSteveGrunow) May 19, 2016
9. I've been stuck on Pope Francis in his Wednesday audience saying that to ignore the poor is to despise God. Kinda had me walking around NYC differently yesterday.
10. From Magnificat today: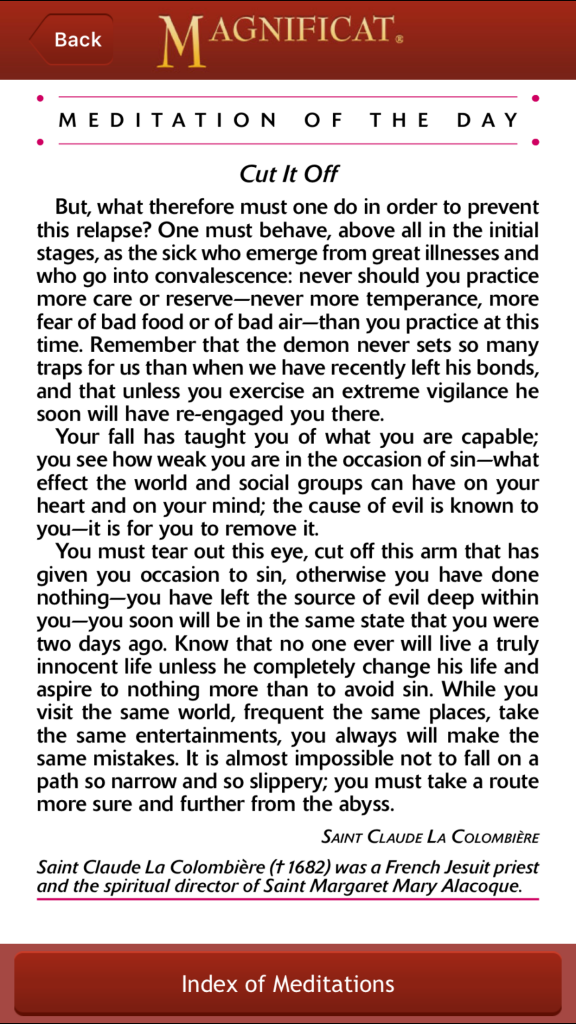 Subscribe here.
If you are in NYC, please put this June 13 hour of mercy on your calendar.