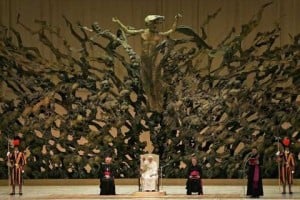 In the winter, or whenever the weather is inclement, the Pope's regular Wednesday General Audience is moved from St. Peter's Square to the Vatican's Paul VI audience hall.  That was the case today, when thousands of the faithful crowded to hear the Holy Father speak for the first time since his announcement on Monday that he will retire from the papacy on February 28.
The Paul VI hall is dominated by Pericle Fazzini's sculpture, "The Resurrection."  Dedicated in 1977, the sculpture is almost 66 feet wide and more than 23 feet tall and weighs about 15 tons.  It depicts Christ rising from a tomb in the Garden of Olives, while the earth is shaken by an enormous storm.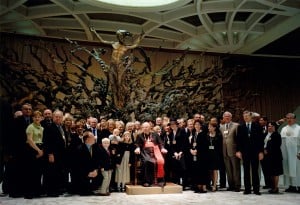 Speaking of enormous storms, the Church is still rocking following Monday's announcement.  Only 3,500 tickets were distributed to today's papal audience—with only a limited number of seats available in the hall.  This week, though, thousands more flocked to the Paul VI hall hoping to gain access to the hall for one of the Holy Father's final public statements.
Pope Benedict spoke honestly about his resignation and impending retirement, saying:
Dear brothers and sisters, as you know I decided to resign from the ministry that the Lord had entrusted me on April 19, 2005. I did this in full freedom for the good of the Church after having prayed at length and examined my conscience before God, well aware of the gravity of this act.  But I was also well aware that I was no longer able to fulfill the Petrine Ministry with that strength that it demands. What sustains and illuminates me is the certainty that the Church belongs to Christ whose care and guidance will never be lacking. I thank you all for the love and prayer with which you have accompanied me.

I have felt, almost physically, your prayers in these days which are not easy for me, the strength which the love of the Church and your prayers brings to me. Continue to pray for me and for the future Pope, the Lord will guide us!
Pope Benedict went on to deliver his regular Wednesday catechesis, calling us to make "more room for God in our lives."
He urged us to continually, throughout our lives, hold to the faith in the face of difficult choices:
The tests which modern society subjects Christians to, in fact, are many, and affect the personal and social life. It is not easy to be faithful to Christian marriage, practice mercy in everyday life, leave space for prayer and inner silence, it is not easy to publicly oppose choices that many take for granted, such as abortion in the event of an unwanted pregnancy, euthanasia in case of serious illness, or the selection of embryos to prevent hereditary diseases. The temptation to set aside one's faith is always present and conversion becomes a response to God which must be confirmed several times throughout one's life.
Reminding us that it's never too late to return to God, the Pope turned for inspiration to three people who exemplified this:
1.  Russian Orthodox Pavel Florensky, who had been raised agnostic and once felt outright hostility towards religious teachings, but who finally, as a scientist, exclaimed "No, you cannot live without God"—and became a monk.
2.  Etty Hillesum, a young Dutch woman of Jewish origin who died in Auschwitz. Hillesum was once far from God, but found him in the midst of great tragedy, the Shoah.  Transfigured by faith, she said, "I live in constant intimacy with God."
3.  The third individual named by the Holy Father for her great turnaround was an American, Dorothy Day.  Of her, Pope Benedict said:
The ability to oppose the ideological blandishments of her time to choose the search for truth and open herself up to the discovery of faith is evidenced by another woman of our time, the American Dorothy Day. In her autobiography, she confesses openly to having given in to the temptation that everything could be solved with politics, adhering to the Marxist proposal: "I wanted to be with the protesters, go to jail, write, influence others and leave my dreams to the world. How much ambition and how much searching for myself in all this!". The journey towards faith in such a secularized environment was particularly difficult, but Grace acts nonetheless, as she points out: "It is certain that I felt the need to go to church more often, to kneel, to bow my head in prayer. A blind instinct, one might say, because I was not conscious of praying. But I went, I slipped into the atmosphere of prayer … ". God guided her to a conscious adherence to the Church, in a lifetime spent dedicated to the underprivileged.