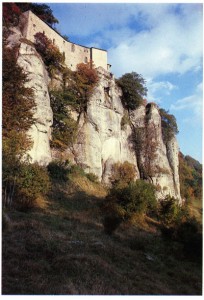 St. Francis, after whom our new pope is named, is most often associated with the Italian village of Assisi. And fair enough: Assisi was home base for Francis and the other monks of the Order of Friars Minor.
Sometimes, though, he just needed to get away. That's what happened when, in August 1224, Francis withdrew to La Verna, about a day's walk away, for an extended 40-day period of prayer and fasting.
Pope Francis has invited the monks of La Verna to attend his inaugural Mass tomorrow morning. I thought, then, I'd tell the story of this beautiful monastery in the hills.
* * * *
The Count of Chiusi, Count Orlando, had given Francis and his monks the monastery of La Verna, a beautiful retreat center atop a mountain, as a gift in 1213. A few years later, in 1218, Count Orlando built him the Santa Maria degli Angeli Chapel. There, Francis retreated for prayer and contemplation, and it is there—at La Verna—that Francis received the stigmata. It was also there, on or about September 17, that Francis had a vision of an angel, a seraphim. After that vision, Francis developed the stigmata, wounds like those of Christ, in his hands, feet and side.
* * * * *
The monastery at La Verna operates still today. The Franciscan monks still gather for prayer six times each day (even during the night hours).
Guests are welcome at La Verna—and the cost, compared to a standard European hotel, is very small. Our family stayed there on our road trip during the Jubilee Year, in October 2000; and I think the cost, for our simple room, an ample breakfast, lunch, and an evening feast complete with wine (and the opportunity to set your alarm and pray with the monks at 2:00 a.m.) was about $34/night. I've been thinking about that trip today, anticipating St. Francis' feastday; and I thought I'd share some of our family photos with you.