Last week, things seemed to be going so well.  Thomas Peters (aka the American Papist), who fractured the fifth cervical vertebra in a swimming accident on July 16, had been outfitted with a HALO and it appeared that spinal surgery would not be necessary.
Today the report is not so good.  Infection has set in, resulting in fever and exhaustion.  Thomas' vertebrae have shifted, making surgery likely.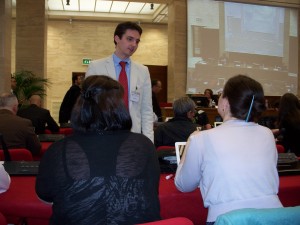 You may remember Thom from his excellent work with the National Organization for Marriage, or from his popular American Papist blog, now read on the CatholicVote site.  I remember him, too, because we once worked at Domino's Farms together, and because we met in Washington D.C. during the Vatican Blogfest–where his insightful question brought a standing ovation among journalists gathered at the offices of the Pontifical Council for Social Communications.
Following is the daily update from the website established to help Thom's fans follow his recovery.   Please continue to keep Thom and his new bride Natalie in your prayers.
Update 7/28: Infection, MRI & Surgery

Thomas' fever continues.  He has redness, soreness, and what feels like fluid under his skin at his trach which indicated possible infection. They began antibiotics first thing in the morning and a topical treatment to help bring down the swelling. Around 6:30pm he had a CATscan with contrast which confirmed infection. This infection explains Thom's fever and the feeling of exhaustion he has had over the last few days.

Because Thomas was so tired today, and trach so sore, the respiratory team thought he should take a day off and not have his scheduled time off the ventilator. He did sit in his chair for 4.5 hours and loved it!

His friend Fr. Joseph came again (he was here last Sunday) and anointed him with Padre Pio holy oil and relic while we prayed Divine Mercy. Later a priest from their parish, Fr. Greg, came and said Mass in Thomas' room, which was fantastic!

During the CATscan the doctors noticed that it appeared Thomas' vertebrae had shifted.  Around midnight he had a MRI to further investigate stability and the effects of the HALO.  The MRI showed that indeed his C5 fractured vertebrae is being further crushed and isn't strong enough to fuse itself (which is the reason they had opted for HALO).  It looks like surgery will be necessary and options are, once again, being discussed.  No operation can take place until the infection at the trach heals.  In the meantime, the C5 vertebrae and his spine are stable and emergency surgery is not necessary.

While options are being discussed, we ask you to continue to pray for Natalie, Thom, their families and all those who have to make challenging medical decisions!  Also, join the prayer group on facebook for daily prayers and reminders.