Imagine Jesus as a homeless man—with the wounds from his crucifixion evident on his bare feet. That's the image which Canadian sculptor Tim Schmalz wanted to depict in his life-size bronze image of Christ, sleeping on a park bench, huddled against the cold in a blanket.
The work is inspired by Matthew 25, and represents Christ as among the most marginalized in society. Schmalz explains that with the Christ figure shrouded by a blanket, the only indication that it is Jesus is the visible wounds on the feet. A person can sit at Jesus' feet on the park bench.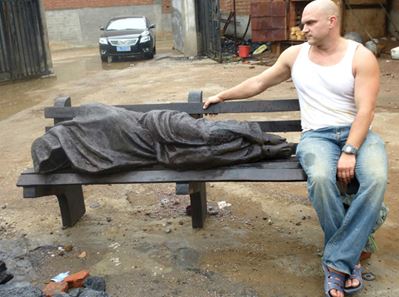 Schmalz worked for a year and a half to create this statue. According to a feature in the New York Daily News, he came up with the idea for the unusual sculpture after spotting a homeless person sleeping on the corner of one of Toronto's busiest streets. It was Christmastime and while the rest of the city was bustling around with the holiday spirit, this person was wrapped up in a sleeping bag. Schmalz didn't know if it was a man or a woman — all he could see was a mass of cloth lying still on the floor. He said, "My initial reaction was, 'That is Jesus.'"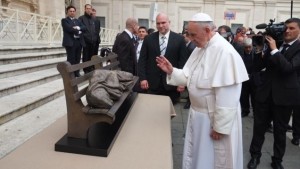 This week, the artist presented his statue to Pope Francis on the steps of St. Peter's Basilica. The Pope blessed it and, judging from his smile, seemed to like it a lot.
Timothy Schmalz's goal is goal is to exhibit the homeless Jesus on streets in the world's biggest cities. He knows about how some people stereotype Christians and Christianity, but he thinks that homeless Jesus can challenge those perceptions.
He had offered it to two renowned cathedrals, St. Michael's in Toronto and St. Patrick's in New York; but neither had been able to accept it. A spokesperson for St. Patrick's Cathedral explained that they liked it, but the cathedral is currently undergoing a major renovation. The work was subsequently installed in front of the University of Toronto's Regis College, until its presentation in Rome. It is not known whether it will find a permanent home in Rome, or where it might be installed.
* * * * *
Schmalz has created numerous religious scenes in bronze, like this depiction of Jesus as a prisoner, aptly titled "When You Visited Me."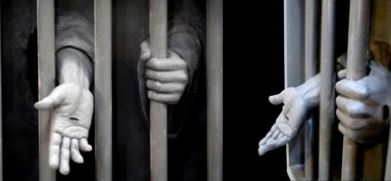 I've seen this sculpture of the Holy Family, with Mary and Jesus wrapped in Joseph's protective arms, in a church near my house. It's titled "A Quiet Moment."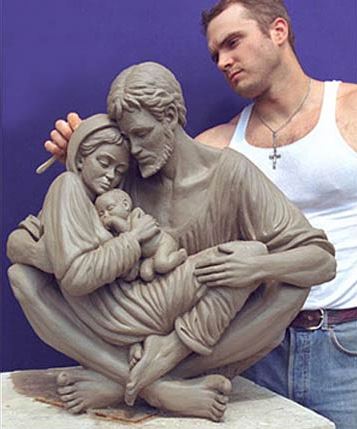 UPDATE: On November 30, another of the great works by artist Timothy P. Schmalz was stolen. Read that story here.