This from the Catholic Herald, the London-based Roman Catholic newspaper:
Pope Francis has angered crime bosses in the 'Ndrangheta, the most powerful crime syndicate in Italy, to the extent that his life is in danger.
The warning comes from Nicola Gratteri, a magistrate in the city of Reggio Calabria, in Italy's southernmost point where the crime syndicate is centered. The Catholic Herald quotes Gratteri as saying, "I don't know if organised crime is in the position to do something, but it's certainly thinking about it. It could be dangerous."
U.S. sources estimate that 'Ndrangheta's drug trafficking, extortion and money-laundering activities account for at least three percent of Italy's gross national product. The notorious crime squad is reportedly angered by Pope Francis' attempts to crack down on financial corruption in the Vatican. According to the Catholic Herald:
…Mr Gratteri, who has written a book on the Church's links to 'ndrangheta, said the mob "that has until now profited from the power and riches derived directly from the church is nervous, agitated."

Speaking to Il Fatto Quotidiano newspaper, he added: "Pope Bergoglio is dismantling centres of economic power in the Vatican. If the bosses can stop him they won't hesitate."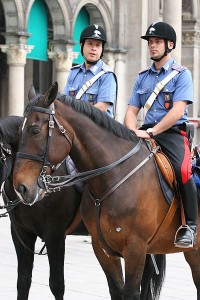 In his homily on Monday morning, November 11, speaking on the subject of corrupt businessmen and politicians, Pope Francis described people engaged in corruption as "whitewashed tombs." They appear, he said, "beautiful from the outside, but inside they are full of dead bones and putrefaction." He called a life based on corruption "varnished putrefaction." In a reference to Matthew 18:6 and Mark 9:42, Pope Francis said that those who live such a corrupt lifestyle should have a millstone hung around their necks and be thrown into the sea.
As yet, there has been no response from the Vatican to the Catholic Herald's report.