Earlier today, I reported on a story which appeared in the Catholic Herald, quoting Italian magistrate Nicola Gratteri.  Gratteri believed that the Pope's life was in danger due to his recent criticisms of organized crime.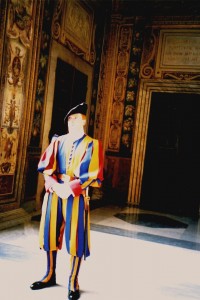 Now, though, the Vatican has addressed Gratteri's fears directly and has dismissed the judge's concerns.  Father Federico Lombardi, director of the Vatican Press Office, told ABC News,
There is no concrete reason that would lead us to worry.  There is no reason to fear alarmism.  We are very calm.
It is business-as-usual in Vatican City. 
And after all, the Pope has his own personal security force:  The Swiss Guard has been protecting the pontiff since the late fifteenth century.