Pope Francis has been making a list and checking it twice.
On his first Christmas as Pope, the Holy Father is giving 2,000 prepaid telephone cards and 4,000 day tickets for the Metro, Rome's underground rail system, to Rome's poorest and most marginalized citizens.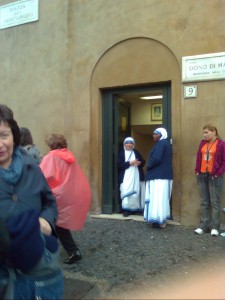 Archbishop Konrad Krajewski, Almoner of His Holiness, will deliver 2,000 envelopes to locations and shelters in Rome where aid is offered by the Sisters of Mother Teresa of Calcutta and by volunteers. The Sisters and volunteers can write a name and mailing address on the envelopes, but no postage is necessary. The envelopes, which were donated by the Vatican Typography, are franked with Vatican stamps, donated by the Vatican Post Office.
Each envelope contains a Christmas card signed by Pope Francis, a prepaid phone card, and Metro tickets. The Metro tickets have been provided by the directorate of ATAC (the Municipal Agency for Transport in Rome.
* * * * *
UPDATE: The Catholic News Agency has reported that the home I've photographed here, the Dono di Maria home, was the location where the Pope's Christmas gifts were presented to the poor and homeless of Rome. I took this photo when I was there in 2011, so I know exactly how close it is to St. Peter's.
Just by way of information: The Dono di Maria home was founded 25 years ago by Blessed Mother Teresa of Calcutta with the blessing of Blessed John Paul II. Mother Teresa also founded a soup kitchen in Vatican City State dedicated to St. Martha, the patron saint of hospitality.