Deacon Greg Kandra brought this up: Just how many times are we going to see Pope Francis smiling from the cover of a magazine as we pass through the supermarket checkout line?  Wow, he's right!
Pope Francis was named Time magazine's Person of the Year, and he was featured on the cover of this week's issue of the magazine.
Then he was featured in the New Yorker magazine, and there he was again, smiling at us from the front cover.
And again!  This time he was named "Person of the Year" by The Advocate, a countercultural magazine for the LGBQ community.  Never mind that they have misunderstood the Pope's words in making their decision—he's front and center in that magazine, too, only this time with "No H8" painted on his cheek.
It got me thinking:  Just how many times has this plainspoken pope been feted with a magazine cover shot?  Oh, when he was first elected, of course—there were several magazine cover stories devoted to him, as folks got to know this new face of the Catholic Church in the world.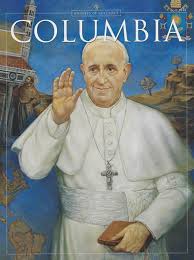 Anyway, ain't the Internet grand?  With just a few keystrokes, I was able to find all of these papal covers, in the U.S. and abroad.  And of course, I may have missed some.